SWEDISH SOUTH ASIAN STUDIES NETWORK

---
School of Computing, Blekinge Institute of Technology, Ronneby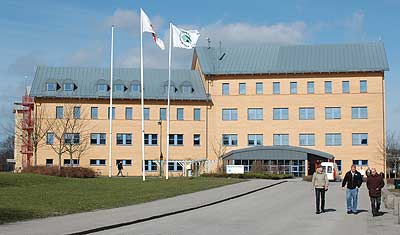 Postal address: Sektionen för datavetenskap och kommunikation, Blekinge Tekniska Högskola (BTH), Box 520, SE-372 25 Ronneby, Sweden
Visiting address: Soft Center, building VI, Fridhemsvägen 8
Web page: http://www.bth.se/com/
Contact persons:
Professor Lars Lundberg, phone: +46 (0)457 385 833
Professor Sara Eriksén, phone: +46 (0)457 385 565
Blekinge Institute of Technology (BTH) is one of the youngest and smallest universities in Sweden with just about 3 500 full time students and a staff of about 500. BTH is spread over 3 campuses at Karlskrona, Ronneby and Karlshamn and focuses on applied IT technology.
Student exchange programmes with South Asia
SASNET's Director Staffan Lindberg and Deputy Director Lars Eklund visited BTH in Ronneby in March 2007. They visited the campus for a discussion of its activities related to South Asia and a discussion of what SASNET can do for the promotion of its South Asia activities. They were hosted by

Jan-Olof Gustavsson

, Dean, School of Engineering,

Maria Engelmark

, Head of International Office,

Lars Lundberg

, Professor of Computer Systems Engineering, and

Mikael Åsman

, Head of Masters Programme in Electrical Engineering. Read a report from the SASNET visit to Ronneby.
BTH attracts a great many foreign students in its various programmes. In 2006 there were about 1 200 foreign students studying at the various Masters programmes in Technology. They came from 43 different countries, most of them from South Asia (Pakistan, Bangladesh and India), China and Nigeria.
In South Asia, BTH has developed cooperation with three universities in Pakistan (Fatima Jinnah Women's University in Rawalpindi, the Air University in Islamabad, and Ghulam Ishaq Khan Institute of Engineering Sciences and Technology, GIKI, in Topi, NWFP). Collaboration has also been established with three universities in south India – all in the state of Andhra Pradesh. These are Jawaharlal Nehru Technological University in Hyderabad, Andhra University in Visakhapatnam and Sri Venkateswara University in Tirupati. Today BTH has the largest number of Indian students studying technology programs on master's level of all the universities in Sweden.
In 2007, MoU's on joint Double Diplomas in the fields of Signal Processing and Software Engineering was signed with both JNTU and Andhra University. In the spring of 2008 about 40 Indian students arrived as the first to participate in the cooperation project with BTH. During the 2007-2008 academic year another Double Diploma programme was created in Telecommunication Systems with JNTU and Andhra University, respectively. During the spring of 2009 about 80 Indian students were supposed to arrive at BTH in the six Double Diploma programmes. More information about BTH's educational collaboration with Indian universities.
The contacts with Fatima Jinnah Women's University in Pakistan have now resulted in the launch of a teachers and studenst exchange programme, funded by the Swedish International Programme Office for Education and Training (Internationella programkontoret). In March 2007, the Dept. of Systems and Software Engineering received a first Linnaeus-Palme International Exchange Programme grant for the period 2007-08. More information about the Linnaeus Palme grants 2007.
India related research collaboration project
Within the framework of the Swedish Research Links program, initiated by the Swedish International Development Cooperation Agency (SIDA) and the Swedish Research Council (VR), BTH has received funding during the period 2007-2009 for a multidisciplinary research project entitled "Participatory, sustainable, convergent and high quality public e-services – developing methods and practices". The project aims at developing long-term research cooperation within the area of e-government with the Telecommunications and Computer Networking (TeNeT) group within the Dept. of Electrical Engineering at the Indian Institute of Technology Madras (IIT-M) in Chennai, Tamil Nadu. On the Swedish side, the project is coordinated by Prof. Sara Eriksén, group leader for the Informatics and Work (IAW) research group within the School of Computing.
On the Indian side, the project is coordinated by Prof. Ashok Jhunjhunwala, research leader of the TeNeT group. This group has an explicit mission: to provide people living in rural areas in India with robust, affordable and easily accessible internet access and e-services which can contribute to good quality of life for individuals and sustainable development and growth for India and the rest of the world.
At BTH, Associate Professor Markus Fiedler, and his research group in Telecommunication systems are also part of the project. More information about the research collaboration with IITM.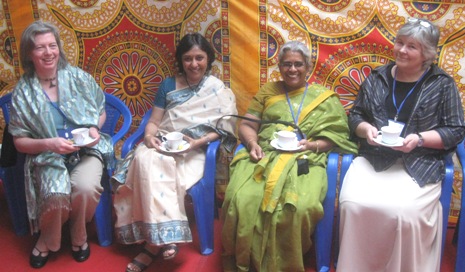 On 18–20 February 2010, a joint workshop was held on "Participatory Design of ICT: Opportunities and Challenges", in Chennai. The workshop aimed to bring together industry, academia, designers and engineers in the field of ICT's to discuss the role and methods of Participatory Design (PD) for methodology for participatory design of ICT, and identify opportunities and challenges to PD. The workshop brought together industry, engineers, social scientists and project managers in the field of ICT:s for a discussion on the role and methods of Participatory Design (PD). The participants were scholars from BTH and Lund University in Sweden, ITU Copenhagen in Denmark, TeNeT Group, Faculty of CSE, EE, IIT Madras, and project managers from RTBI. From the Industry – Ericsson India and Chennai were both represented and some RTBI and TeNeT companies like Uniphore and Invention Labs & Vortex Eng were also represented. All presentations and a summarizing report from the workshop are available on the Internet.
Go for the presentations.

In September 2009, Prof. Sara Eriksén received a SASNET Guest Lecture Programme grant, for the invitation to Sweden of Dr. Aarti Kawlra from IIT-M. He also works as Principal Project Officer for the Indo-UK Consortium on Advanced Communication Technology.

Development of the Blekinge-India Project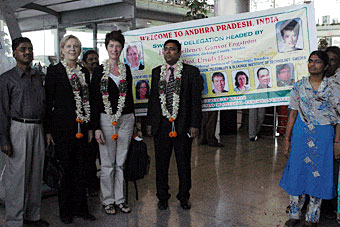 BTH's efforts to increase its collaboration in education and research with universities in the Indian states of Andhra Pradesh and Tamil Nadu are part of a larger scheme run by the regional administration in the South-East Swedish region of Blekinge, to develop links not only regarding education and research but also in business between Blekinge and the South-East region of India, an area of India where the on-going industrial and economic expansion is extremely high, especially concerning the IT- and telecommunication industry.
The India project in Blekinge, as it is called, started in 2008 (after receiving a SEK 1.3 m grant from the Council of Region Blekinge), and in February 2009 a large delegation from Blekinge Institute of Technology (BTH), led by the Vice Chancellor Ursula Hass, went on an official week-long tour to India. The aim of the BTH tour to India was to strengthen the existing ties regarding research collaboration and student exchange. The Governor (landshövding) of Blekinge therefore accompanied the university delegation to India. The project leader is Eva-Lisa Ahnström.
Full information about the Blekinge India Project, with a link to the delegation's India blog page.