SWEDISH SOUTH ASIAN STUDIES NETWORK

---
Plant Physiology, Department of Botany, Stockholm University
Postal address: Department of Botany, Stockholm University, SE-106 91 Stockholm, Sweden
Visiting address: Lilla Frescativägen 5
Fax: +46 (0)8 165525
Web page: http://www.botan.su.se/pub/jsp/polopoly.jsp?d=5497&a=19446
Contact person: Professor Sylvia Lindberg, phone: +46 (0)8 161213
South Asia related research
Prof. Sylvia Lindberg is group leader for a a research group working on "The role of calcium and pH in stress and auxin signal transduction in plant cells". Before joining Stockholm University in 2006, she was working as Professor in Plant Physiology at the Dept. of Plant Biology & Forest Genetics at the Swedish University of Agricultural Sciences (SLU) in Uppsala.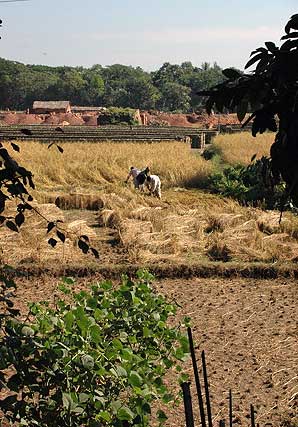 Since 2006, Prof. Lindberg is involved in a research project titled "Salinity stress and crop responses – physiological and molecular processes in rice". The project is carried out in collaboration with colleagues in Germany and Bangladesh, the main research partner in Bangladesh being Dr. Md. Abdul Kader from the Bangladesh Rice Research Institute in Gazipur.
It has been funded by Sida/SAREC.
Project abstract: In order to clarify the physiological and cellular mechanisms in rice involved in salt tolerance, we will compare the uptake mechanisms for Na+ in different cultivars of upland rice and study the signal transduction in rice under salt stress. We have developed a new sensitive technique to detect changes in sodium concentrations in a living cell/protoplast by use of fluorescence microscopy. This method will be used together with molecular biology techniques, e.g. study the expression of cDNA homologous to potassium channels supposed to be involved in Na+ accumulation. The aim is to search for salt tolerant genes and to increase the salt tolerance in important Bangladesh rice cultivars. This should improve the possibility to cultivate rice in saline soils. Another aim is to develop research within this area and intensify cooperation between departments in Bangladesh, Sweden and Germany.
Prof. Lindberg and Dr. Md. Abdul Kader have presented results from their research in an article titled "Uptake of sodium in protoplasts of salt-sensitive and salt-tolerant cultivars of rice, Oryza sativa L. determined by the fluorescent dye SBFI". It was published by the Journal for Experimental Botany (Number 422/2005). Read the article.
In November 2008, Prof. Lindberg was given SEK 500 000 as a one-year grant extension from Sida/SAREC's Developing Country Research Council for the project on "Salinity Stress and crop responses". More information.
Associate Professor Maria Greger is also working on Plant Physiology within the department. She is leading the Plant Metal Group, a research group focusing on heavy metal uptake by higher plants, phytoremediation of metals, and root-soil interface mechanisms. More information about the research group.
For some time Dr. Greger was not involved in any South Asia related projects, but before that she worked on a India related project titled "Phytoremidiation of heavy metal contaminated ecosystems for sustainable development in India".

Currently, the the Plant Metal Research Group is planning for a project regarding removal of toxic metals, especially Arsenic. The idea is to use plant species that can uptake the metal (Arsenic) from the contaminated soil which termed as Phytoremediation process. The major benefit of this new technology is that it is environment friendly, sustainable, and less expensive. It may be applicable on Bangladesh, which is severely affected by toxic element arsenic. The groundwater has been contaminated by high levels of Arsenic. It is also found in the food stuffs grown in the contaminated land. Current removal techniques of arsenic are costly. According to survey report done by British Geological in the year of 1998, more than 90 million people in Bangladesh drank arsenic contaminated water. More information from WHO.
Muhammad Arifin Sandhi is a Bangladeshi Masters student at the department who is already working on this project. It may lead to a PhD project on removal of toxic metals from the soil by using plant species.