SWEDISH SOUTH ASIAN STUDIES NETWORK

---
Microbiology, Department of Cell & Molecular Biology (ICM), Biomedical Center (BMC), Uppsala University
Postal address: Dept. of Cell & Molecular Biology, Biomedical Center, Box 596, SE-751 24 Uppsala, Sweden
Visiting address: BMC, Husargatan 3, Corridors C7 and C9
Web page: http://www2.icm.uu.se/micro/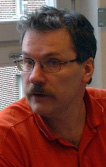 Contact person: Professor Leif Kirsebom, Head of Department, phone: +46 (0)18 471 40 68. Personal web page.
South Asai related research at the department
Prof. Kirsebom leads a research group on Metal-ion – RNA cooperativity. It focuses on the biology of RNA and its role in various cellular processes. More information.
In December 2009, Prof. Kirsebom received SEK 700 000 as a three-year International Collaborative Research Grant from the Swedish Research Links programme (funded by Sida and the Swedish Research Council) for a India related project entitled "Comparative genomics and sporulation in mycobacteria". See the full list of South Asia related projects given Swedish Research Links grants 2009.
The research project will be carried out in collaboration with Prof. Alok Bhattacharya, School of Life Sciences, Jawaharlal Nehru University (JNU), Delhi.