SWEDISH SOUTH ASIAN STUDIES NETWORK

---
Meeting with the Vice-Chancellor of the University of Calcutta,
21 November 2005
University of Calcutta web page: http://www.caluniv.ac.in/
Calcutta University (CU) was founded in 1857 and must be considered one of the most prestigious universities in the Indian subcontinent. Today it has about 190 colleges affiliated with about 300 000 students. At the university itself, more than 600 teachers/researchers lead the work and teach around 11 000 graduate students. CU has the following faculties and campuses:
• Humanities in College Street Campus
• Social sciences in Alipore Campus
• Science and Law at Ballygunge
• Science College at Rajabazar
• Economics Department on BT Road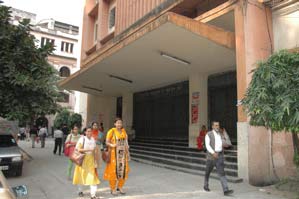 Medicine and Technology are not part of the CU, but have their own independent organisation in Kolkata and in West Bengal at large, with Calcutta Medical College and Indian Institute of Technology at Kharagpur as main bodies respectively.
The main and historical buildings of Calcutta University are located in College Street, which is also the site of the Presidency College, the most famous of all the colleges affiliated. We enter the gate and the busy narrow lanes between old and new buildings pressed into the campus. Students and teachers are on their way all over the place. We get a vague feeling of a wakening giant.
Prof. Swapna Bhattacharya, our local host in Kolkata has arranged for the meeting. Today she was leavingher assignment as head of the Dept. of South and Southeast Asian Studies after a period of two years, and would have met the Vice-chancellor anyway.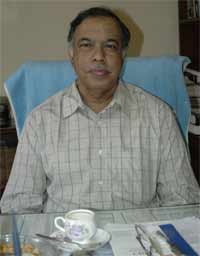 The Vice-Chancellor Prof. Asis Kumar Banerjee (photo to the right) spent a long time with us despite delays and a changed schedule in his programme for the morning hours. He is an eminent economist, but gives a strong impression of broad interests in history and culture and of what is going in all the faculties.
We sat in his office room, with portraits of Rabindranath Tagore, Vivekananda and Karl Marx hanging on the walls. and discussed the new initiative to build a biotechnology park in co-operation with private industry (see our first Kolkata report). Prof. Bannerjee was very optimistic about the prospects and also says that it is typical of the new advanced industrialisation in Kolkata of today.
The traditional industries, like the jute industry, had actually started to decline already before partition in 1947, but the crisis worsened with the enforced separation of industry in Kolkata and raw jute producers in East Bengal (that became the eastern wing of Pakistan). A further blow came with the flight of capital in the 1980s, but the state is now turning the tide and industry is growing fast actively promoted by the government. An important factor in this is also, the Vice-Chancellor says, that the Green Revolution was introduced in West Bengal from the 1980s, and has created an increased demand for industrial goods in the rural areas.
If Swedish biotechnologists are interested in collaboration in this venture it would be more than welcome. The Dean of the Science Faculty, Dhrubajyoti Chattopadhyay, Prof. of Biochemistry, Calcutta University, would be the contact person for this.
We also discussed the international collaborations at Calcutta university. They have a Memorandum of Understanding, MoU, about general exchange of faculty and students and joint research projects with Brookes University in Oxford, UK. They also have MoU's with universities in South Korea, Singapore and, most importantly for us, with Uppsala University in Sweden. There is scope for much more. Prof Banerjee expressed his deep appreciation of the co-operation between the departments of History and Cultural Anthropology at Uppsala history and the Dept. of History at Calcitta University, more about this below.
---
Meeting in the Department of History, Alipore campus, 21 November 2005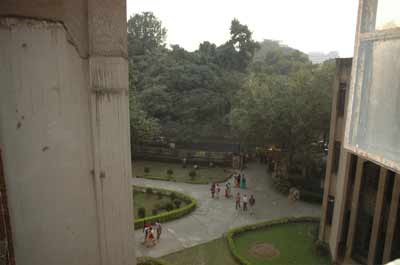 From the Vice-Chancellor's office at College Street, right in the middle of north Kolkata, we travelled down south, passing the city centre, Victoria Memorial, the race course, Taj Bengal Hotel and Zoo, reaching the highrise building of Alipore Campus, just in front of the historic National Library.
We were invited to a meeting with some of the researchers at the Dept. of History, who have an established collaboration with Uppsala University. More information about this collaboration.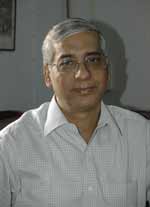 Six faculty members had gathered in the conference room for a lively meeting, led by Prof. Arun Bandhopadhyay, Dean, Post-Graduate Faculty of Arts (photo to the left). This is strong department with 300 students at MA and PhD level, and with 16 people in the faculty.
The co-operation in a programme on "Environmental History as an Emerging Field of Education and Research" with Dr. Gunnel Cederlöf and others at the departments of History and Cultural Anthropology at Uppsala University was greatly appreciated. Arun and Sanjukta Das Gupta had recently been to Uppsala for a month and found it a very fruitful visit. They also thanked SASNET for the Planning grant given, which resulted in a Linnaeus-Palme grant for exchange of teachers and students.
In connection with the ongoing year-long Post-centenary Golden Jubilee Celebration (150 years) of the founding of Calcutta University, the Dept. of History will organise a seminar on 'Environment, livelihood and development' on 6–8 March 2006. Scholars from many countries have been invited to participate and present papers in the seminar. Among them are the Swedish researchers Gunnel Cederlöf, Maria Ågren, Mirja Juntunen, Beppe Karlsson, Hans Blomkvist and Emil Uddhammar, all from Uppsala University. More information on the seminar (as a pdf-file).
Prof. Bandopadhyay suggested a more general collaboration with SASNET on organising seminars and conferences, and we promised that if they, along with Swedish partners, apply for planning such events we will look into the possibilities for this.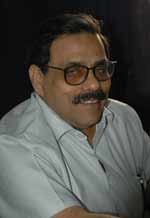 After this exchange of information we discussed the situation of the history discipline today. 'Nobody wants genuine historical research on particular histories, they all want generalisations, as done by you sociologists,' Prof. Bhaskar Chakrabarty (photo to the left) said for a start. Staffan replied that even in the individual cases and trajectoris there were patterns that could be laid bare, and that he thought that sociology and history should co-operate to build suitable models for that type of analysis. He thought that this was fruitfully done at for example Lund University.
We also discussed the need for inter-disciplinary work. In history, that would need the coming together, of for example medical researchers and historians to write specific medicine or health histories. Historians alone could not possibly understand chains of causation in disease etiologies and medical treatment trajectories.
People we met at the Dept. of History, University of Calcutta:
• Prof. Arun Bandyopadhyay, Nurul Hasan Professor of History & Dean, Post-Graduate Faculty of Arts
• Prof. Bhaskar Chakrabarty
• Sanjukta Das Gupta, Lecturer. Research interest: Agrarian history of Colonial India, Tribal economy, and Society in Chotonagpur
• Raj Sekhar Basu, Lecturer
• Chakrabarti Shantanu, Lecturer
• Dr. Suparna Gooptu
Back to 2005 contact Journey


---