SWEDISH SOUTH ASIAN STUDIES NETWORK

---
Visit to the Centre for Nepal and Asian Studies (CNAS), Tribhuvan University, Kathmandu, Wednesday 30 November 2005
Web site: www.cnastu.org.np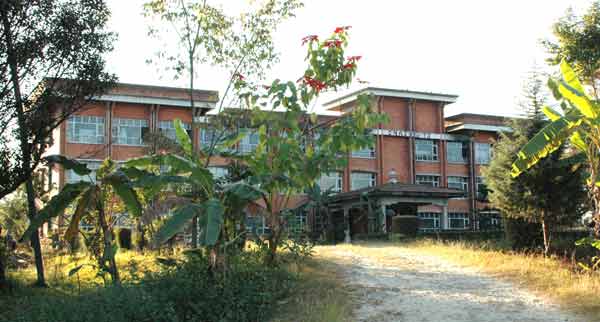 We headed for the Centre for Nepal and Asian Studies, located within the Kirtipur campus, and were welcomed by its Executive Director, Professor Nirmal Tuladhar.
CNAS is one of four research centres connected to Tribhuvan University. The other three centres are CEDA, Centre for Economic Development and Administration, established in 1969 with assistance from Ford Foundation; RECAST, Research Centre for Applied Science and Technology (which we also visited a few days later, see our report from RECAST); and CERID, Research Centre for Educational Innovation and Development.
The Centre for Nepal and Asian Studies was originally conceived as an Institute of Nepal Studies in 1969 was later renamed as Institute of Nepal and Asian Studies. In 1977 it was again renamed into its current name, and became at the same time a pure research centre.
CNAS is engaged in research in humanities and social sciences, within five research fields, namely:
1. Culture and Heritage Studies, including art, archaeology, history and religion.
2. Social Change and Development Studies, including ethnic studies, population dynamics and sociolinguistic studies.
3. Himalayan Studies, including studies of environment and geopolitics.
4. Nepalese Political Studies, that naturally includes studies on the ongoing political conflict in the country.
5. South and East Asian Studies, that is studies on the other six SAARC countries as well as on China and Japan.
The Centre is the academic contact point within the Tribhuvan University system for affiliation of foreign students and scholars working on Nepalese Studies. The CNAS record shows that since the early 1970's more than 550 foreign undergraduate students, graduates, PhD candidates and postdoctoral scholars have been affiliated to CNAS, including Swedish students and scholars. One of them was Per Löwdin from the Dept. of Cultural Anthropology and Ethnology, Uppsala University, who wrote a doctoral thesis on Nepalese food culture in the early 1980's. He is well known to Professor Nirmal Tuladhar.
Institutional affiliations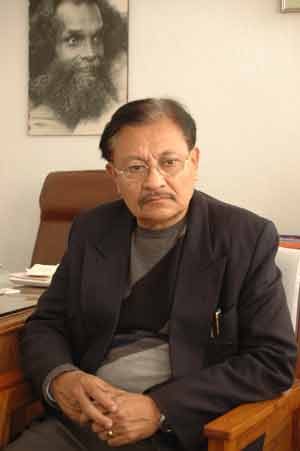 In addition to individual affiliations CNAS also has institutional affiliations to a number of foreign institutions, including the research team on "Environment, Society and Culture in the Himalayas" at Centre National de la Recherche Scientifique in France; School of Oriental and African Studies (SOAS) in London, UK; Institute of Social and Cultural Anthropology, Oxford University, UK; Graduate School for International Development and Cooperation, Hiroshima University, Japan; School for International Training, Vermont, USA; and Nityananda Institute, Oregon, USA.
Professor Tuladhar received us in his spacious office with the compulsory photos of the king and the queen on the wall, but also centrally placed a large photo of an Indian guru, Shibpuri Baba from Kerala (see photo to the right).
He expressed a keen interest in establishing links also with Sweden, and asked us whether we had come to discuss signing a MoU between Lund University and CNAS.
Presently CNAS has an academic staff of 18 researchers, but five are on leave. One of the latter, Ramesh Dhungel, is currently working in the British Library in London, on Buddhist manuscripts in the Hudson collection, but also lecturing part time at SOAS. Dr. Thungel, who defended his doctoral dissertation on "History of the Kingdom of Lo/Mustang" at Columbia University, New York, USA, in 1998, participated in the 7th Himalayan Languages Symposium held at the Uppsala University in September 2001.
Another one of the faculty member is presently in Leiden, and two are in Delhi. Most of the researchers at CNAS are working on issues related to Sociology, Anthropology, History, Linguistics, Culture and Gender.
Their papers are published in the biannual multidisciplinary magazine Contributions to Nepalese Studies now made easily available on the web through the Digital Himalaya project (conceived of by Professor Alan Macfarlane and Mark Turin as a strategy for archiving and making available valuable ethnographic materials from the Himalayan region, based jointly at the Department of Social Anthropology at Cambridge University, UK, and the Anthropology Department at Cornell University, USA).
Asia-Link Programme
CNAS is also partner in a European Commission funded Asia-Link Programme called MIDEA, the (Micro)Politics of Democratisation: European–South Asian Exchanges on Governance, Conflict and Civic Action. The MIDEA programme has three other partners besides CNAS. They are the Institute for Global Society Studies in collaboration with Sociology of Development Research Centre, University of Bielefeld, Germany; the Centre for Social Policy Analysis and Research (SPARC), Faculty of Arts, University of Colombo, Sri Lanka; and the Institute of Social and Cultural Anthropology, Oxford University, UK. More information on the Asia-Link Programme MIDEA.
Since MIDEA was launched in 2004 two International workshops have been organised, the first one on "Local Democracy in Nepal and South Asia" was held in Kathmandu in the end of November 2004, and a second workshop on "Activism and Civil Society in South Asia" was held in Oxford in the summer 2005. Three more workshops are planned for the coming two years, one of them will again be held in Kathmandu in the autumn 2006.
Back to 2005 contact Journey


---