SWEDISH SOUTH ASIAN STUDIES NETWORK

---
Visit to the Department of Sociology, Rajshahi University,
Tuesday 6 December 2005
– by Staffan Lindberg
Rajshahi University web page: http://www.ru.ac.bd/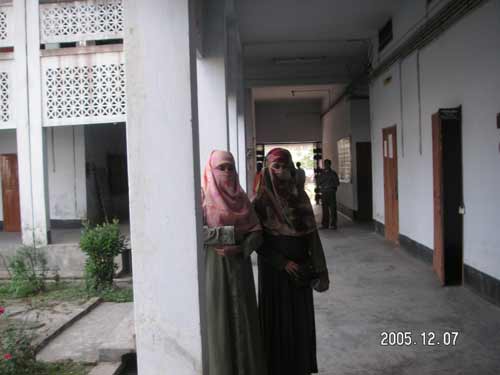 A visit to Rajshahi University (located only a few km away from the border to West Bengal/India) had been arranged by Prof. Raquib Amed, Dept. of Geography, whom we met on our first visit in 2002 (see our report from that meeting), and also by Prof. Kazi Tobarak Hossain, Dept. of Sociology.
Rajshahi University is the second largest University in Bangladesh and is the highest seat of learning in the Northern region of the country. It was established in 1953 to serve as centre for higher learning in the Northern part of erstwhile East Pakistan. These areas were comparatively lagging behind in higher education and the University of Dhaka, then the only of its kind in the country, being situated in the capital was not very easily accessible to the student of this part of the country.
I had two meetings at the Sociology department, one with professors and one with MSS and M Phil students. There was keen interest in what I said about SASNET and the opportunities to start research interaction and teacher/student exchange via the Linnaeus-Palme programme. Students were also interested to know more about higher studies in Sweden. On request, I also presented a short note on my ongoing panel field study in Trichy District.
One professor had applied to a three month course on Peace and Conflict Studies in Uppsala funded by Sida, but had not been selected. He thought that this was due to his lack of a certificate of knowledge of English – he had been studying in English medium schools and published everything in English during his academic career. (Maybe he was overqualified, the course being aimed at Masters and PhD students?)
There has also been an attempt to apply for Asia Link programme with the Sociology Department at Uppsala University, but it failed because they could not find a second university department in another EU country.
Sociology here has about 20 teachers, with five positions vacant, and 3 teacher abroad for higher studies (for PhD degree). There about 550 students from BA to PhD, with ca 10 at the M Phil and 3 at the PhD level.
This is set within the second biggest university in Bangladesh with about 22 000 students, 1 000 teachers and 52 departments divided into 8 faculties including Medicine and Agricultural sciences. Quite a few students are resident in dormitories here. Female students have to reach their dormitory before 18 pm, so that set a time frame for our meeting which started only at 15.30.
Research interests within the Sociology Department were divided into several fields like gender, development studies, environment, agriculture and criminology. I was presented with two studies of prostitution and trafficking in Rajshahi, which was quite a big social problem according to the discussion we had. The incidence of hiv/AIDS is still low but gradually growing.
Sociology professors met with:
M. Faizar Rahman, Chairman of the Dept. of Sociology
AHM Mustafizur Rahman
Muhammad Hasan Imam
Sabyasachi Saha (passed away on 26th June 2007 in Alor Setar Hospital, Kedah, Malysia)
Abdur Rahman Siddiquee
M Zulfiquar Ali Islam
+ Kazi Tobarak Hossain, and Raquib Ahmed, Prof. of Geography and Environmental Studies
Students met with and their research interests:
Shahin Fendour, MSS level: The relationship between norms, values and the employment of women outside the family sphere.
M.D. Lutbar Rahman, MSS: Marriage, family and kinship relations in Bangladesh.
Nirman Mandal, MSS: A comparative study of local government in Bangladesh and some western country, like for example Sweden.
Shahnaz Sarker, MSS: Women, agriculture and changing urban society in Bangladesh.
Mina Raho Mahato, MSS: Health consciousness of rural women in Bangladesh.
Muaz Hurayra Morshad, MSS: Development studies with special focus on agriculture and traditional societies.
M.D. Azizur Rahman, M Phil.: Social forestry.
Before departing, I was told about the fear of more terrorist attacks and also concern about the social and political development in its wake. There seemed to be consensus among the professors about this. As we drove out of the University compound, city traffic was a little bit more intense than earlier in this 600 000 population city. There had been a political meeting in the main street, but there was really no jam and it was so different from the ultra rapid mess of people, cycles, cycle rickshaws, cars, trucks, and buses in Dhaka.
I suddenly realised that the only way to drastically improve air quality and transport efficiency in Dhakawould be to prohibit all private cars and cycle rickshaws, at least until metro lines have been constructed. But would that be practically possible? Rickshaws must be one of the greatest sources of employment and air-conditioned cars the individual way for the rich to sit comfortably and imagine that they do not inhale any poisonous gas.
Meeting at the Institute of Environmental Science (IES), Faculty of Life and Art Sciences, Rajshahi University, Wednesday 7 December
Dept. of Geography & Environmental Studies web page: http://www.ru.ac.bd/geog/Geography.htm

Professor Raquib Ahmed (photo to the left) had arranged a meeting with his colleagues at the Department of Geography and Environmental Studies, and we were about 20 persons around a big conference table at the Institute. IES is an autonomous centre drawing researchers from various departments at Rajshahi University.
After Staffan's presentation of SASNET a discussion of the various research interests among those present and at the Institute followed. The most important of these appeared to be:
• Biodiversity
• Plain wetland ecology, that is, studies of marsh land, which is very prevalent in various parts of Bangladesh
• Coastal environments, mangroves, water life, etc.
• Social forestry
• Solid waste management
Persons met with:
M Sarwar Jahan, Professor and Director of IES
Raquib Ahmed, Prof. of Geography and Environmental Studies (GES)
Shitangsu K. Paul, Assistant Prof. of GES
Mohammed Norul Basher, PhD fellow IES
Md. Aminaly Islam, M.Phil fellow IES
Md. Nozrul Islam, P.Phil feloow IES
A Z M Shoel, Associate Prof. GES
A H M Hedayurul Islam, Assistant Prof. GES
Md. Nur Islam, Fellow IES
S M Shafiuzzaman, Lecturer IES
Md. Redwanur Rahman, Lecturer IES
Md. Safinur Rahman, Prof. at Dept. of Zoology
Md. Rejaur Rahman, Assistant Prof. GES
M Mizanur Rahman, Associate Prof. GES, Urban and Regional Developmetn & Planning, Environmental Management
Noor Mohammad, Prof. GES
Syed Rafiqul Alam Rumi, Prof. GES
Visit to Thanapara Swallows Development Society – a Self-Help Village Support Organization in Rural Bangladesh, Wednesday 7 December
Web page: http://thanaswallows.org/
Thanapara lies 32 km east of Rajshahi. For Swedes this is famous for its careful implementation of classical 1960s International NGO activities like employing women in a handicrafts programme and running a model school. The background is a massacre of over hundred men in the village by the Pakistan Army during the liberation war in 1971.
In 1973, the Swallows India/Bangladesh section based at Lund, Sweden, started relief activities here by providing food and clothes. Soon this developed into a full-fledged community development programme. Today, the Thanapara project caters to the needs of the local Upazilla of about 10 villages and a population of about 8 000. The Handicrafts activity consists of spinning, dyeing, weaving and garment production and employs 162 persons, most of them women (see photo above).
The project activities have also broadened to include sustainable agriculture, water and sanitation, social forestry, land rights (helping villagers to get cultivation rights on government owned land), and gender equity and women's rights. The latter is a broad approach to women's situation in the village, and includes combating violence against women, creating awareness of legal rights, and fighting against human trafficking. Swallows cooperates with BRAC in several programmes, for example non-formal education, continuous training of primary school teachers, etc.
Thanapara is today also used as a model project for NGO work among Swedish and other international study groups. Students from several secondary schools, folk high schools, study circles etc. regularly visit the project for some period, during which they can stay at guestrooms located within the project compound. Mr. Bo Kramsjö, one of the pioneer volunteers at Thanapara was due to arrive the day after our visit with a group of Swedish teachers participating in a course organised by the Global School. Students from Österlen's Folk High School in Tomelilla also come here every year as part of their field work in South Asia, and the next group is due to arrive in April 2006 for a week's study visit (more information on the South Asia course in Tomelilla).
When I (Staffan) and Prof. Raquib Ahmed arrived at the project, Mr. Raihan Ali, the Director, and his wife Ms. Mahmuda Begum (Guinea), Assistant Director, was just about to receive a group of Tamil Nadu farmers who had come to study the ecological farm activities run at the project. Along with the group was Andreas Holmberg, the advisor at the Swallow's Kudumbam Ecological Farm near Tiruchirapalli in India.
We were cordially received and had a very interesting discussion with Mr. Raihan and Ms. Mahmuda Begum. One thing that struck my mind was the ambitions of these two very hard working project leaders. It is not a question of replacing public welfare and educational activities. Rather, it is one way of many to try to influence the activities within the public sphere, by providing a model and by giving training to teachers and others.
'Today there is better supervision and transparency within the NGO and private sector than in the public sector. Our aim is to influence the latter to do better and to fight corruption and lethargy,' says Mr. Raihan.
SASNET has another relation to Thanapara through Birgitta Göransson, long time coordinator for the The Swallows India/Bangladesh section with head quarters in Lund. She is a member of SASNET's board.
Back to 2005 contact Journey


---