SWEDISH SOUTH ASIAN STUDIES NETWORK

---
Department of South and Southeast Asian Studies, Calcutta University, 15 December 2005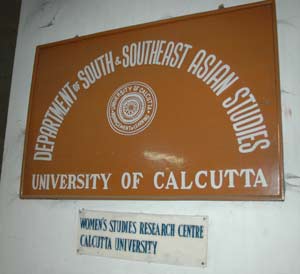 Web page: http://www.caluniv.ac.in/academic/arts_asian_study.htm
After returning to Kolkata after more than three weeks of travelling, we again visited Calcutta University and its Alipore campus. Last time we visited the Dept. of History, this time we headed for the Dept. of South and Southeast Asian Studies, on the first floor of the high-rise university building in front of the National Library.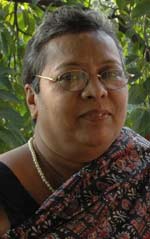 It was the home department of Dr. Swapna Bhattacharya (photo to the left), who had been instrumental in finalising our Kolkata programme. We knew her since before since she was participating as a panel convenor in the 18th European Conference on Modern South Asian Studies, organised by SASNET in Lund in July 2004 (she was co-convenor of Panel No. 19 on "Merging the unsuitable? Brittish India and Burma 1850-1948", and Lars had also visited her Calcutta University department in December 2003.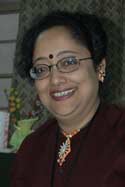 Until 21 November 2005 Dr. Bhattacharya, a scholar on Burmese (and especially Arakanese) studies, was Head of the department, but she has now been succeeded by her colleague Dr. Lipi Ghosh (photo to the right), who is doing research on Thailand and the cultural heritage connecting it to ethnic groups in the North Eastern part of India. We met both of them and had a discussion on their respective research projects.
The department grew out of the Dept. of History in 1978. It was initiated as an area studies Centre for South and Southeast Asian Studies by Jayanta Kumar Ray, then Professor in International Relations. He remained in charge of the institution till 1992. At that time the Centre had been turned into a department with postgraduate two-years courses, and acknowledged by the University Grants Commission (UGC) to be one of the main centres for regional studies in India. UGC has assigned four countries for the department to focus on, namely Bangladesh, Myanmar (Burma), Thailand and Philippines.
In a similar way studies of other Asian countries have been assigned to institutions all over India, for example Himalayan studies to the North Bengal University in Siliguri, Indochina studies to the University of Tirupati, and Central Asian studies to the University of Bombay. Besides there are several specialised institutions such as the School of International Studies at Jawaharlal Nehru University, New Delhi, another Dept. of South and Southeast Asian Studies at the University of Madras, Chennai, and in Kolkata itself there are also a Centre for International Relations at Jadavpur University, the Netaji Institute of Asian Studies (under the West Bengal government), and the Maulana Abdul Kalam Azad Institute of Asian Studies (a central government research institution).
The Masters programmes offered by the Dept. of South and Southeast Asian Studies at Calcutta University include compulsory courses on pre-colonial history & state formation, history of colonisation & decolonisation, post-independence government & politics, political economy, regional conflict & cooperation, and ethnicity & minority. Besides these the students must choose two additional courses out of the following: Demography, gender studies, refugee studies, environment, human rights, military studies, and quantitative methods & computer application.
The department has eight teachers (three professors, four readers and one lecturer). Besides Dr. Bhattacharya and Dr. Ghosh we also met with Dr. Paula Bannerjee, herself involved in research on forced migration and displacement. She has been in contact with Kaj Nordquist, Dept. of Peace and Conflict Research, Uppsala University, and this might result in a joint project.
Dr. Bannerjee declared that her department would be happy to accommodate Swedish PhD students, if they have an interest in studies of forced migration, or India-Bangladesh relations. They would then be given a bona fide affiliation to the department and be provided with local hospitality.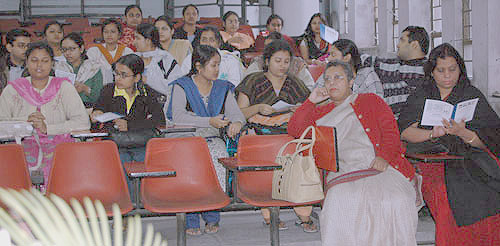 A meeting was arranged in the auditorium for the Masters students, where we informed about SASNET. We were as always heartily welcomed, given flower bouquets, and the 35 students (a large majority of them being female) who had come raised many questions. They also listed the research issues in which they are interested.
• Jiru Sarkar: HIV in South Asia, and Human rights for affected persons
• Sagarika Ghose: Population growth and environmental degradation in South Asia
• Tarwi Nandi: Malaria in South East Asia
• Mamani Mandal: Role of Mukti Bahini in Bangladesh's liberation struggle
• Debarupa Ghosh: Internally displaced persons in India due to development projects
• Chaitali Sarkar: Ethnic conflict in North East India
• Lopamudra Chatterjee: Abortion in South East Asia
• Mou Das Burman: Population and migration in South East Asia
• Suparna Das: Women's movement in India
• Rimpa Saha: Environmental disaster in South and South East Asia
• Soukaya Roy Chowdhury: Women and gender issues
• Aranya Ray: Population and growth development in India
• Sayantika Das: Women & Environmental issues
• Manisha Chakraborty: Environmental degradation and conservation in South East Asia
• Subhadyuti Mitra: Refugees in South East Asian countries
• Rajat Kanti Sive: Ethnic conflict and the role of politics in South and South East Asia
• Kanika Dhapa: The problems of ethnic insurgency in North East India
• Debjani Banerjee: National identity versus ethnic identity in India
• Sujaya Sikder: Child health and child mortality
• Biswajit Bhakta: The US foreign policy perception vis-à-vis South Asia, from the Bangladesh liberation war to the Kargil war.
• Subhasis Rudra: Midwifery system and its relevance in population and in HIV control in South and South East Asia, with special reference in India
• Jaganath Sardar: India-Bangladesh relations
• Rohini Samtra: Indian women, the Marriage Act
• Sarbani Datta Gupta: Minority/Ethnicity
• Suhirtha Majumdar: Violence against women in South Asia
• Sraleoni Sinha: Women's education in South Asia
• Rima Chakraborty: Gender discrimination in South Asia
• Srirupa Chakraborty: Population growth of India
• Suchetana Majumder: Defence economy
• Paramita Nankar: Ageing problems in Kerala
• Rajita Basu: Ageing problems in Maharashtra
• Aparna Naskar: Population growth of India
• Reshma Haque: India-Bangladesh relations
Back to 2005 contact Journey


---