SWEDISH SOUTH ASIAN STUDIES NETWORK

---
The Earthquake in Pakistan and India, 8 October 2005
Within less than a year South Asia has once again been hit by a devastating disaster claiming thousands of lives. Like the Tsunami, the earthquake hit everybody, high and low in society, and like the Tsunami there is a tremendous need for quick relief work.
Sources of information (links to important news sites on the Web)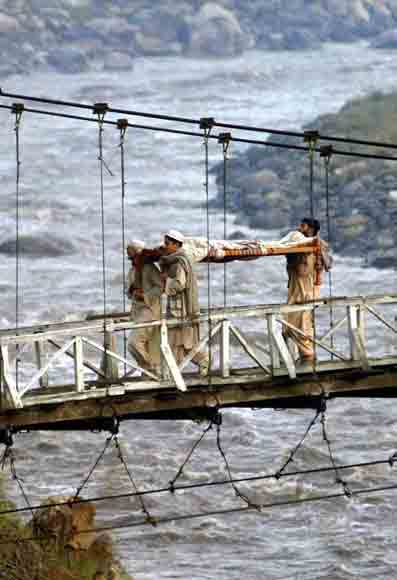 Blog service on the earthquake:
• South Asia Quake Help. News and information about resources, aid, donations and volunteer efforts after the South Asia Earthquake. Managed by Katrina Help blog & wiki, and Rita Help blog & wiki.
Information-sharing web portal
• Relief and Information Systems for Earthquakes (RISE).
An information-sharing web portal launched on 19 October 2005, designed to provide information about the 4,000 earthquake-affected villages in the largely rural North West Frontier Province (NWFP) and Azad Jammu & Kashmir
(AJK) in Pakistan. The web portal is a joint effort by experts from Lahore University of Management Sciences (LUMS), Harvard University and Pomona College in the US, the World Bank, Pakistan's National Database and Registration Authority (NADRA), Mahbub ul Haq Human Development Center, and World Online, Pakistan's largest internet provider which is hosting the web portal. It provides up-to-date damage and relief information about affected villages from agencies, relief workers, local officials, and anyone with access to immediate village-level data that will critically support the current coordination of relief.
All Asian coverage – BBC World Service:
• http://news.bbc.co.uk/1/hi/world/south_asia/default.stm
For news coverage/Pakistan:
• Daily Times, Lahore
For news coverage/India
• The Tribune, Chandigarh
For news coverage/Afghanistan
Relief work (information about how you can contribute)
In Sweden:
• Röda Korset, http://www.redcross.se/
• Läkare utan gränser, http://www.lakareutangranser.se/
• Rädda Barnen (Save the Children), http://www.rb.se/sv/1000.aspx?flash=yes
• UNICEF (the United Nations Children's Fund) Sweden, http://www.unicef.se/
• CARITAS Sverige, http://www.caritas.se/bistand_till_pakistan.asp
• Lutherhjälpen, http://lutherhjalpen.svenskakyrkan.se/
• Plan Sverige, http://www.plansverige.org/wherewework/asia/pakistan/jordbavning/
• PMU Interlife, http://www.pmu.se/nyheter/index.php?idnum=877&raknareartiklar=
• SOS Barnbyar, http://www.sos-barnbyar.se/
• World Food Programme Sweden
• After the earthquake in Pakistan, India and Afghanistan, the Division for Humanitarian Assistance at Sida (Swedish International Development Cooperation Agency) has decided to support Red Cross with SEK 5 Million, and the Swedish Rescue Services, contributing with tents and blankets to the affected, with SEK 2 Million. More information.
In Pakistan:
• The Sungi Development Foundation coordinates relief efforts in some of the worst hit districts in Azad Kashmir, Mansehra, Battagram and Abbottabad. Read an appeal from the Sungi Development Foundation.
• Lahore University of Management Sciences has set up the LUMS Disaster Relief Fund (LDRF), to which it is possible to donate money locally or internationally.
Other relief agencies in Pakistan involved in assistance activities:

• Rural Support Programmes Network

• Kashmir International Relief Fund

• President Relief Fund – Money may be deposited for relief efforts in all the major banks of Pakistan.
Internationally:
• UNICEF (the United Nations Children's Fund)

• International Federation of Red Cross and Red Crescent Movement
• Oxfam
• International Rescue Committee
Yours sincerely,
Staffan Lindberg & Lars Eklund & Jan Magnusson, SASNET
Back to SASNET


---