SWEDISH SOUTH ASIAN STUDIES NETWORK

---
Centre for Gender Studies, Lund University
Postal address: Box 117, SE-22100 Lund, Sweden
Visiting address: Allhelgona kyrkogata 14 M
Web page: http://www.genus.lu.se/o.o.i.s/4737
Contact person: Kerstin Sandell, Head of Departement, phone: +46 (0)46 222 40 59
Centre for Gender Studies is an interdisciplinary department under the Social Science Faculty at Lund University. It offers courses in gender studies from bachelor level to PhD studies. Research within the department is conducted within several fields and from a diverse collection of theoretical perspectives.
Research connected to South Asia
During the period November 2010 – April 2011, Professor Lipi Ghosh from the Dept. of South and South East Asian Studies, Calcutta University in Kolkata, India, was based at the Centre for Gender Studies, as the first Visiting ICCR (Indian Council for Cultural Relations) Chair Professor at Lund University. Personal web page.


Prof. Ghosh is a historian, and currently Director of the Centre for South & Southeast Asian Studies at University of Calcutta. Her major areas of research interest are ethnicity, and minority & cultural studies in the context of South & Southeast Asia. She has written on issues such as "Prostitution in Thailand: Myth and Reality"; "Indian Diaspora in the Asian & Pacific Regions"; and "Political Governance and Minority Rights in a South & Southeast Asian Scenario". Read her full CV.
As a visiting professor at Lund University, Prof. Ghosh was primarily engaged in research, but also take an active role in teaching. Currently she is working on a collaborative major research project, sponsored by the University Grants Commission, entitled "India's Past Cultural Fabrics in Southeast Asia: A Study of Dvaravati Civilization of Ancient Siam". She is also taking interest in the subject of India – Southeast Asia Relations in the post-colonial era. Lipi Ghosh runs two ongoing project works in this field, one on "Indo–Thai Relations in the Context of Changing Globalized World", and another one on "Thai Cultural Identity in Northeast India: A Study of Tai Ahoms".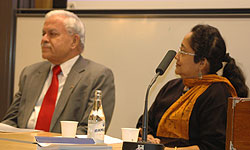 On Monday 15 November 2010, SASNET organised her inaugural lecture as new ICCR Professor at Lund University. Her presentation was entitled "Ethnicity, Religion and Nation Building: The Northeast Indian Profile". (read an abstract).
The Indian Ambassador to Sweden, H.E. Mr. Ashok Sajjanhar (on photo along with Prof. Ghosh) was the guest of honour, and he gave a presentation on "India-Sweden Bilateral Relations". Lund University was represented by Professor Sven Strömquist, Assistant Vice-Chancellor; Dr. Ann-Katrin Bäcklund, Dean of the Faculty for Social Sciences; Dr. Kerstin Sandell, Head of department, Centre for Gender Studies; and Dr. Anna Lindberg, SASNET. See full seminar programme.
More information about the inaugural seminar.
The new professorship is an outcome of a Memorandum of Understanding between the Indian Council for Cultural Relations (ICCR) and Lund University, that was signed on 22 June 2010 by Mr. Balkrishna Shetty, former Indian Ambassador to Sweden, and Prof. Per Eriksson, Vice-Chancellor, Lund University. In a first phase, the agreement is valid for four years, with a new Indian Professor to be selected each year.
SASNET has been actively involved in finalizing the ICCR professorship at Lund University, with strong support from the Embassy of India in Stockholm. In April 2010, SASNET's director, Dr. Anna Lindberg, participated in an official Lund University delegation to Delhi (more information), where final negotiations were held with representatives of the Ministry of External Affairs, Government of India, and the Indian Council for Cultural Relations, regarding the proposed Indian visiting guest professorship at Lund University.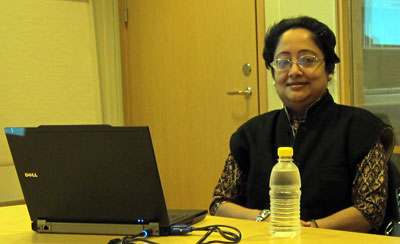 On Monday 17 January 2011, Prof. Ghosh held a lunch seminar at the Centre for East and South-East Asian Studies (ACE) at Lund University. She talked about "Tai Cultural Heritage in North East India: A Study of Tai Ahoms in Assam", focusing on the issue of ethnicity, closely related to the notion of the border.
The implications of an inter-relationship between cross-border migration, ethnicity, culture and identity are important. One dominant migrant ethnic group, which is found across South, Southeast Asia and China, is the Tais, who moved into South and Southeast Asia from China in the early thirteenth century. They are the significant ethnic group who reside close to and across the borders of four to five nation states – China, India, Myanmar, Cambodia and Vietnam. Prof. Ghosh studies the case of the Tai-Ahoms in northeast India against the themes of 'ethnic group' and 'borders of nation state' and the 'construction of identity'. It refers to the history of Tai migration, talks about their linguistic and religious identities and arrives at conclusions about their cultural identity in present day Indian society.

Associate Professor Helle Rydström holds a PhD in Social Anthropology/Child Studies from Linköping University (1999) and has held a 4-year Research Fellow position at the Center for East and South-East Asian Studies (ACE), Lund University. In 2007, she was a visiting scholar at the Center for the Study of Gender and Sexuality at the New York University, USA, and in 2003, she was a visiting scholar at the York Institute for Asian Research at York University, Toronto, Canada. Her research covers a number of intimately intertwined topics studied first of all in Vietnam, but also in Cambodia and India. Together with Dr. Diana Mulinari, Dr. Rydström has established the Global Gender Matters seminar series at Lund University. More information on her personal web page.
In November 2010, Dr. Rydström was awarded SEK 3.3 m as a three-years grant for the period 2011-13 from Sida/SAREC's Developing Country Research Council for a comparative research project entitled "Recognition and Homosexuality:
The Socio-Cultural Status of Same-Sex Relations in India and Vietnam". More information.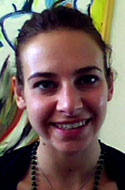 From the Fall semester 2010, PhD candidate Maria Tonini is working on a research project on homosexuality in a non-Western setting, namely contemporary neo-liberal Hindu/Muslim India. The project, entitled "The Construction of Homosexualities in Contemporary India", intends to fill a gap the knowledge about homosexuality in a non-Western setting, namely contemporary Hindu/Muslim India. The project addresses directly the intersections between the recent decriminalization of homosexuality in India, human rights, globalization and India's post-colonial status. It will bring into dialogue current Western studies on ('queer') sexualities with the constructions of sexualities in India, and in doing so examine how the rights of female and male homosexuals in today's India might be constrained, or facilitated.


This study aims at highlighting the relation between secularism, religion and democracy from the point of view of homosexuals. Through a feminist perspective, my aim is to explore how sexualities are constructed in India, and how they intersect with democratic ideals and respect for human rights.
Data will be collected in an Indian field site and contrasted with empirical findings, for instance, from Sweden. The material will consist of a combination of qualitative individual interviews and focus group interviews, first of all with homosexuals but also with NGO organizations and politicians. In addition, Maria will carry out a discourse analysis of legal documents and media debates in India. Choosing the perspective of homosexuals means that the study will provide a new angle from which it will be possible to examine social, political and cultural changes in a non-Western, yet globally speaking highly influential country.
Previously Maria Tonini has completed a Masters degree in Critical Media and Cultural Studies from the the School of Oriental and African Studies (SOAS), University of London (in 2006), and then worked as a Researcher and Online Editor for the Ethnic Multicultural Media Academy (EMMA) in London. After that she worked as Fundraising Assistant for the Indian National Trust For Art and Cultural Heritage (INTACH) in Pondicherry, India.
In 2008, Maria Tonini – originaly an Italian citizen – moved to Sweden, and worked for five months as an assistant for SASNET on a voluntary basis. She was engaged in updating web pages and reporting from conferences and seminars.
In 2009, she spent one year at Delhi University as a scholarship holder in the Erasmus Mundus Action 2 Indo-European mobility programme lot 15 administered by Lund University (more information).