SWEDISH SOUTH ASIAN STUDIES NETWORK

---
Successor project launched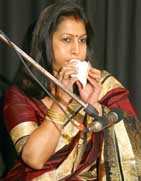 In 2003 the educational association Sensus Studieförbund introduced a network called "Nätverket
Sveriges Multireligiösa Guider". It draws upon the experiences of the successful "God has 99 names" exhibition, by involving the multi-religious guides that were involved at the exhibitions locally. The network, initiated by Görel Byström Janarv, will present themselves through a web page. Photos from the colourful inauguration ceremony, including rituals performed by Shipra Nandy (photo above) is however already available at Sensus web site.
Exhibition on the multi-religious Sweden of today: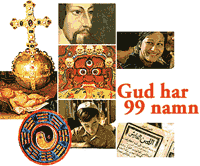 With the exhibition "God has 99 names" Riksutställningar in collaboration with Sensus Studieförbund and museums throughout Sweden, succeeded in reaching a public that was unused to museums. "God has 99 names" gave an account of the world's major religions by letting young people from different ethnic backgrounds present their creeds not only as theoretical knowledge but presented to all the senses. Riksutställningar thereby created a boundary–crossing project of serious importance that was conducive to ethnic integration. More information on the exhibition that toured Sweden from February 2000 till December 2003.
It was shown at the following museums:
• Kulturhuset, Stockholm 12 February – 23 April 2000
• Katrineholms konsthall, Katrineholm 17 September – 29 Oktober 2000
• Rydals museum, Rydal 12 November 2000 – 7 January 2001
• Landskrona museum, Landskrona 21 January – 4 April 2001
• Malmö stadsmuseum, Malmö 18 March – 29 April 2001
• Sundsvalls museum, Kulturmagasinet, Sundsvall 11 August – 23 September 2001
• Värmlands museum, Karlstad 20 Oktober – 18 November 2001
• Storgården, Gamla Uppsala, Uppsala 1 December 2001 – 13 January 2002
• Regionmuseet i Skåne, Kristianstad 27 January – 10 mars 2002
• Södertälje Konsthall, Södertälje 23 mars – 5 May 2002
• Skellefteå museum, Skellefteå 4 August – 15 September 2002
• Arbetets museum, Norrköping 29 September – 24 November 2002
• Kulturhuset Dunkers, Helsingborg 4 January 2003– 16 February 2003 (End of tour)
The record company Diesel Music AB has produced a cd with the same theme. Go to Diesel Music's web page, go for "Series", and klick on "Gud har 99 namn", and you will enjoy listening to samples from the cd.

Back to Info&News


---