SWEDISH SOUTH ASIAN STUDIES NETWORK

---
School of Health Sciences, Jönköping University
Postal address: School of Health Sciences, Box 1026, SE 551 11 Jönköping, Sweden
Visiting address: Barnarpsgatan 39
Web page: http://www.hhj.hj.se/doc/4000
Contact person: Inez Johansson, director of studies for international programmes, phone: +46 (0)36 101202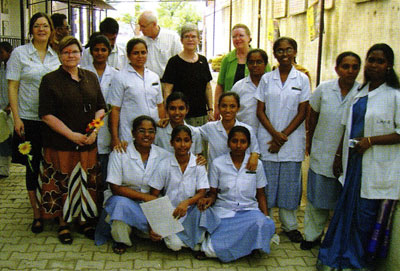 The School of Health Sciences is one of the four schools that together constitute Jönköping University. Researchwise it focuses on health, care and social work. The majority of the research is conducted within the four research areas:
Ageing – Living Conditions and Health; Quality Improvements, Innovations and Leadership; CHILD; and Oral Health.
Collaboration with India
The School of Health Sciences is involved in a Linnaeus-Palme International Exchange Programme with the Lokmanya Medical Foundation in Pune, India. More information about the Linnaeus Palme programme, administered by the International Programme Office for Education and Training but financed by Sida.
In February 2008 a delegation from Lokmanya Foundation consisting of the two lecturers Sonali Adwait and Ashwini Dattatray visited Jönköping, and a month later a delegation from Jönköping went to Pune. This delegation was led by Professor Gerd Ahlström, Dean of the School of Health Sciences. (Photo above, shot by Joachim Göransson)
The collaboration project started in 2008 and has received continued funding for the period 2009-10. More information about the South Asia related Linnaeus Palme projects for 2009-10.


The collaboration was established already in late 2007, when a frame agreement for 10 years was signed between Jönköping University and Lokmanya Foundation. The main point is accreditation of nursing training programmes, but in the coming years the collaboration will also include specialist training in anaesthesia for nurses, and a Masters programme in leadership.