SWEDISH SOUTH ASIAN STUDIES NETWORK

---
School of Health and Society, Kristianstad University College:
Postal address: Sektionen för Hälsa och Samhälle, Högskolan i Kristianstad, SE-291 88 Kristianstad
Visiting address: Elmetorpsvägen 15
Web page: http://www.hkr.se/templates/Page____6676.aspx
Contact person: Dr. Kerstin Samarasinghe, University lecturer in Nursing, phone: +46 (0)44 20 40 39. Personal web page.
---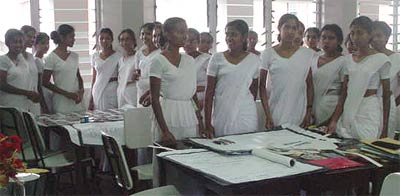 Research and education connected to South Asia:
The department has a long tradition of sending Nursing students on study tours to Sri Lanka, and has for several years an agreement (through the Linnaeus-Palme exchange programme) with the Open University of Sri Lanka.
Kerstin Samarasinghe is in charge of this work, that has resulted in the signing of an extended MoU (Memorandum of Understanding) between Kristianstad University and the Open University of Sri Lanka.
The label "extended" means that exchange activities are open for all departments in the respective universities.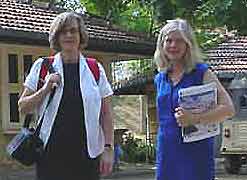 In the Spring 2004 two students from the Open University studied for 20 weeks at the department in Kristianstad, writing C-level theses. At the same time two Swedish students carried out practical clinical training during 15 weeks in Sri Lanka, and they also followed courses at the Open University.A similar students exchange has taken place during 2007-08, as well as an exchange of teachers: during spring 2007, a lecturer from OU in Colombo gave some lectures in Kristianstad, and in August 2007, Kerstin Samarasinghe was lecturing and supervising at OU in Colombo. The ambition is that the exchange should develop up to Masters level in Health Sciences.
The Nursing programme has also an established cooperation with the Sri Jayawardenepura University in Colombo. (Nursing students from its School of Nursing on the photo above)
The two collaboration projects have received continued funding for the period 2009-10. More information about the South Asia related Linnaeus Palme projects for 2009-10.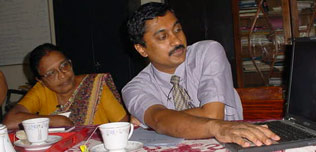 The Dept. for Health Sciences also sends students from the Nursing training programme; the Study Programme in Health Promotion and Education; and the Programme for Studies in Social care, to the National Institute of Health Sciences (NIHS) in Kalutara, Sri Lanka, for practical clinical training. (The NIHS Director, Dr (Mrs) S.D. De Silva. and Dr. Sarath Amunugama to be seen on the photo to the left).
Dr. Kerstin Samarasinghe has a strong personal connection to Sri Lanka, and has previously lived there for 13 years with her family. Read an article about her, written by Lisa Nordenhem (in Swedish).
On 30 March 2007, Kerstin Samarasinghe defended her doctoral dissertation titled "Facilitating a healthy transition for involuntary migrant families within Primary Health Care" at the Dept. of Nursing, Lund University. It deals with refugee families in Sweden, that face a complex transition due to the nature of the migration. This exposes them to vulnerability in cohesion and family function. Primary Health Care Nurses (PHCN) and Interpreters in Primary Health Care (PHC) play a vital role in their promotion of health because migrant health care is mainly carried out within PHC. The overall aim of the thesis was to reach a comprehensive understanding of involuntary migrant family health in order to facilitate a healthy transition for the aforementioned families in Sweden from a systems perspective. These findings are based on interviews representing 16 members from ten families from the Balkans, Kurdistan and Africa, 34 PHCNs and ten Interpreters working within PHC and originating from the same countries as the families. The study was carried out in two municipalities in Sweden. More information, with an abstract.
A 5 credits course on "Global Health problems" with some focus on South Asia is taught at the department every year. It is a preparatory course for all students planning to go abroad, outside the Nordic countries, for studies or field work. More information.
In 2002 two students in the Programme for Public Health Pedagogics (Folkhälsopedagogiska programmet), Lena Cervin, and Madeleine Törnquist, wrote a BA thesis on "Conceptions of health – An interview study about health and health promotion work in order to improve women's health in a small village in Tamil Nadu, India".
Abstract: After four decades of independence and five decades of planned development, women's position in India is getting considerably worse in every sphere in the society. Several studies show that the status of girls and women in India reflect serious gender based differences, discrimination and inequalities, which will, of course, affect their health in a negative way. The purpose of the dissertation was to illuminate what women and men in a small village in India think about health and which steps they need to take to promote women's health. Moreover the purpose was to investigate women's and men's conceptions of precondition for taking part in health promoting work in their own community.
To get answers to their questions Lena and Madelaine made an interview study inspired by the phenomenographic approach in the village Iropalli in Tamil Nadu, India.
Their results showed that the informants had different conceptions of health and how to promote women's health in the village, but they all thought that health and a good economy are strongly connected. Furthermore, education is seen, as the single factor that will change women's economic problems and thereby also their health problems.
Their conclusion was that to change women's situation in Iropalli, empowerment through education for the women is needed because it will give them an intellectual resource which might help them challenge and change the social relations they are trapped in. To achieve this change, health promotion combined with community development is a way of working, which aims to empower the community, in the essence of health, through enabling people to increase the control over their own health and life situation.