SWEDISH SOUTH ASIAN STUDIES NETWORK

---
Department of Human Geography, Stockholm University
Postal address: Kulturgeografiska institutionen, Stockholm University, SE-106 91 Stockholm, Sweden
Visiting address: Geovetenskapens hus, Frescati
Web page: www.humangeo.su.se
Contact person: PhD Candidate Kristina Westermark, phone : +46 (0)8 16 48 57. Personal web page: http://people.su.se/~krwe2668
Research connected to South Asia: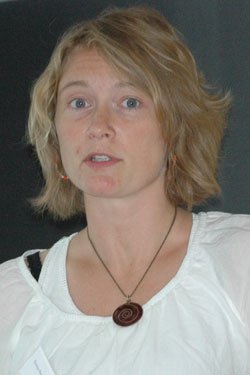 Since 2007, Kristina Westermark is working on a PhD project on Swedish companies within global networks in Asia ("Svenska företag i globala nätverk – Asienflöden"). It is part of a major research project at Stockholm University titled "Swedish Cities in 'The Space of Flows': National, European and Global Networks", funded by the Swedish Research Council Formas for the period 2007-2010. It is led by Associate professor Brita Hermelin at the Dept. of Human Geography. The project is connected to the Globalization and World Cities – Study Group & Network (GaWC), based at Loughborough University, UK. GaWC methodologies are used to investigate how Swedish cities are developing under conditions of contemporary globalization. Full information about the GaWC project.
In collaboration with other GaWC researchers, Kristina Westermark will study how Swedish companies within the service sector, mainly within IT/ICT, set up businesses in India, the space of flow of advanced services such as research and development (R&D) between Sweden and India, and the relation to cultural differences. She plans to carry out fieldwork in India, mainly in Gurgaon, Mumbai and Bangalore, during the coming years.
Abstract of project: The project's aim is to describe and to analyse how Swedish cities are involved in national and global networks of interconnections and flows. Flows that 'carries' different types of 'cargo': goods, capital, information, technology, images, sounds and symbols. Swedish companies follow a global trend and locate themselves in India, only this year some 30 Swedish companies have been added on to the Swedish Trade Council list of Swedish Companies in India. Within the service sector is seems to be in the field if IT and ICT that India has a prevailing position. Therefore Swedish IT companies and the, so far, not so studied flows between India and Sweden are my scope of study.