SWEDISH SOUTH ASIAN STUDIES NETWORK

---
Section of Human Ecology; School of Global Studies, University of Gothenburg:
Postal address: Box 700, SE-405 30 Göteborg, Sweden
Visiting address: Konstepidemins väg 2 A-E
Web page: http://www.globalstudies.gu.se/english/research/disciplines-subjects/human-ecology/
Contact person: Dr. Per Knutsson, Director of studies for Human Ecology, phone: +46 (0)31 786 42 14. Personal web page.
The department moved location in late August 2005, to Campus Linné, and its three imposing old buildings – Annedalseminariet (Övre Husargatan 34), KK 2 (Konstepedimins väg 2), and Rektorsvillan (Seminariegatan 1). It is jointly administered within the framework of the new School of Global Studies at Gothenburg University (SGSGU), and part of an effort to coordinate global studies across disciplinary and regional limitations.
Research connected to South Asia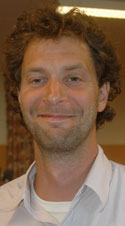 Dr. Per Knutsson was the Coordinator for the "Case-study Course on Sustainable Development", jointly run by Göteborg University and Chalmers University of Technology. Besides, Per teaches at the course on Environmental and Social Change in Asia, organised by the Centre for Asian Studies, CEAS, within the School of Global Studies.
Per Knutsson defended his doctoral dissertation, entitled "Interdisciplinary knowledge integration and the Sustainable Livelihoods Approach. Case Studies on rural livelihoods in Kenya and China" (not focusing on South Asia) in December 2005. However, initially the project was entitled "Forest based CDM projects in India – impact assessments of present regulation and analysis of the prospect for establishment of forest based CDM projects in southern India". The project was funded by the Swedish Energy Agency and carried out in collaboration with Physical Resource Theory, Chalmers/GU, Centre for Ecological Sciences at the Indian Institute of Science in Bangalore, India and the Joint Program on the Science and Policy of Global Change, MIT, USA.
He was supervised by Madelene Ostwald from Physical Geography, Dept. of Earth Sciences, and at the conference on "Structures of Vulnerability" held at Stockholm University in January 2005 they presented a paper together, called "A dynamic and process-oriented Sustainable Livelihoods Approach – a tool for increased understanding of vulnerability, adaptation and resilience". Read an abstract of the thesis.
While still being PhD candidates Per Knutsson and his then colleague Ylva Engwall worked with a joint research project on "Deconstructing the Sustainable Livelihoods Approach". They presented the project at the Development studies research conference at Lund University in January 2003. Read an abstract.
Ylva Engwall has later worked in the European research project "A cognitive approach to rural sustainable development – the dynamics of expert and lay knowledge (CORASON)". The project uses, through case studies in 12 different European countries, the study of changes towards sustainable development in rural Europe as a means of illuminating the shape and dynamics of European knowledge society more generally.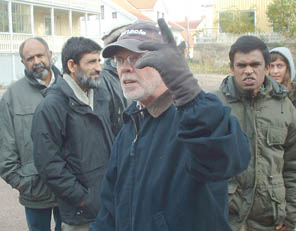 Professor Emeritus Hans Egnéus has worked with projects related to South Asia for a large part of his career. He has been connected to Swedegroup, a consultancy agency engaged in analysis of economic, financial and social issues of development projects and programmes in the Third World and in Eastern Europe. In 2003, he was working with the Dungarpur Integrated Wasteland Development Project in Rajasthan, India.
In recent years, he has been engaged in the interdisciplinary research programme Environment, Culture and Development, based at Museion, University of Gothenburg. This is a research programme with the aim to establish new knowledge through a transdisciplinary co-operation of researchers, which includes seminars, workshops, conferences, courses and other activities. Personal web page.
Prof. Egnéus participated in the SASNET Symposium for PhD candidates
and post-docs that was held 25–27 October 2002 in Marstrand (more information). Since he spent his childhood in the coastal town north of Gothenburg, he guided the other participants around – see the photo.