SWEDISH SOUTH ASIAN STUDIES NETWORK

---
Center for Infectious Medicine (CIM), Department of Medicine, Karolinska Institutet Medical University, Stockholm:
Postal address: Centrum för Infektionsmedicin, Karolinska Institutet, Karolinska Universitetssjukhuset Huddinge, SE-141 86 Stockholm, Sweden
Visiting address: Entrance F 59, Hälsovägen, Flemingsberg
Fax: +46 (0)8 711 76 84
Web page CIM: http://www.karolinska.se/en/Research/Research-Centers/Center-for-Infectious-Medicine/
Web page Infectious Diseases Unit/Dept. of Medicine: http://ki.se/ki/jsp/polopoly.jsp?d=20357&l=en
Contact person: Professor Jan Andersson, phone: +46 (0)8 746 76 37
Infectious diseases remain the single biggest cause of global morbidity and mortality. Cellular and molecular aspects of host-pathogen interactions are obvious areas of focus within CIM. The vision is to be able to develop new vaccines and therapies targeting human pathogens. To achieve defined goals, the Centre has in operation research groups with strengths in specific areas such as immunology and inflammation, microbial pathogenesis, oncology, stem cells research, haematopoiesis as well as connective tissue and vascular biology.
With funding from the Swedish Foundation for Strategic Research, the Center for Infectious Medicine was created in 2000 with an aim to become a leading 'Center of Excellence' within infectious disease research.
Research connected to South Asia
Since many years, the Division of Infectious Diseases – connected to CIM – is responsible for courses in Tropical Medicine, Vaccinology, etc. It has also been involved in collaboration on Shigella projects at ICDDR,B in Dhaka.
Prof Jan Andersson is heading a CIM research group focusing on "Pathogenesis and development of new methods of treatment of tuberculosis and HIV infection". More information about the research group and its publications.
The research involves collaboration with several International institutes, among them the International Centre for Diarrheal Diseases Research, Bangladesh (ICDDR,B) in Dhaka.
Dr. Rubhana Raqib is a Scientist at the Immunology Unit within the Laboratory Sciences Division (LSD), ICDDR,B. She completed her PhD degree in October 1995 in a sandwich program between ICDDR,B and Karolinska Institutet, with SAREC/Sida funds and under PhD supervision from Professor Jan Andersson. She joined ICDDR,B immediately thereafter.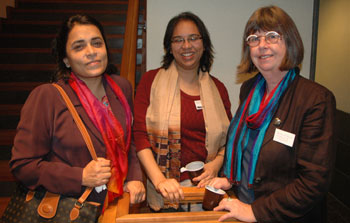 Dr. Raqib has been actively collaborating with Prof. Andersson in a number of Sida/SAREC funded studies. She has also become involved in new collaborations with other Swedish scientists in diverse fields, especially with Prof. Lars-Åke Persson, International Maternal and Child Health (IMCH), Department of Women's and Children's Health, Uppsala University. Her current research interests involve (i) alternative therapeutic strategies in combating infectious diseases, (ii) rapid diagnostic methods of tuberculosis, (iii) effects of maternal nutritional interventions on the immune function outcome of infants and children, (iv) effect of maternal exposure to toxic elements on the immune functions of infants.
The research in tuberculosis diagnostics has resulted in a Patent for an immunodiagnostic method of pulmonary tuberculosis.
Rubhana Raqib was invited as a key-note speaker in the SASNET workshop on "The role of South Asia in the internationalisation of higher education in Sweden" held at Nobel Forum, Karolinska Institutet, Solna, 28-29 November 2006.
Read Dr. Raqib's presentation at the workshop (as a pdf-file)
Associate Professor Anna Norrby-Teglund leads a research group at CIM working on Streptococcus pyogenes. This is an important cause of severe invasive infections, such as toxic shock syndrome and necrotizing fasciitis, which are associated with high mortality rates despite adequate antimicrobial therapy.
In November 2008 she received a Swedish Research Links (Asian–Swedish research partnership programme) one-year planning grant on 75 000 SEK for a new collaboration project with Indian colleagues, and in December 2009 she was awarded SEK 750 000 as a three-years grant. See the full list of South Asia related projects given Swedish Research Links gants 2009.


The project is titled "Pathogenic mechanisms of meticillin-resistant Staphylococcus aureus". The project is carried out in collaboration with Dr. Mattias Svensson, also at CIM, and Dr. Gayathri Arakere, Sir Dorabji Tata Centre for Research in Tropical Diseases, Bangalore, India.
Abstract: The project aims to define the pathogenic mechanisms of meticillin-resistant Staphylococcus aureus (MRSA) with focus on the action of specific toxins, such as Panton Valentine leucocidin, superantigens and hemolysins. MRSA represent a significant health threat in both developing and developed countries. The incidences of these infections are rising, and unusually severe pathological signs have been associated with certain MRSA types, including necrotizing fasciitis and necrotizing pneumonia. There is a controversy within the field as to which toxins are the major players in the pathogenesis of these severe infections. Previous studies have used various murine infection models to compare virulence properties of isogenic toxin-deficient strains. Here the researcchers propose to use clinical isolates with the same genetic background, but with varying toxin profiles, in clinically relevant human cell and tissue model systems. The proposal is based on collaboration between India and Sweden. A large cohort of MRSA isolates collected in India will be used for studies of MRSA induced cell damage and inflammatory responses in in vitro human cell and tissue models. The project is likely to advance our understanding of the defined role of specific toxins in the destructive infections associated with MRSA. Such insight should promote identification of potential targets for intervention and thus promote development of novel therapeutic or prophylactic strategies.