SWEDISH SOUTH ASIAN STUDIES NETWORK

---
Jönköping International Business School (JIBS), Jönköping University
Postal address: Internationella Handelshögskolan, Högskolan i Jönköping, Box 1026, SE-551 11 Jönköping, Sweden
Visiting address: Gjuterigatan 5
Web page: http://www.ihh.hj.se/
Contact person: Professor Niclas Adler, Managing Director and Dean of JIBS, since March 1, 2007, phone: +46 (0)36 101901.
Personal web page.
From September 2010, Prof. Adler is also President of the Sweden Pakistan Friendship Association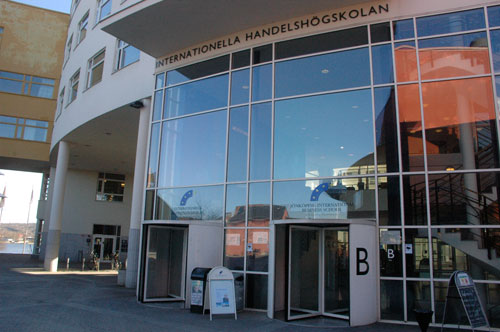 JIBS claims that is has the highest number of internationalised activities among all academic institutions in Sweden. Its network of partner universities is global, and strategic collaboration with entrepreneurial partners in other countries includes research projects, study programmes and other development projects.
South Asia related collaboration
Collaboration partners in South Asia include the Indian Institutes of Management (IIM), for example in Ahmedabad and Bangalore; and Welingkar Institute of Management in Mumbai and Bangalore.
JIBS has hired new members of staff from 2010 to work with international marketing: Mr. Jassim Sheikh from Pakistan works as a consultant/recruitment coordinator to work with the areas of Pakistan and the Middle East. More information.

On 20 May 2010, an India Seminar was held in Jönköping. It was jointly organised by JIBS and Sweden India Business Council (SIBC), and highlighted success stories in India. During the seminar, held 07.30–10.00, presentations were given by both academics and business people. Prof. Sören Eriksson talked about India's increased importance in the global economy, and Tomas Müllern, Professor in Business Administration, presented JIBS and its facilitating role regarding Indo-Swedish business.
In 2008, Jönköping International Business School also took over charge for a major project to set up and run a new technical university in the industrial town of Sialkot in northern Pakistan. The project was previously carried out by the Royal Institute of Technology (KTH) in Stockholm, with Dr. Ramon Wyss, Professor in Nuclear Physics at KTH, being the front person.
At the same time Dr. Wyss was appointed Vice-president for International Affairs at JIBS. However, from 1 June 2009 Ramon Wyss is again back at KTH, as Vice-President for International Project there.
The Sialkot initiative originally came from the Pakistani government, which is eager to boost the number of university graduates in the country, especially in the sciences. Pakistan has taken upon itself to finance and build the campus, whereas Swedish partners will be responsible for course content, university management and quality control. Fields of study are supposed to include electrical engineering, information technology, chemical engineering, industrial economics and mechanical engineering. The Sialkot University should also take in 20-30 PhD students per year. As for teaching resources, several options have been proposed: Some professors to be loaned from Sweden, others to be jointly appointed in Sweden and Pakistan. Pakistani students who acquire master's and doctoral degrees abroad should also be invited back to teach subsequent intakes of undergraduate students.
The Swedish involvement in the Sialkot university is part of a larger effort by the Government of Pakistan to improve the quality of higher education in the country to the benefit of society. International cooperation was invited to establish nine new Universities of Engineering Science & Technology in Pakistan (UESTP). France, Germany, Austria, Italy, South Korea, China and Japan were approached besides Sweden.
The university was supposed to have been fully operational already by the start of the 2008/2009 academic year, but due to the worsening security situation in Pakistan the KTH board decided to withdraw from the project.
Prof. Wyss has also been a key person behind the creation of INSTEC (Indian-Swedish Cooperation on Technical Research and Education International), the national Swedish network centre for Indo-Swedish Cooperation on Technical Research and Education funded by the Swedish Governmental Agency for Innovation Systems, VINNOVA. INSTEC was established in 2005, but the initiative was born out of a contact journey to India by a a large delegation of professors from KTH in 2002. More information about INSTEC.