SWEDISH SOUTH ASIAN STUDIES NETWORK

---
Report from visit to Kelaniya University, Sri Lanka:
Meeting with the staff at the University of Kelaniya, 5 March 2002:
We visited Kelaniya University along with Anders Närman, Department of
Human and Economic Geography at Göteborg University. We also met Per Lindquist, Swedish geographer, who was in Colombo to teach GIS to students at Kelaniya (otherwise working with the Regional Council at Visby, Sweden).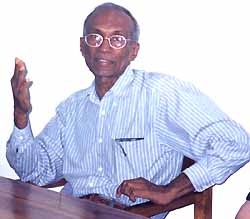 We first met prof. Kamal Karunanayake, economics, who is also the director for the Centre for Development Studies at Kelaniya. Anders is the other director for the first two years. The Centre is built with SAREC money within the SAREC funded project "Regional Development", which is a broad programme of research to strengthen the research capacity in the field of social sciences at the University of Kelaniya. A PhD sandwich programme is included.
The Centre has a medium sized room in the social science building with a computer connected to the Internet, an assistant who can spend part of his time locating interesting reports on the Internet, which he either copies on disks or prints and gives to the researchers. Thus, there is a place for Internet specialists who can help researchers to find material. The Centre also has a small library with books bought in Sri Lanka and in Sweden by Anders. At present it holds about 300 publications. Only researchers who are also members of the staff can borrow though, not students.
One problem is that the post-graduate students in the programme are staff members who need to do a MA or PhD to further their academic career. Lecturers who are only BA need an MA to get confirmation as senior lecturer, while senior lecturers need a PhD to become professors. With few professors there is very little capacity to train new PhD candidates. Those are older persons, and there is not much room for younger students in the programme.
We discussed the plan to develop a Masters course at the Centre for Development studies, run jointly by Makerere University, Uganda, Kelaniya and Göteborg. They would also offer courses in English, since the students here are very poor in that language.
They are planning a regional conference with South Asian partners (India, Bangladesh and Nepal) on peace and conflict resolution, democracy and governance to be held in November or December this year in Kelaniya.
One conclusion from this and other meetings is that there is a fair amount of co-operation between Indian researchers and researchers from Sri Lanka, Nepal and Bangladesh. Pakistan is never mentioned, neither is the Maldives nor Bhutan.
At a nice lunch, we also met Professor Nimal Dangalle (geography) who is involved with the Centre, and Mr. Sarath K. Jayakody, senior lecturer in geography, who is also Senior Student Counsellor. We also met Mr. K. Karunathilake, secior lecturer in sociology who is interested in village restudies. He has already done a restudy of Nur Yalman's village in "Under the Bo Tree" for his PhD at JNU. He will send summary when the PhD has been accepted. He wants to proceed with longitudinal studies based on Leach´s and Yalman´s earlier village studies, and wants to apply for fresh research grants for this purpose.
He claimed that there had been a negative development in his study area, since the upper castes had been downward mobile, even though the lower castes had moved upwards. This had lead to politicisation since there was a feeling of relative deprivation.
We also met the Vice-Chancellor, professor Tillekeratne (Mathematics), and Prof S Widanapathirana, Microbiology, Dean of the Graduate Studies programmes for all faculties.
Back to Journey


---