SWEDISH SOUTH ASIAN STUDIES NETWORK

---
Lund University Centre for Risk Assessment and Management (LUCRAM)/Department of Fire Safety Engineering
Postal address: Lunds universitets centrum för riskanalys och riskmanagement, Box 118, SE-221 00 Lund, Sweden
Visiting address: John Ericssons Väg 1
Web page: http://www.lucram.lu.se/
Contact person: Per Becker, Visiting Professor, phone: +46 46 2884828. His work focuses on Disaster Management issues. Also working as External Lecturer in Disaster Management at the University of Copenhagen, and for the Swedish Rescue Services Agency and the Swedish Red Cross. Personal web page.
LUCRAM is a multi-disciplinary Lund University unit connected to the Department of Fire Safety Engineering, but involving researchers from six departments within the Faculty of Engineering. It spans over a broad field of research interests within risk analysis and management. The main mission for LUCRAM is to serve as a dynamic, forward thinking resource for risk management research at Lund University.
In order to facilitate for finding and collaborating with researchers from other fields with similar research interests, and to strengthen links to external organisations with specific interests, LUCRAM is hosting a number of research clusters:
– Cluster for Emergency Response Research (CERR)
– Cluster for International Disaster Studies (CIDS)
– Human and organisational factors in risk management (HOFRIM)
Since 2007 LUCRAM cooperates with the University of Copenhagen in running a Masters programme in Disaster Management. The programme is multi-diciplinary and administrated by Cluster for International Disaster Studies (CIDS) at Lund University and Department of International Health at University of Copenhagen. More information.
LUCRAM is collaborating with Rollins School of Public Health in Bangladesh, which assists with a field based course in Risk Assessment Methods, that takes place in Bangladesh.


The department is also looking into the possibilities of finding partners in other South Asian countries for research and innovation in Climate Change Adaptation in coastal and mountain areas.
South Asia related activities
Mr. Per Becker works at Lund University since 2007. He is responsible for developing, convening, as well as lecturing and supervising at, a Masters programme in International Disaster Management at Lund University and Copenhagen University. He is also lecturing and supervising students on the MSc in Risk Management and Safety Engineering as well as on the BSc in Fire Safety Engineering. Besides, he is supporting international organisations with advice and short courses in Disaster Risk Reduction, Response and Recovery, and doing research on international disaster and risk issues, mainly in connection with developing capacity and sustainable development.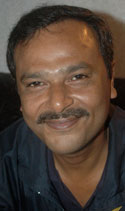 Two senior Indian researchers and two PhD candidate have come to LUCRAM in 2009 and 2010, as scholarship holders through the Erasmus Mundus External Cooperation Window mobility programme Lot 15/13, coordinated by Lund University, that was announced in 2008 and 2009 respectively. A total number of 53 Indian students, PhD candidates, post-docs and academic staff, were selected to come to Lund University in the first batch 2009, and 16 people came in the second batch of 2010. More information about the EMECW programmes focusing on India and South Asia.
Dr. Gupinath Bhandari (photo), Sr. Lecturer and faculty member at the School of Oceanographic Studies, Jadavpur University, Kolkata, visited LUCRAM for a period of two months in 2009 as an academic staff with the objective to learn more about Disaster Management in general, and Risk Analysis tools and methodologies in particular. Dr. Bhandari is also keen to develop future collaboration in research work and course development in the common topic of interest and common emerging areas between Lund University and Jadavpur University. He has a PhD in Coastal Engineering, and his research interests are Coastal Erosion, Riverbank Erosion, Embankment Engineering, and Disaster Management.
Dr. Mudit Mankad is the second senior researcher who received a scholarship under the Erasmus Mundus mobility Programme to visit LUCRAM for 2 months during 2009 as an academic staff. Since August 2006, Dr. Mankad works as a lecturer in the Geoinformatics Division at the Dept. of Geography, University of Pune. His research work focuses on needs and possibilities for using Geographic Information Systems (GIS) and Remote Sensing (RS) to support the analysis of risks and capacities for disaster risk reduction. This work will also try to highlight various GIS and RS tools and techniques which can help in disaster risk reduction at various levels including Community, Municipality, State etc.

PhD candidate Emmanuel Raju was the third scholarship holder accepted to LUCRAM and the Dept. of Fire Safety Engineering and Systems Safety in 2009. He comes from the Tata Institute of Social Sciences (TISS) in Mumbai, where he has obtained an MA in Disaster Management. His main research areas are International Disaster Management, Disasters and Development, and Disaster Risk Reduction. He arrived in September 2009, and will spend the entire period of his thesis work, four years, at Lund University.
Mr. Rahu participated in the first Nordic Conference on South Asian Studies for Young Scholars, organised by SASNET in August 2009. This conference gathered Masters students, Ph.D. candidates, and postdoctoral researchers, along with other junior scholars who are affiliated with universities in the Nordic countries (Denmark, Finland, Norway, and Sweden) who focus on South Asia in their work. More information on the conference.
PhD candidate Roshni Pramanik arrived as a scholarship holder in September 2010. Just like Mr. Raju, she comes from Tata Institute of Social Sciences (TISS) in Mumbai, from where she has a Master's degree in Disaster Management. Her research areas are: Armed forces and disaster risk management,and disaster risk reduction.