SWEDISH SOUTH ASIAN STUDIES NETWORK

---
School of Arts and Communication, Faculty of Culture and Society, Malmö University:

Postal address: Konst, kultur och kommunikation (K3), Malmö högskola, SE-205 06 Malmö, Sweden
Visiting address: Östra Varvsgatan 11 A, Malmö
Web page: http://www.mah.se/english/Schools-and-faculties/Faculty-of-Culture-and-Society/
Contact person: Oscar Hemer, senior lecturer, international faculty coordinator, phone: +46 (0)40 665 7223
The School of Arts and Communication is one of six educational fields at Malmö University. It aims at creating new technology that should be useful for people, and developed in a fruitful meeting with art and humanistic traditions. Within the department several courses and programmes are run, including a 120 credits Programme for Interaction Design and a Master course on "Communication for Development" that both put some emphasis on South Asia and the Third World.
Masters programme and Third Space Seminars:
Oscar Hemer is a writer and journalist now working as the Coordinator of the Master programme "Communication for Development" (ComDev), a relatively new and per definition interdisciplinary field of study and practice, combining theories of development, communication and globalization and integrating them with practical field work. The course was started in the year 2000, and is aimed at journalists, information officers and other professional groups in the media and culture sector and the objective, in order to provide an in-depth understanding of the interplay between media, communication and social change through a unique combination of theoretical studies and practical field work. More information on the Masters programme.
Madanmohan Rao from the Indian Institute of Information Technology (IIIT) in Bangalore, India, has been invited to the department a couple of times, and been teaching at the Communication for Development courses, and acted as supervisor for the students when doing their field work.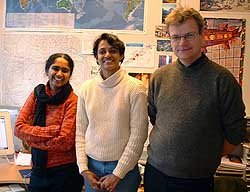 Hemer has been the Coordinator of the Malmö-Lund Third Space Seminars, first held in November 2002. A second edition of the Third Space Seminar was arranged in Malmö and Lund 26-28 November 2004. These were conferences co-hosted by the cities and universities of Malmö and Lund, gathering some of the world's leading artists and intellectuals for a three-day programme of seminars, exhibitions, workshops and panel discussions. The overall theme for the 2004 Seminar was "Examining the Law", and among the key speakers were Dr. Sarat Maharaj (later to become Professor at the Malmö Art Academy, Lund University).
Oscar Hemer and Carl Henrik Svenstedt from the School of Arts and Communication were academic programme coordinators, along with Max Liljefors, Department of Art History, Lund University. Two practicing lawyers from India were also invited, Vasudha Nagaraj from the Anveshi Research Centre for Women's Studies in Secunderabad, Andhra Pradesh;and Anuroopa Giliyal, member of the Alternative Law Forum, based in Bangalore. On Wednesday 24 November 2004 they visited SASNET (along with Oscar Hemer), see photo to the right.
Linnaeus Palme exchange programme
The department started a Linnaeus-Palme programme in 2004 for a collaboration project with the Indian Institute of Information Technology (IIIT) in Bangalore, India (contact persons being Prof. Madanmohan Rao, and later Prof. Dinesha).
The contact person on the Swedish side is Simon Niedenthal, Lecturer in Interaction Technology at K3. He is also a researcher in the Creative Environments Studies.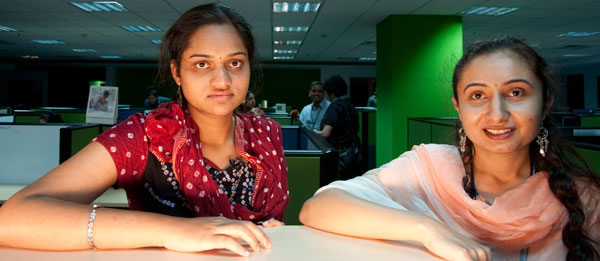 The project has received continued funding for the period 2009-10. More information about the South Asia related Linnaeus Palme projects for 2009-10.
A presentation about the collaboration between IIIT Bangalore and Malmö University has been published as a film entitled "Design for Humans. New Communication in the Meeting between Bangalore and Malmö" on YouTube. It has been produced by the International Programme Office for Education and Training, the agency in charge of the Linnaeus Palme Exchange Programme.
In the film, Dr. Niedenthal and Prof. Dinesha are interviewed, but most of the film focuses on the real experiences of the collaboration programme by two Bangalore students, Reshma Ratnani and Roshini T Raj (seen on the photo above), that have been spent time as exchange students at K3. During their time in Sweden, they also were given a chance to do ractical experience at Sony Ericsson. See the film!

During the month of May 2010 the department hosts a visiting professor from IIIT Bangalore, Dr. Balaji Parthasarathy. He obtained his PhD from the University of California at Berkeley. His research broadly focuses on the relationship between technological innovation, economic globalization, and social change. Within this broad focus, his work follows two threads. One thread examines the impacts of public policy and firm strategies on the organization of production in the ICT (information and communications technology) industry. Another thread deals with "ICTs for Development" (ICTD). Here his interests lie in understanding how ICTs are being deployed in various domains of activity to transform social relationships, especially in economically underdeveloped contexts.