SWEDISH SOUTH ASIAN STUDIES NETWORK

---
Aging Research Centre (ARC); Department of Neurobiology, Caring Sciences and Society (NVS); Karolinska Institutet Medical University, Stockholm
Postal address: Gävlegatan 16, SE-113 30 Stockholm
Visiting address: House of Aging Research (Gävlegatan 16), 8th and 9th floor
Web pages: http://www.ki-su-arc.se/, and http://ki.se/ki/jsp/polopoly.jsp?d=34818&l=en
Contact person: Professor Bengt Winblad, phone +46 (0)8 690 58 22
This is one of the divisions that form the Dept. of Neurobiology, Caring Sciences and Society, most of which are located at the Karolinska University Hospital Huddinge, KI South Campus and the Novum Research Park, but also at Sabbatsbergs Hospital, Stockholms sjukhem, and other places around Stockholm.
Since February 2006 ARC, formerly known as the Division of Geriatric Epidemiology, is located in the House of Aging Research. An opening ceremony was held on 22 February 2006 in presence of the Swedish prime minister Göran Persson, the president of the Karolinska Institutet Harriet Wallberg-Henriksson, and the vice-chancellor of the Stockholm University Kåre Bremer. More information.
ARC is divided into three research groups:
• The Aging Research Center research group
• The International Ageing research group, and
• The Sophiahemmet University College – DOGE (Division of Geriatric Epidemiology) research group
Ongoing research connected to South Asia
For many years the Division of Geriatric Epidemiology has been engaged in an longitudinal study on aging in Bangladesh, and the social, economical, and health situation of the elderly people in Bangladesh. This study has been compared with similar studies carried out in Sweden. The research is now carried out through the International Ageing Research group.
The major focus of this research group is studying health and social aspects of ageing in low-income countries.
1. The Emerging Elderly Population in Bangladesh: Aspects of their Health and Social Situation. A project aimed to establish a knowledge base about aspects of the health and social situation of elderly people in rural and urban Bangladesh. It also aimed to adapt existing instruments assessing health status in terms of gender sensitivity and cultural relevance in the cultural context of Bangladesh. A survey of 786 elderly (age 60 years or older) men and women was conducted in collaboration with a local organisation in Bangladesh.
2. Primary Health-care in Later Life: Improving Service in Bangladesh and Vietnam.
3. Poverty and Health in Ageing in Bangladesh. The study aims to explore how biological, environmental, and societal factors are interrelated in the ageing process.
4. Quality of life and coping strategies among elderly persons in low-income countries in relation to health systems. The study aims to determine the impact of health service on quality of life of elderly persons living in low-income countries and to explore coping strategies of elderly people in relation to difficulties in accessing health care services.
Besides Professor Bengt Winblad the research group has also consisted of the following persons: Assoc Prof Anders Wimo, PhD Zarina Nahar Kabir, PhD Christel Cornelius, PhD Jan Nilsson, and the PhD candidates Tamanna Ferdous, Masuma Akter Khanam, and A. K. M. Masud Rana.

In Bangladesh the collaboration partners are:
• The Research and Evaluation Division, Bangladesh Rural Advancement Committee (BRAC), Dhaka; and
• ICDDR,B: Centre for Health and Population Research, Dhaka.
In Europe research collaboration is carried out with the Overseas Development Group (ODG), University of East Anglia, UK. A research consortium called PHILL (Primary Health-Care in Later Life: improving services in Bangladesh and Vietnam) has been established with BRAC, ODG and the Health Strategy and Policy Institute in Vietnam. The consortium has been awarded funding from the European Commission, and among other things it arranged an International Conference on "Mainstreaming Ageing in Health Systems and Rural Development" in Dhaka, Bangladesh, in November 2005. More information on the conference.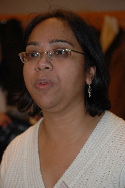 • Dr. Zarina Kabir (photo to the right) defended her doctoral thesis on "The emerging elderly population in Bangladesh: Aspects of their health and social situation", in May, 2001. Read the Abstract.
The research project aimed to establish a knowledge base about aspects of the health and social situation of elderly people in rural and urban Bangladesh, and it also aimed to adapt existing instruments assessing health status in terms of gender sensitivity and cultural relevance in the cultural context of Bangladesh. Support from family members in old age was found to be strong in Bangladesh. The role of providers of support, i.e. emotional, practical, or material, was primarily shared between spouse, daughter, son, and daughter-in-law. While elderly people reported receiving support from their family members, they also reported providing support in the functioning of their own households, both financially and with household activities.
In December 2003 Dr. Kabir received a Swedish Research Links grant for a three-years project on "Poverty and Health in ageing in rural Bangladesh". See full list of Swedish Research Links grants for the period 2004-06.
In August 2005 Zarina Kabir received a SASNET planning grant for an educational project on "Nurse Training for Geriatric Care in Bangladesh". The project will be planned for in collaboration with Pernilla Hillerås at Sophiahemmet in Stockholm; and Nazmul Hossain at the National Institute of Cardiovascular Diseases in Dhaka, Bangladesh. More information on the August 2005 SASNET grants.
Abstract: In Bangladesh, for nearly eleven thousand individuals there is only one trained nurse. Not only is the nurse-population ratio small, training provided during nursing education is inadequate in terms of specialised care for specific populations. It is projected that by the year 2025, the elderly (60+ years) population will exceed 17 million from its current size of 8.5 million and rise to more than 42 million by year 2050. Despite exponential increase in elderly population in the country, no health facility, whether public or private, provide geriatric care. The proposed project aims to develop, in collaboration between institutions in Bangladesh and Sweden, training curriculum for nurses on geriatric care tailored to the contextual needs of Bangladeshi population. It will also provide training to nurse tutors in Bangladesh who in turn will train local nurses. During the planning phase of the project, the possibility of forming a multi-disciplinary team of geriatrician, physiotherapist, nurse and social scientist will be explored as such a multi-disciplinary team work is essential for proper geriatric care.
During 2008, Dr. Kabir was on leave from the department, and held a position as Director for the Social Development Programme at BRAC in Dhaka, Bangladesh. She was involved in the organisation of a workshop titled "Designing action research on the development of inland fisheries for poverty alleviation in Bangladesh" carried out in collaboration with BRAC, the largest non-governmental organization in Bangladesh in October 2008. This workshop was given a SASNET planning grant in August 2008. More information.
• Dr Jan Nilsson defended his doctoral dissertation on a thesis titled "Understanding health-related quality of life in old age : A cross-sectional study of elderly people in rural Bangladesh" on 16 December 2005. It was a project within the major PHILL project mentioned above ("Role and Function – Aspects of Quality of Life in Older People in Rural Bangladesh"). More information about the thesis.
Abstract: The study study reveals the importance of culturally appropriate and multidimensional tools when assessing HRQoL among elderly people in rural Bangladesh. Among the elderly people, there are certain groups that are particularly vulnerable and to whom interventions to improve HRQoL should be directed. These are the oldest old, women, illiterate, belonging to poor households and those with a poor health status. It was conducted in Chandpur district, a rural area 70 km south of Dhaka, Bangladesh. Data were obtained through in-depth interviews with 11 elderly persons aged 63-86 years. Interview data were analysed using content analysis to determine the conceptual meaning of elderly peoples experiences of QoL. The results is that two major themes emerged from the data as being of utmost importance in QoL of elderly people in rural Bangladesh.
Jan Nilsson has since left the department and now works as Regional Health Coordinator för the International Federation of Red Cross and Red Crescent Societies (IFRC), dealing with Japan, China, Mongolia, North and South Korea. He is based in Beijing, China.
• Dr Syed Masud Ahmed, from BRAC Research and Evaluation Division in Dhaka, Bangladesh (and just like Jan Nilsson engaged in the PHILL-BD project) defended his doctoral dissertation titled "Exploring health-seeking behaviour of disadvantaged populations in rural Bangladesh" at the department on Friday 4 November 2005. Opponent was Prof. Finn Diderichsen, University of Copenhagen, Denmark. Dr. Ahmed is a Public Health physician with professional expertise in designing and conducting clinical and public health research including social science research. His articles have been widely published in peer reviewed national and international Journals. He is now back working at BRAC. More information about the thesis, with a link to the full-text document.
Conclusions: An emerging cadre of 'para-professionals' as main provider of formal allopathic care to the disadvantaged populations was observed, in addition to the pre-dominance of self-care. Household poverty was instrumental in shaping health-seeking behaviour. By improving capacity for health-expenditure, a grants-based intervention initiated changes in health-seeking behaviour of the ultra-poor towards greater use of healthcare when ill, and use of formal allopathic providers in preference to unqualified providers. The microcredit-based integrated intervention was found to increase the use of self-care.
• Dr. AKM Masud Rana has worked for Bangladesh Rural Advancement Committee (BRAC) in Dhaka since 1993, but has pursued his doctoral dissertation project at NEUROTEC. He defended his thesis entitled "The Impact of Low Cost and Health Promotion. Intervention in Improving Health and Health-related Quality of Life of Elderly persons in Rural Bangladesh" on 24 April 2009. The thesis suggests that the provision of community-based health promotion intervention among older people could help to both reduce the burden of arthritis-related illness and its related healthcare expenditure, and improve their health-related quality of life. More information, incl. link to full-text thesis.
More information about Dr. Masud Rana.
• Tamanna Ferdous was supervised as a PhD candidate by Dr. Zarina Nahar Kabir and was involved in the project on 'Poverty and Health in Ageing Study', see above. Ferdous is a nutritionist by training, and completed a Masters degree in Public Health at Karolinska in 2003. Tamanna Ferdous defended a Licentiate thesis titled "Prevalence of Malnutrition and Determinants of Nutritional Status Among Elderly People: A Population-Based Study in Rural Bangladesh" on
Abstract: This study reports a high prevalence of malnutrition among elderly people in rural Bangladesh. In order to reduce the proportion of the undernourished worldwide, it is important to address this subset of the population. This research also shows that malnutrition is associated with both disease and non-disease related factors. To reduce the proportion of malnutrition among elderly people in low-income countries, it may therefore not be enough only to reduce poverty. Simultaneously, morbidity needs to be addressed by improving health care for the elderly. More information (as a pdf-file)
After completing her Licentiate thesis, Tamanna Ferdous moved to the Division of Clinical Nutrition and Metabolism, Department of Public Health and Caring Sciences, Uppsala University, to continue with her doctoral thesis. Ms. Ferdous defended her PhD thesis entitled "Determinants of Functional Impact of Nutritional Status Among Older Persons in Rural Bangladesh" on Tuesday 22 September 2009. More information.
• Associate professor Agneta Herlitz is a lecturer in Psychology within the Aging Research Center research group. She is working on a project called "Sex differences in cognition: The impact of age, education, and cultural setting", in which comparative data are collected from various groups in Bangladesh; children, adults and elderly people. In November 2003 this project was given a three-years Swedish Research Council Project grant for Research within Humanities and Social Sciences. See full list of the Research Council grants for the period 2004-06