SWEDISH SOUTH ASIAN STUDIES NETWORK

---
Important new books by Scandinavian scholars on South Asia,
December 2007–March 2008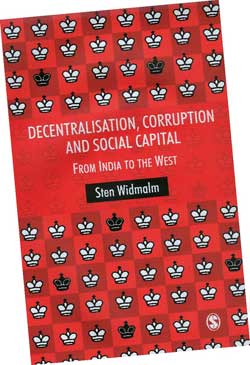 • In January 2008, Associate Professor Sten Widmalm, Dept. of Government, Uppsala University, published a new book titled "Decentralisation, Corruption and Social Capital. From India to the West" (SAGE Publications). It consists of results from his research on everyday corruption in India, and the effects of the Panchayat Raj reforms, presenting unique empirical material from the states of Madhya Pradesh and Kerala, with fresh perspectives and insights on what may be the world's largest ongoing decentralisation reforms.
Comparative perspectives and references to historical cases from around the world are used to show how decentralisation can be connected to social capital and corruption. In particular, this book shows how certain forms of social capital, previously thought to be a hindrance to development, can work in favour of democracy. Widmalm argues that there exists a strong and direct connection between degrees of corruption in village performance and the level of trust in society, even though only an ambiguous link can be said to exist between decentralisation and corruption. However, the kind of trust most strongly related to performance is not the kind we would expect from a reading of development literature or from the policies of certain aid agencies. This book shows that the relationship between decentralisation, corruption and social capital can be well understood if illuminated through the prism of collective action theory. Further, it dwells upon the consequences of these research results for aid policies. The book would be invaluable to aid agencies and development-oriented organisations, as well as students and researchers working in the areas of development, governance, decentralisation, federalism, social capital and civil society. More information.
• In December 2007, Professor Peter Schalk, Dept. of History of Religions, Faculty of Theology; Uppsala University, published a monograph titled "Die Lehre der Befreiungstiger Tamililams von der Selbstvernichtung durch göttliche Askese: Vorlage der Quelle ÜBERLEGUNGEN DES ANFÜHRERS" about the nationalism/patriotism of Veluppillai Pirapakaran, leader of the LTTE, based on the collection of his sayings known as talaivarin cintanaikal 'Reflections of the Leader', and some of his speeches. The introduction is in German. It focuses on the concept of tiyakam 'abandonment (of life)', sometimes rendered as martyrdom or heroic death. Then follows the Tamil text but transliterated. Finally follow Schalk's complete translations of this text into German, English, and Swedish. A translation into Sinhala is added, produced by Anonymous. The readers of Sinhala can now for the first time study the authentic words of Veluppillai Pirapakaran in their mother tongue. The work, financed by the Swedish Research Council (Vetenskapsrådet), has been written in co-operation with Alvapillai Veluppillai, Professor Emeritus in Tamil from the University of Yalppanam, Sri Lanka. The work is published as e-book only and can be downloaded free of charge from the database at Uppsala University chapter by chapter. There are six. Please go to http://publications.uu.se/abstract.xsql?dbid=8404.
• In January 2008, Professor Antoon Geels, Dept. of Psychology of Religion, Centre for Theology and Religious Studies, Lund University published a book titled "Religiös besinning och besinningslös religion. Tankar om terror i Guds namn, Buddhism och global andlighet" [Religious Sense and Senseless Religion. Thoughts About Terror in the Name of God, Buddhism, and Global Spirituality]. The book deals with the fact that even though religion can motivate people to altruistic activity in the service of mankind, it can also instigate terror attacks. When does religion become senseless? Several chapters are devoted to a discussion of Buddhism and its contribution to well-being. In a final chapter the author presents his ideas about global spirituality. Representatives of the five great world religions come together in order to prepare a (fictive) interreligious dialogue, focusing on controversial issues as well as on common spiritual denominators, which can lay a foundation for a new global spirituality. Published by Bokförlaget Nya Doxa, Nora, Sweden, http://www.nya-doxa.se/www/.
• In March 2008, Professor Knut Jacobsen, Dept. of History of Religions, Bergen University, publishes an edited volume titled "South Asian Religions on Display: Religious Processions in South Asia and in the Diaspora" (Routledge). Written by leading specialists on religious processions and ritualization of public space in South Asia and in the Diaspora, this volume presents current research on the interpretations of the role of processions, the recent increase in processions and changes in the procession traditions. The book has several contributors from the Nordic countries, including Dr. Stig Toft Madsen, Nordic Institute for Asian Studies (NIAS) in Copenhagen, and Dr. Kristina Myrvold, Dept. of History and Anthropology of Religion, Centre for Theology and Religious Studies, Lund University.
Table of Content: Introduction: Religion on Display Knut A. Jacobsen Part 1: Processions in South Asia 1. The Re-Invention of Tamil Funeral Processions Isabelle Clark-Deces 2. Getting in Line: The Kumbha Mela Festival Processions James Lochtefeld 3. Mapping the Management of Threatening Gods and Social Conflict: A Territorial Approach to Processions in a South Indian Village (Tamil Nadu) Pierre-Yves Trouillet 4. Space, Sound, Auspiciousness, and Performance in North Indian Wedding Processions Gregory D. Booth 5. Public Display, Communal Devotion: Procession at a South Indian Catholic Festival Selva J. Raj 6. The Virgin and her 'Relations': Reflections on Processions at a Catholic Shrine in Southern India Matthias Frenz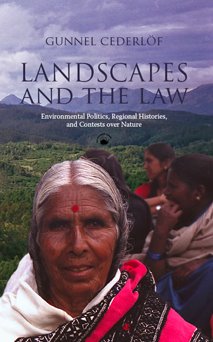 7. 'Yeh Matam Kayse Ruk Jae' (How Could this Matam Ever Cease): Muharram Processions in Pakistani Punjab Mariam Abou Zahab 8. A Note on the Modernization of Muharram Stig Toft Madsen and Muhammad Hassan 9. Muharram Processions and the Ethisation of Hero Cults in the Pre-Modern Deccan Hugh van Skyhawk 10. Personalizing the Sikh Scripture: Processions of the Guru Granth Sahib in India Kristina Myrvold Part 2: Processions in the South Asian Diaspora 11. Gods on the Move: Chariot Processions in Urban Singapore Vineeta Sinha 12. Parading Hindu Gods in Public: New Festival Traditions of Tamil Hindus in Germany Brigitte Luchesi 13. Processions, Public Space and Sacred Space in the South Asian Diaspora in Norway Knut A Jacobsen 14. Rathayatra of the Hare Krishnas in Durban: Inventing Strategies to Transmit Religious Ideas in Modern Society P. Pratap Kumar. 'Conclusion and Future Prospects' Knut A. Jacobsen. More information.
In April 2008, Associate Professor Gunnel Cederlöf, Dept. of History, Uppsala University, published a book titled "Landscapes and the Law: Environmental Politics, Regional Histories, and Contests over Nature (Permanent Black, Delhi). It is based on recent research project on "Environmental History of Law. State making and land conflicts in colonial India" (more information about the research project), and in the book Dr. Cederlöf examines the role of law in consolidating early colonial rule in India from the perspective of people's access to nature in forests and hill tracts. It is concerned thus with the social history of legal processes and the making of law. The book is focused equally on the multitude of colliding claims to land and resources, and the complex ways by which customary rights in nature are redefined and codified for the purpose of securing and legitimizing colonial sovereign rule. More information about the book.