SWEDISH SOUTH ASIAN STUDIES NETWORK

---
Newsletter 19:
26 September 2002
SASNET News: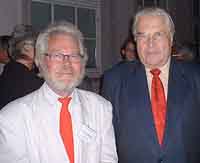 SASNET Director Prof. Staffan Lindberg together with Prof. em. Dietmar Rothermund from South Asia Institute at the conference in Heidelberg.
• SASNET represented at the Heidelberg Conference
SASNET was represented by both Staffan Lindberg and Lars Eklund at the 17th European Conference on Modern South Asian Studies, which took place at Heidelberg, Germany, 9–14 September, 2002. 300 participating South Asia researchers from all over the World made the conference into a major event. More information on the conference.
We also present a few snapshots from the conference. See our images!
Community News:
Important lectures and workshops
• Professor Eric Karunanayake from the Dept of Biochemistry & Molecular Biology, University of Colombo, holds a seminar on "Reverse the Brain Drain! Research Possibilities in Life Sciences in Sri Lanka", at the Collegium for Development Studies, Uppsala University, on Tuesday 1 October, 2002, 14.15–16.15. Venue: Clasonsalen, Övre Slottsgatan 1.
• Dr Prakash Nelliyat, environmental economist from Madras School of Economics, Chennai, India, has been invited by SASNET to lecture at Lund University, on "Environmental cost of T-shirts. The case of Tirupur, India", on Wednesday 2 October, 2002, 13–15. Venue: Seminar room, Dept of Human Ecology, Finngatan 16.
• A Workshop on "Local Governance in Transformation" is arranged by the Seminar for Development Studies (SDS) at Uppsala University, 4–5 October, 2002. Venue: Akademihotellet (former International Training Centre), Övre Slottsgatan 1, the Clason room. See the programme (as a rtf-file). The workshop includes a lecture by Beppe Karlsson, Dept of Cultural Anthropopgy, on "Ethnic Homelands as a form of Indigenous Self-Governance: Cases from India's Northeast". For more information contact Björn Lindgren or Maria Edin.
News on courses and education
New and updated items on SASNET web site
‡ Museion, Göteborg University
‡ International Maternal and Child Health (IMCH); Dept of Women's and Children's Health, Uppsala University
‡ Centre for Public Health in Humanitarian Assistance (PHHA); Dept of Women's and Children's Health, Uppsala University
Cultural Events connected to South Asia in Scandinavia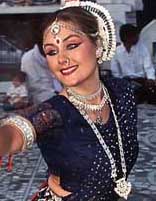 • Odissi dance performances in Göteborg on 28 September
The Swedish trained Odissi dancer Anette Claesson will give a performance at Göteborgs stadsbibliotek, the foyer, on Saturday 28 September, 15.30. Anette who has studied Odissi dance in New Delhi on a scholarship from the Indian Council for Cultural Relations, and was written about in the latest issue of the magazine SYDASIEN, will also perform at Göteborg Stadsteater the same day, 28 September, between 23.00 and midnight, in a Odissi perfomance named "Eleventh Hour".

---
Best regards

Staffan Lindberg Lars Eklund

SASNET/ Swedish South Asian Studies Network

SASNET is a national network for research, education, and information about South Asia, based at Lund University. The aim is to encourage and promote an open and dynamic networking process, in which Swedish researchers co-operate with researchers in South Asia and globally.
The network is open to all sciences. Priority is given to co-operation between disciplines and across faculties, as well as institutions in the Nordic countries and in South Asia. The basic idea is that South Asian studies will be most fruitfully pursued in co-operation between researchers, working in different institutions with a solid base in their mother disciplines.
The network is financed by Sida (Swedish International Development Cooperation Agency) and by Lund University.


Postal address: SASNET – Swedish South Asian Studies Network, International Office,
Lund University, P O Box 117, S-221 00 Lund
Visiting address: Gamla Kirurgen, Sandgatan 3, first floor, room no. 230
Phone: + 46 46 222 73 40
Fax: + 46 46 222 96 65
E-mail: sasnet@sasnet.lu.se
Web site: http://www.sasnet.lu.se
Our office is manned weekdays 9-17, and open to visitors.

Staff: Staffan Lindberg, director/co-ordinator &
Lars Eklund, webmaster/programme secretary
Back to SASNET


---