SWEDISH SOUTH ASIAN STUDIES NETWORK

---
Newsletter 24:
12 February 2003
Vacant research positions/fellowships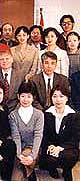 • Asian Development Bank offers internships
The Asian Development Bank (ADB) offers MA and PhD students registered in NIAS "Support Programme for Asian Studies (SUPRA)" the opportunity to apply through NIAS for a two-month (July-August) summer 2003 internship with the Bank at its headquarters in Manila, Philippines. Applications are considered only for the specific positions that ADB makes available each summer, usually for 10 students. Official deadline was 31 January, 2003. More information.
• International conference on Global Environmental Change at Lund University
A conference on "World System History and Global Environmental Change" is arranged by the Human Ecology Division, Lund University, Sweden, 19–22 September 2003. The conference brings together key International scholars from the social, historical, geographical and environmental sciences, in an effort to broaden our view of the ecological dimension of global, economic processes in a long-term, historical perspective. Some papers deal with South Asia related research: Prof Paul Sinclair, Dept of Archeology, Uppsala University, will speak on "Africa and the Indian Ocean 1000 BC to 1500 AD", Simron Singh, University of Vienna, will speak on "In the Sea of Influence: The Emergence of the World System in the Nicobar Islands", and Jyoti Parikh, Indira Gandhi Institute of Development Research, New Delhi, India, will speak on "Deprivation of Poor due to Loss of Common Property Resource Base".
Important lectures and workshops
• SASNET lecture on the Bhutan refugee problem
Dr. Rajesh Kharat, political scientist from the Department of Civics & Politics, University of Mumbai, holds a SASNET Guest Lecture on "The Bhutan Refugee Problem", Thursday 13 February, 14–16. Venue: International Office, Lund University, Conference room, Gamla Kirurgen, Sandgatan 3, first floor. Dr. Kharat is an expert on Bhutan, Tibet, the refugee situation in the region, and more generally about the political and economic cooperation in South Asia. In 1999 he published the book "Bhutan in SAARC: Role of a Small State in a Regional Alliance".
• Seminar talk by Ashok Nath on the effects of tourism in Zanskar
PhD candidate Ashok Nath, Dept of Human Geography, Södertörn University College, Huddinge holds a lunch seminar talk on "Eco-tourism and sustainability. A look at Zanskar – the highest mountain kingdom in the Himalayas, Friday 14 February, 12.00–13.30. Venue: Sida, La Plata, 1 floor,Sveavägen 20, Stockholm.


New and updated items on SASNET web site
Cultural Events connected to South Asia in Scandinavia
• 3 X Afghanistan, Three photographers, Three meetings, Three decades
An exhibition of photos taken in Afghanistan by Kärstin Stiege, Maria Söderberg, and Eva Wernelid, is shown until May 2003, at Svenska Rädda Barnen, Torsgatan 4, Stockholm.
---

Best regards

Staffan Lindberg Lars Eklund

SASNET/ Swedish South Asian Studies Network

SASNET is a national network for research, education, and information about South Asia, based at Lund University. The aim is to encourage and promote an open and dynamic networking process, in which Swedish researchers co-operate with researchers in South Asia and globally.
The network is open to all sciences. Priority is given to co-operation between disciplines and across faculties, as well as institutions in the Nordic countries and in South Asia. The basic idea is that South Asian studies will be most fruitfully pursued in co-operation between researchers, working in different institutions with a solid base in their mother disciplines.
The network is financed by Sida (Swedish International Development Cooperation Agency) and by Lund University.


Postal address: SASNET – Swedish South Asian Studies Network, International Office,
Lund University, P O Box 117, S-221 00 Lund
Visiting address: Gamla Kirurgen, Sandgatan 3, first floor, room no. 230
Phone: + 46 46 222 73 40
Fax: + 46 46 222 96 65
E-mail: sasnet@sasnet.lu.se
Web site: http://www.sasnet.lu.se


Staff: Staffan Lindberg, director/co-ordinator &
Lars Eklund, webmaster/programme secretary
Back to SASNET


---