SWEDISH SOUTH ASIAN STUDIES NETWORK

---
Newsletter 35:
27 January 2004
• 1 February deadline for applications to the Masters programme in South Asian Studies
A 90 ECTS Masters Programme in Asian Studies will be run for the second time at Lund University during the study year 2004-05. The programme, run by SASNET and the Centre for East and SouthEast Asian Studies at Lund University, focuses on the rapid development of Asian societies over the last decades, and looks specifically at major contemporary issues confronting the region, its governments and its peoples. It is multi-disciplinary and addresses a broad range of topics such as economic development, social change, the dynamic tension between tradition and transformation, and the problems of migration and urbanisation, among others, both from chronological and thematic perspectives.
Students choose to follow one of two independent tracks within the framework of the programme: East and South-East Asian studies or South Asian studies. Each track admits 30 students. Deadline for applications for admission is February 1, 2004. More information.
• Time to register for the EASAS conference before 1 February 2004
Last date for registration to the 18th EASAS conference is 1 February 2004. A registration form, which includes details on how to pay the conference fee, is available at the conference web page, http://www.sasnet.lu.se/EASAS18.html
• Limited number of travel and accommodation grants available
Two categories of participants to the 18th EASAS conference in Lund are eligible to apply for the limited number of travel and accommodation grants available, namely:
1/ Panel convenors from South Asia and Eastern Europe who need financial support to attend the conference; and
2/ Younger researchers from South Asia and Eastern Europe who need financial support to attend the conference, and has got his/her paper accepted by a panel (maximum one scholarship per panel).
The applying panel convenor or young researcher, should submit a copy of the paper that has been accepted for the conference, along with his/her CV, and a confirmation that the paper has been accepted by a panel. Applications have to reach the secretariat, by e-mail (sasnet@sasnet.lu.se) or by post (SASNET, Scheelevagen 15, SE-223 70 Lund, Sweden) no later than 1 February 2004, which is also the closing date for registration.
The grants consist of getting flight tickets to and from Lund, plus food and accommodation during the conference period. Only few travel and accommodation grants are available, and we therefore advise anybody who really desires to participate in the conference to secure funding from other sources.
• Schedules fixed for the panels to the 18th EASAS conference
The 18th European Conference on Modern South Asian Studies, organized by SASNET and Lund University, 6–9 July 2004, will have a total number of 49 panels, covering a wide scope of research fields. Please note that individual researchers who like to present papers at the 18th EASAS conference should contact the convenor of the panel into which his/her paper fits. Each panel has a convenor who organizes the panel autonomously. All communications regarding the panels content should therefore be directed directly to the panel organizers, and not to the executive conference committee. Last date for registration and submission of papers is 1 February 2004. The schedules are now fixed. Go for the panels schedules page with links to abstracts.
• Hotel accommodation for participants to the 18th EASAS conference
The conference will arrange lodging only for those persons who receive a travel and accommodation grant to attend. Other participants must arrange and pay for their own lodging. There are however several alternatives for accommodation.
Rooms have been booked in advance for participants in the 18th EASAS conference at all hotels in town. When making the final reservation you should therefore mention the booking code mentioned in SASNET's directory of hotels and youth hostels available at Lund.
• SASNET's web site working again
The SASNET web master Lars Eklund has been severely ill due to a severe pneumonia, which he caught while on holiday in South Asia. Therefore no changes have been made on the web site for quite some time. From 26 January he is however back in office and hopefully the flow on the web site will be back to normal within a short time.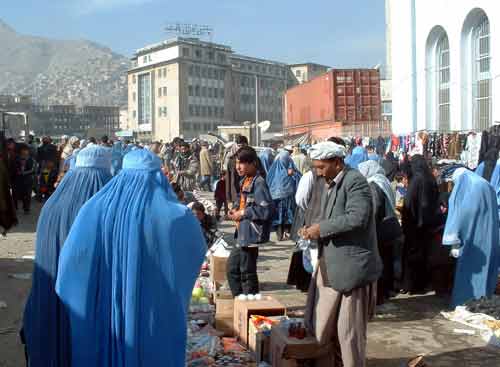 • SASNET contact journey to Pakistan and Afghanistan
The SASNET director Professor Staffan Lindberg, and deputy director/webmaster Lars Eklund successfully completed their contact journey to Pakistan and Afghanistan lasting from Thursday 20 November – Sunday 7 December 2003.
The aim of the tour was to link up the SASNET activities with universities and research institutions in the two countries, They visited Karachi, Islamabad, and Lahore in Pakistan; and Kabul in Afghanistan. It turned out to be an extremely fruitful journey, both building on the already existing academic links between a few researchers/institutions in Sweden and Pakistan, and promoting new forms of cooperation there as well as in Afghanistan. Full reports on the journey will soon appear on the SASNET web site.
• SASNET Board meeting
SASNET has got a new board for the period 2004–2006. The board will have its first meeting on Tuesday 3 February 2004 at Lund University. Full information on the members of the SASNET board and SASNET's organization.
• Next round for SASNET planning grants in June 2004
The coming round for SASNET planning grants, which should have had its deadline in November, has been cancelled. The decision was taken by the SASNET Board at its meeting on 26 August. Instead applications are invited for the first round in 2004. Closing date for applications is 15 June, 2004. More information.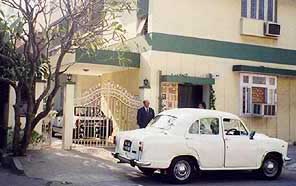 • Nordic Centre in India offers accommodation in Delhi.
The Nordic University consortium designated Nordic Centre in India (NCI), formally established in 2001, is still waiting for clearance from the Indian government. However it already provides accommodation for Nordic students, researchers, teachers and administrators who are engaged with Indian/South Asian topics, and provides with a well-equipped flat in the Nizamuddin East area in South Delhi. The fee is 300 Norwegian Kronor per night and person. More information on the Nordic Centre and its flat in New Delhi.
• NIAS Contact Scholarships for Nordic Graduate Students
The Nordic Institute for Asian Studies offer scholarships designed to make NIAS' library and other resources accessible to graduate students in the Nordic countries. A scholarship covers inexpensive travel to and from Copenhagen and accommodation in a NIAS room at Nordisk Kollegium, with full board for a period of two weeks. It must be noted that because only one room at the Nordisk Kollegium is available for this scholarship programme, stays are arranged subject to a time schedule administered by NIAS. Monday 5 April 2004 for scholarships during the period May-June and August-September 2004. More information.
• NIAS Guest Researcher Scholarships
Senior researchers and postgraduate students based in the Nordic countries are offered scholarships, giving an opportunity to work at NIAS as an affiliated researcher for 2 or 4 weeks. A scholarship includes inexpensive travel to and from Copenhagen and accommodation with full board in a NIAS room at Nordisk Kollegium. The guest researcher enjoys full access to the Institute's library services and research tools, computer facilities, contact networks and scholarly environment. Monday 5 April 2004 for scholarships during the period May-June and August-September 2004. More information.
• Summer course for Nordic students in Hyderabad, India
The Nordic Centre in India organises a four-weeks summer course for Nordic students on "Contemporary India" in Hyderabad, India, in July 2004. The course, which was run also last year, is is organised by the Study India Programme at the University of Hyderabad, and is open to students from all Nordic universities and institutions of higher learning. Students from from the NCI member institutions can join the course at a much reduced cost compared to other participants. More information on the Hyderabad summer course.
• Internet-based course on "Globalisation and Transformation in a Comparative Perspective"
Lund University and its Department of Sociology coordinates an international Internet-based course on "Globalisation and Transformation in a Comparative Perspective". Seven universities in four countries (Bulgaria, Germany, Romania and Sweden) have since 1999 been involved in the project funded by the European Union.
From 2004 the project expands into Asia, by bringing in partner universities in China, Vietnam and India – Banaras Hindu University in Varanasi; and the University of Mumbai. The International Masters programme has also been transformed into two part-time courses, with 30 ECTS credits each. Teachers and students are supposed to come from all the countries involved, and already students from Varanasi participate. Students and teachers from the departments of Sociology and Political science at the University of Mumbai will also take part from the Fall 2004.

• Third Heidelberg Summer school to be held in July–August 2004
The third University of Heidelberg Summer School in South Asian studies will be held this summer from 24 July – 14 August 2004. The themes of the course are: Modern South Asia: Analyzing Political, Economic and Cultural Change; Thematic Modules: South Asia and the Impact of a Globalized Economy, Politics, Past and Present; and Society and Culture in a Changing South Asia. The course is based on lectures, group work, roundtable discussions as well as one week of guided research and will be addressing historical, political, and religious aspects of the region as well as questions of the economy and development. Cooperation partners include: Dr. Willem van der Geest (EIAS), Prof. Roger Jeffery (University of Edinburgh), Prof. Subrata K. Mitra (University of Heidelberg), Prof. Pamela Gwynne Price (University of Oslo), and Dr. Marie Saglio-Yatzimirsky (INALCO).
• SEPHIS offers fellowship at research centre in Bangalore
The Centre for the Study of Culture and Society (CSCS) at Bangalore, India, offers a fellowship awarded by SEPHIS (The Dutch-sponsored South–South Exchange Programme for Research on the History of Development) to a student from any country in the South to spend one academic year in Bangalore, beginning July 2004. The main purpose of the fellowship programme is to help develop alternative frameworks for research and teaching as well as new theoretical paradigms that take into account the specific experiences of non-Western societies. The student can either register with CSCS for the Ph.D. in Cultural Studies (validated by the Manipal Academy of Higher Education, MAHE, a deemed Indian university, and also by Kuvempu University, a Karnataka State institution) or register in his/her own country and do the CSCS coursework for two semesters. Complete applications must reach CSCS before 15 February 2004. Candidates will be informed of the outcome by 15 March 2004.
Important lectures and seminars
• Seminar on "Religion and Politics in South and Southeast Asia" at Lund University
A Seminar on 'Religion and Politics in South and Southeast Asia. The latest evelopments – analyses and perspectives' is arranged at Lund University on Friday 30 January 2004, 9.00 – 18.00. Jan Hjärpe, Ahmed Gholam and Stig Toft Madsen will speak in the morning session, and in the afternoon session there will be lectures by Catarina Kinnvall and Ann Kull. Between 15 – 16 there will be panel discussion between the lecturers with participation of Catharina Raudvere and Staffan Lindberg. At 16.30 the film 'Father, Son and Holy War – a documentary film on hindutva' will be shown. Venue: Samarkand, AF, Sandgatan, Lund. After the seminar there will be a reception at the Centre for Theology and Religion, Allhelgona Kyrkogata 8, second floor. To register for the reception contact: Leif Stenberg or Sidsel Hansson.
• Workshop on Cultural studies in Bangalore
The Centre for Studies in Social Sciences, Calcutta (CSSSC), in collaboration with the ENRECA programme of DANIDA (Denmark) and SEPHIS (the Netherlands) holds its ninth Cultural Studies Workshop 2–7 February 2004 in Bangalore, India. The broad theme for the workshop is "Rethinking the Cultural Turn", and the aim of the workshop will be to map the terrain of Cultural Studies as it has developed through the last couple of decades in both the West and the postcolonial countries.
• South Asia conference at Berkeley
The 19th Annual South Asia Conference at the University of California, Berkeley, is held Friday-Saturday 13–14 February 2004. Venue: Center for South Asia Studies, 10 Stephens Hall, Berkeley.
• Conference on "Breaking Barriers and Building Bridges" in Seattle
The National South Asian Law Student Association (NSALSA) Conference 2004 at Seattle, Washington State, USA, will be 13–16 February 2004. The theme for the conference is "Breaking Barriers and Building Bridges: Human rights and the Law in South Asia". Venue: Seattle University School of Law at Sullivan Hall, 900 Broadway.
• Fifth European Social Science History Conference in Berlin
The Fifth European Social Science History Conference takes place at Humboldt University, Berlin, Germany, 24–27 March 2004. The conference aims at bringing together scholars interested in explaining historical phenomena using the methods of the social sciences. The conference is characterized by a lively exchange in many small groups, rather than by formal plenary sessions. The Conference welcomes papers and sessions on any topic and any historical period. It is organised in a large number of networks, including such as: Asia; Culture; Ethnicity and Migration; Family and Demography; Geography; Health; Nations and Nationalism; and Social Inequality. More information.
• BASAS annual conference held at University of East Anglia
The British Association for South Asian Studies, BASAS, arranges its annual conference 2004 at the University of East Anglia in Norwich, UK, 5–7 April 2004. The conference theme will be "Contemporary Developments in South Asia". Panels which have already been suggested and are being considered for the conference include: • Contemporary Cinema, • Dalit Literatures, • South Asian Political Economies, and • International Relations: Changing Relationships between South Asia and the USA. More information.
• Australian conference on Asian studies in June
The Asian Studies Association of Australia invites participants to the 15th Biennial Conference in Canberra, 29 June–2 July 2004. The conference will be held in Canberra's National Convention Centre and is an opportunity to showcase current work in any aspect of Asian Studies. The conference therefore will address a wide variety of themes, including religious change, political authority, migration, terror and violence, architecture, poverty and wealth creation, gender, bilateral trade agreements and the state of the profession. Deadline for panels and paper proposals is 5 March 2004. More information.
• More conferences connected to South Asian studies, see SASNET's page, http://www.sasnet.lu.se/conferences.html#conf
Cultural News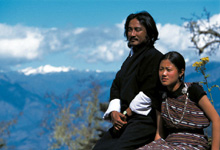 • South Asia related films at Göteborg Film Festival 2004
Göteborg Film Festival 2004 (23 January–2 February) shows several South Asian or South Asia related films.
– The German film maker Dagmar Diebels has produced The Return of the Khan (Der Khan kehrt züruck), following the Afghani political scientist Rangin Dadfar Spanta returning to his home country after 25 years in German exile.
– Travellers and Magicians, a beautiful film by the Bhutanese director Khyentse Norbu is also shown (photo from the film shown to the left), as well as
– A Nation without Women (Matrubhoomi), a film dealing with the phenomenon of killings of unwanted female children in Indian villages. The film is made by Manish Jha.
– A French/German/Pakistani co-production called Silent Waters (Khamosh Pani) is also shown at the festival, an interesting film by Sabiha Sumar which won the Golden Leopard at the Locarno Film Festival last year.
– Finally two films from Sri Lanka are shown; Mansion by the Lake, directed by Lester James Peries; and Shades of Ash (Sudu Kalu Saha Alu), directed by Sudath Mahaadivulwewa. The latter film deals with how the 20 years of civil war has affected the people of the country.
More information on the Göteborg film festival 2004.
---

Best regards

Staffan Lindberg Lars Eklund

SASNET/ Swedish South Asian Studies Network

SASNET is a national network for research, education, and information about South Asia, based at Lund University. The aim is to encourage and promote an open and dynamic networking process, in which Swedish researchers co-operate with researchers in South Asia and globally.
The network is open to all sciences. Priority is given to co-operation between disciplines and across faculties, as well as institutions in the Nordic countries and in South Asia. The basic idea is that South Asian studies will be most fruitfully pursued in co-operation between researchers, working in different institutions with a solid base in their mother disciplines.
The network is financed by Sida (Swedish International Development Cooperation Agency) and by Lund University.


Postal address: SASNET – Swedish South Asian Studies Network, Scheelevägen 15 B, S-223 70 Lund, Sweden
Visiting address: Ideon Research Park, House Alfa 1 (first floor, room no. 2042), in the premises of the Centre for East and South East Asian Studies at Lund University (ACE).
Phone: + 46 46 222 73 40
Fax: + 46 46 222 30 41
E-mail: sasnet@sasnet.lu.se
Web site: http://www.sasnet.lu.se
Staff: Staffan Lindberg, director/co-ordinator & Lars Eklund, webmaster/deputy director
Back to SASNET


---