SWEDISH SOUTH ASIAN STUDIES NETWORK

---
School of Health and Medical Sciences, Örebro University:
Postal address: Hälsoakademin, Örebro universitet, SE-701 82 Örebro, Sweden
Visiting address: Prismahuset, Fakultetsgatan 1
Web page: http://www.oru.se/English/Organization/School-of-Health-and-Medical-Sciences/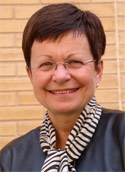 Contact person: Christina Sylwander, coordinator for International activities
Contact person within the Nursing Division (omvårdnad): Asst. Prof. Marita Widar (photo to the right), PhD, RNT; phone: +46 (0)19 30 36 47. Marita Widar has earlier, during the 1970's worked for six years in Afghanistan, for the International Assistance Mission, IAM, an organisation that has been actively involved in humanitarian assistance activities in the country for more than 35 years.
Marita Widar will soon retire from her position at Örebro University.

The School of Health and Medical Sciences is one of the largest departments at Örebro University. It was formed in 2007, when the Department of Health Sciences and the Department of clinical medicine merged to create a new dynamic and multidisciplinary research environment.

Exchange programmes with India:
The Division of Nursing within the Department of Caring Sciences has had an exchange of teachers and students through the Linnaeus Palme exhange programme since 2000, and it has recently been extended to last until 2008. In India the collaborating partner institution is the College of Nursing at Christian Medical College (CMC) in Vellore, Tamil Nadu.
The training at the College of Nursing in Vellore is considered to be of an outstanding quality in India, and this has also been acknowledged by the World Health Organisation, WHO.
The Swedish magazine Omvårdaren (No 3/2005) published an article about the department's Indian collaboration project, includng an interview with Marita Widar. Read the article, titled "Fortsatt satsning på samarbetet med Indien".
During the Fall 2004 four students from the College of Nursing (CMC) studied Oncology and Palliative care within the Division of Nursing in Örebro, and two Swedish students studied Community Health at College of Nursing (CMC) during the spring 2005.
The exchange programme is now running very smooth. During the Fall 2006 four students in each direction were able to participate. The Indian students were very well prepared, and for the first time they could also join a course in research methodology, and then write excellent 10 credits papers on Bachelors level.
Marita Widar has been a visiting faculty at the College of Nursing in Vellore, and taught regularly in various subjects, including Information Retrieval, and also supervised Masters students doing their theses. She spent three weeks during January-February 2007 in Vellore, where she met the new Dean of the College, Mrs. Bharathy Jacob.
The Indian contact person in charge of the exchange activities at CMC has otherwise been Dr. Premila Lee, specialised in Surgical Nursing and who defended her doctoral dissertation about Breast Cancer in 2006. She visited Örebro University during the Spring 2007. On 7 May 2007, she lectured in Örebro about "On Organization of Community Health and Common Health Problems & Communicable Diseases in India".

The Vellore hospital is currently being renovated and upgraded. Today it has around 4 000 polyclinical patients every day. In February 2007 the first building stones were laid for the construction a new Nursing College. It is being funded partly with assistance from a solidarity organisation called the Friends of Vellore (existing both in the UK and in Sweden).
The former Dean, Dr Punitha Eshilarazu (photo to the left), who visited Örebro University in October 2004, and worked as a guest teacher (besides holding a couple of lectures for the students on "Health Problems and Common Diseases in India", and "Geriatric Care in India") is now responsible for further education and research. She has been able to procure WHO funding for a modern technical equipment for distance education in connection with other universities. A programme for joint further education is run in collaboration with three other universities.
Other Linnaeus Palme programmes
In 2007, the Department of Health Sciences at Örebro University established a second exchange project with Vellore. This time is dealt with the training of occupational therapists. The contact person on the Swedish side was Assistant Professor Kajsa Lidström Holmqvist.
Within the field of Biomedicine, the Dept. of Clinical Medicine also has had a Linnaeus Palme Exchange programme with the Christian Medical College (CMC) in Vellore, Tamil Nadu, India. It has included an exchange of teachers and students. During 2007, a teacher from the X-Ray Assistant Programme in Vellore was invited to come to Örebro, and a Swedish teacher went to Vellore.
The collaboration project has got continued funding for the period 2009-10. More information about the South Asia related Linnaeus Palme projects for 2009-10.