SWEDISH SOUTH ASIAN STUDIES NETWORK

---
Quiz Winners from IIT Mumbai February 2009 trip to Sweden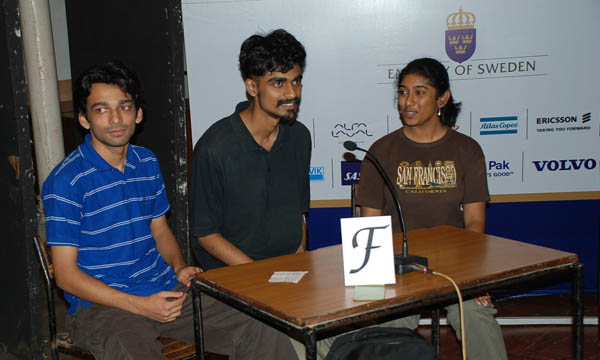 In October 2008, the Swedish Embassy in New Delhi for the second year organised a so-called Sweden India Nobel Memorial Week (more information). The week-long activities were strung together by the Nobel thread comprising a Swedish Food Festival, a Quiz at the prestigious India Institute of Technology (IIT) Delhi, and also a Management Day organized by the Swedish Institute in Mumbai.
The Nobel Quiz was held in collaboration with the The Quizzing Club at IIT Delhi with a large number of student teams coming from various Indian universities. The theme for the competition was the Nobel Prize & Nobel laureates. The winners were promised to get an all-expenses paid, weeklong trip to Sweden where they would get an opportunity to visit renowned Swedish technology companies like Ericsson, Volvo, SAAB, Astra Zeneca, SAS, Atlas Copco, Tetra Pak, ABB, Alfa Laval, Sandvik and SKF, but also a few Swedish universities, namely Lund University and Linköping University.
Seven teams – IIT Mumbai, IIT Delhi, Netaji Subhas Institute of Technology in Delhi, Ramjas College, Birla Institute of Technology and Science (BITS) in Pilani, IIT Kanpur, and Maulana Azad Medical College in Delhi – qualified for the finals. The finals were then won by the team from IIT Bombay which got a free trip to Sweden as the grand prize (see the winning team consisting of Rahul Singh, Vaibhav Devanathan, and Haripriya Mukundarajan, on the photo above).
On Sunday 22 February 2009, two of the quiz winners from IIT Mumbai, namely Rahul Singh (from Jamshedpur), and Haripriya Mukundarajan (from Bangalore), arrived in Sweden for a hectic one-week programme that included visits to Lund, Göteborg, Linköping, Sandviken and Stockholm. The first stop on the tour was Lund, where they stayed for 24 hours and SASNET organised a half-day programme for them at Lund University on Monday 23 February, see photos below. SASNET also invited them for dinner at Grand Hotel in the company of SASNET's deputy director Lars Eklund and his wife Bubu Munshi-Eklund.
At Lund University, they were guided around by Lars Eklund, who first took them for a tour to the main university building. Ms. Britta Collberg from Lund University's Communication department showed the historic building.
Lars then brought them to SASNET's office at Scheelevägen, where they were also introduced to Prof. Roger Greatrex at the Centre for East and South-East Asian Studies, and Dr Sidsel Hansson, coordinator for the EU-India scholarship programme EMECW 15 (Erasmus Mundus External Cooperation Window lot 15).
A visit was then arranged for Rahul and Haripriya to visit the highly modern Nanoscience laboratory at the Dept. of Physics. Prof. Peter Ramvall showed them around.
From the university, they proceeded to Tetra Pak, which was the last stop in Lund. In the evening they proceeded to Göteborg. On Saturday 7 March 2009 they returned to India.
Back to SASNET


---