SWEDISH SOUTH ASIAN STUDIES NETWORK

---
Social Work, Division of Caring Sciences and Psychology, Academy of Health-promoting Working Life, University of Gävle:
Postal address: Socialt arbete, Avdelningen för socialt arbete och psykologi, Akademin för hälsa och arbetsliv, Högskolan i Gävle, SE-801 76 Gävle
Visiting address: Kungsbäcksvägen 47, Gävle
Web page: http://www.hig.se/Organisation/Akademier/Akademin-for-halsa-och-arbetsliv/Avdelningar/Avdelningen-for-socialt-arbete-och-psykologi/Socialt-arbete.html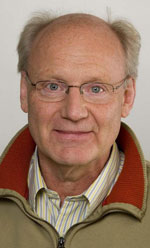 Contact person: Senior lecturer Anders Hydén, phone: +46 (0)26 64 82 17.
Research and educational activities connected to South Asia:
Anders Hydén defended his doctoral dissertation titled "Passage to India. An Anthropological Study of Discipleship and Transcendence in the Bhagawan Movement" at the Dept. of Sociology, Lund University, in 1991.
At the University of Gävle he is now working with research on family, gender and career in India, with a project titled "Compartmentalization and Elite Womens Career". It is a study on gender differentiated career among upper middle class families in South India.
A collaboration project has been established between the department and the School of Social Work at the Tata Institute of Social Sciences (TISS) in Mumbai, India. The contact person on the Indian side are Professor Lina Kashyap (chairperson of TISS' Centre for Disability Studies & Action) and Associate Professor Neela Dabir from TISS' Centre for Equity for Women, Children and Families.


The collaboration project has got financial support from the Swedish International Programme Office for Education and Training (Internationella programkontoret) in the form of Linnaeus-Palme International Exchange Programme grants. The grant was first given in March 2007, for exchange activities involving sending teachers and students both ways from 2007-08. In December 2007, Anders Hydén and the Director of Studies Tomas Boman, visited TISS in Mumbai; Mr. Hydén visited again in July 2008, and a further trip from a colleague in the department will take place in November; in May 2008 Lina Kashyap and Neela Dabir visited Gävle to finalise the forms for the exchange programme, which will start in 2009. More information about the Linnaeus Palme grants 2009.