SWEDISH SOUTH ASIAN STUDIES NETWORK

---
Division of Social Medicine, Department of Public Health Sciences, Karolinska Institutet, Stockholm
Postal address: Karolinska Institutet, Department of Public Health Sciences, Division of Social Medicine, SE- 171 76 Stockholm, Sweden
Visiting address: Norrbacka, second Floor, Karolinska University Hospital, Solna
Web page: http://www.phs.ki.se/socmed/index_en.html
Contact person: Associate Professor Bjarne Jansson, phone: +46 (0)8 737 37 92. Director for the Programme of Public Health Sciences
South Asia related research and education at the division: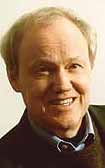 Associate Professor Bjarne Jansson (photo to the left) is a senior lecturer at the Division of Social Medicine, and is involved in research on trauma epidemiology including evaluation of surveillance systems, registry data analysis, implementing safe community programs, vulnerable groups for injuries, e.g. epilepsy, stroke, longterm disabilities, child labour and violence in India, social etiology of injuries, costs of injuries, and a manual for economic evaluation in safe community practice. Additionally, a project on redistributive mechanism in social security systems.
He is also Course Director for two partly Internet based Masters programmes in Public Health Education run at Karolinska Institutet, "Master in Health Economics, Including Safety", and "Master in Medical Safety". More information on the Masters programmes.
He has in the last years taken an initiative to gather a group of Safety Economists from Karolinska Institutet as well as Lund University (with Professor Ulf Gerdtham, Dept. of Community Medicine), to develop research models and apply them within this field as well as organising training courses both on location and on Internet. A very appreciated Manual for Cost Calculations to use level has raised attention, a model being developed in collaboration between the Division of Social Medicine and the Dept. of Public Health Sciences, Division of Epidemiology, Umeå University, and the Dept. of Health and Environment, Division of Prevention and Epidemiology, Linköping University.
Associate Professor Fazlur Rahman has also been connected to the Division. He is Executive Manager for the Centre for Injury Prevention and Research (CIPRB) in Dhaka, Bangladesh. Dr. Rahman has been working in public health, injury epidemiology and community safety for more than 15 years. His interests are also injury surveillance and drowning
prevention specially in low-income country context. He is the Director of Sherpur Safe Community Programme and Secretary General of Bangladesh Safe Community Founda tion. He organised the 2nd Asian Regional Conference at Dhaka, Bangladesh in 2004 and is working as the coordinator of WHO Affiliated Safe Community Support Centre at ICMH, Dhaka. More information below.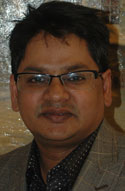 Dr. Jahangir Khan (photo to the right), originally hailing from Bangladesh, defended his doctoral dissertation on "The impact of social security compensation inequality on earnings distribution due to sickness and disability" at the department on Friday 16 September 2005 (more information about this Swedish related thesis). The faculty opponent was Prof. Espen Bratberg, Dept. of Economics, Bergen University, Norway.
Jahangir Khan is now working at the Department of Learning, Informatics, Management and Ethics - LIME at Karolinska Institutet. There he is involved in a pilot study to calculate the production cost of pregnancy and puerperium related healthcare services in Bangladesh and to estimate the difference in mean costs related to complication in treatment procedures for investigating the possibility of developing the BD-DRG (Bangladesh diagnostic related groups). The project is carried out in collaboration with Dr. Golam Sarowar, Dr. Emma Medin, and Associate professor Clas Rehnberg at the same department; and with Dr. Rukhsana Gazi, Dr. Rumana Saifi, Dr. Tracey Koehlmoos, and Dr. Abbas Bhuiyan at the Health Systems and Economics Unit, ICDDR,B, Dhaka, Bangladesh. On 28 May 2008, Dr. Khan presented a paper titled "Production Cost of Pregnancy and Puerperium related Health Care Services – a pilot study" in a panel on "Improving maternal health and infant child survival" at the Sida-funded conference on current Swedish development research titled "Meeting Global Challenges in Research Cooperation" that was jointly organised by Uppsala University and the Swedish University of Agricultural Sciences (SLU) in Uppsala 27-29 May 2008 (more information about the conference).


Abstract: Private health care provision is growing in Bangladesh, while the public sector is underperforming. Benchmarking in pricing in private sector and performance based budgeting in pubic sector are inevitable for both efficiency and equity in health care. Information about costs for health care production is essential for planning effective resource allocation in health care sector. Development of Diagnostic related group (DRG) can contribute for planning budget in organizational and national levels. Under a planning grant of SIDA, a case study was carried out in a public hospital in Bangladesh during February-March, 2008.
Data and Method: The data refers to a one-year period (July, 2006 – June 2007) and costs have been calculated based on extracted patient records. We have used modified form of Step Down Cost Accounting method as we have taken only one single ward and one diagnostic category for cost calculation. We have taken into consideration almost all the partial overhead costs that are contributing to produce the service for each case. Cost items are principally divided into costs for direct medical care, costs for intermediate care and capitals costs.
Results: Production costs for 156 cases were calculated. Ten principle diagnoses were identified within pregnancy and puerperium related healthcare services. The highest average cost was found for abortion and related cases with an average cost of 719 SEK. The most frequent service in the piloting site, i.e. early pregnancy with hyperemesis costs 425 SEK per case. Focusing on complication in treatments, separated into management and surgical procedures, we found that a non-complicated case costs 398 SEK while a complicated one costs 815 SEK for medical management. Surgical procedure in Caesarian Section costs 635 SEK for non-complication and 824 SEK for complication. Normal Vaginal Delivery cost for 304 SEK and 778 SEK respectively. The average costs for Dilation and Curattage are 298 SEK and 1025 for non-complicated and complicated cases respectively.
Conclusion: Average health care production costs for pregnancy and puerperium related healthcare services vary across principle diagnoses as well as between complicated and non-complicated medical procedures. For planning an effective and equitable health care servic in Bangladesh, DRG can be established.
PhD candidate Shahjahan Khan comes from Dhaka, Bangladesh. He is working on a research project dealing with "Injuries in the garments industry in Bangladesh – epidemiology and prevention".


PhD Koustuv Dalal (photo to the left) is a M.Sc. in Health Economics originally from Kolkata, India. He has been the course administrator and lecturer of Master of Health Economics at Karolinska Institutet, but after completing his doctoral dissertation Koustuv Dalal has now left Karolinska Institutet, and is working at the Department of Clinical and Experimental Medicine, Linköping University from 2009.


While still at KI, Koustuv received a prestigious research grant together with Dr. Bjarna Jansson, given by the Swedish Research Council. The research project was entitled "Violence in low-income countries: In search of causes and socio-economic effects".
In April 2006, Koustuv Dalal won the best scientific paper award of the 8th World Conference on Injury Prevention and Safety Promotion, held in Durban, South Africa. It was the largest conference in the field of injury prevention and safety promotion. Koustuv's paper dealt with cost calculation of violence (injury) in developing countries. Most families in developing countries are dependent on one persons' income. If that person is injured then the whole family is affected. Considering those conditions, in his model Koustuv has introduced six new variables and negated the traditional concepts of cost calculation of injury, using by several experts including WHO mannual. Koustuv has tested this model in India and shown that the traditional system has under-estimated the cost of injury by about 80%.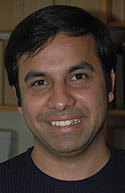 PhD candidate Sheikh Muazzam Nasrullah from Pakistan (photo to the right) completed a Masters Degree of Master of Safety Promotion in 2004 with a thesis on "Impact of Unemployment on cause specific injury mortality – A statistical analysis". He is now proceeding with a PhD project, working with Professor Lucie Laflamme, Director of Research Education at the department, and with Dr. Junaid Razzak, visiting fellow at Karolinska Institutet, and Assistant Professor at the Section of Emergency Medicine, Department of Medicine, Aga Khan University. The latter is Nasrulla's supervisor.
Junaid Razzak is himself currently a PhD candidate, supervised by Prof. Lucie Laflamme, and will defend his PhD in September 2005. His areas of research includes injury and violence prevention with emphasis on defining the epidemiology of injuries in Pakistan. Besides his position at AKU he is also connected to the Dept. of Emergency Medicine at Emory University School of Medicine, Atlanta, USA, and has been instrumental in starting the Division of Global Emergency Medicine at Yale.
In the first batch of the Masters programme in Safety Promotion, launched in the year 2003/04 other South Asian students also took part either at location in Stockholm or through the Internet. They were graduated in June 2004. Among them were Mohit Aggarwal from India who wrote a thesis on "Violence committed by adolescents in developed countries: Risk factors and prevention"; and Salim Mahmud Chowdhury from Bangladesh, who wrote a thesis on "Epidemiological study of injury due to falls among young children in Bangladesh".
WHO Collaborating Centre on Community Safety Promotion

The Division of Social Medicine is involved in an International WHO projct regarding Centres on Community Safety Promotion. The Safe Communities concept began its formal existence at the First World Conference on Accident and Injury Prevention held in Stockholm, Sweden in September 1989 and at the same time the first agreement on collaboration with the WHO was signed. The Safe Community initiative differs in comparison to other safety promotion programs, with the leading role being played by the community itself. Creative methods of education and environmental change combined with appropriate legislation and enforcement are important as a starting point for the safety of a community. No single approach is sufficient for changing existing accident/injury patterns.
Affiliated centres have been set up all around the World, with the aim to promote the Community Safety Approach globally by developing good community programs for safety, by identifying demonstration programs, making quality controls and designating them. In South Asia the Institute of Child and Mother Health (ICMH) in Matuail, Dhaka, Bangladesh (photo above), is the only affiliated centre so far. More information on ICMH.