SWEDISH SOUTH ASIAN STUDIES NETWORK

---
School of Humanities, Education and Social Sciences, Örebro University
(previously called Department of Social and Political Sciences):
Postal address:Örebro universitet, Akademin för Humaniora, utbildning och samhällsvetenskap, 701 82 Örebro, Sweden
Visiting address: Forumhuset, floor 2, Fakultetsgatan 1, Örebro
Fax: +46 (0)19-30 34 84
Web page: http://www.oru.se/English/Organization/School-of-Humanities-Education-and-Social-Sciences/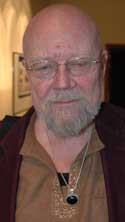 Contact person: Lecturer Anders Jonsson, phone: +46 (0)19 30 30 50
Anders Jonsson has lectured different courses in sociology and social psychology at Orebro University since 1976. His interest in India and hence eventually the concepts involved in Trans-cultural encounters be it academic research, personal experiences, or mundane and everyday life started as early as 1984. He has an ongoing project ("From Biography via Ethnography to the World of Trans-cultural Sociology...") built on the research he has been doing, apart from lecturing and publishing many articles in newspapers and magazines over the years. He has also lectured at Jawaharlal Nehru University in Delhi, at S.N.D.T Women's University in Mumbai, at Tata Institute of Social Sciences in Mumbai, and at S.N.D.T. Women's University in Pune.
Earlioer, he was the Swedish coordinator for the Sweden-India Project, based at Örebro University's Socionomprogrammet/Social Work; Department of Behavioural, Social and Legal Sciences. This project was established as an Indian-Swedish educational project in 1994, and is still running. More information about the Sweden-India Project.
Anders Jonsson participated in the SASNET workshop on "The role of South Asia in the internationalisation of higher education in Sweden" held in Stockholm 28-29 November 2006, where he gave a presentation about Örebro University's India Programme in the session about "Sending students to South Asia". Read Anders Jonsson's presentation at the workshop (as a pdf-file).
Currently (2008), Mr. Jonsson is working as a consultant. He is involved in two new projects:
1. He is responsible for a course in the Sociology of Religion, specialising in Hinduism as well as Islam, at Örebro University.
2. He is writing a text-book about general Hinduism in India and general Islam in Bangladesh.