SWEDISH SOUTH ASIAN STUDIES NETWORK

---
Department of Social Work, Gothenburg University
Postal address: Box 720, SE-405 30 Gothenburg, Sweden
Visiting address: Sprängkullsgatan 23
Web page: http://www.socwork.gu.se/
Contact persons: Dr. Ing-Marie Johansson, phone: +46 (0)31 786 1889
Dr. Ronny Heikki Tikkanen, phone: +46 (0)31 786 1267
The Department of Social Work is one of the larger departments at Gothenburg University, with about 1,400 students and 100 staff engaged in teaching, research and administration. Among its programmes one is a Master's Degrees in Social Work with an international orientation (International Master of Science in Social Work).
Research and education connected to South Asia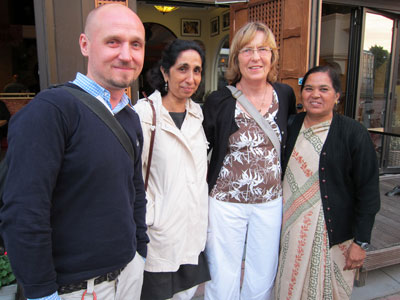 The department is strongly involved in the new go:India project launched by University og Gothenburg in November 2010. This will be a three year project (2011 – 2013), intended to build a platform for co-operation within the areas of research, teaching and education between its Swedish partners, also involving researchers at University of Gothenburg's Faculty of Arts (Dept. of Literature, History of Ideas and Religion); Faculty of Fine, Applied and Performing Arts (School of Photography, and the School of Design and Crafts); and Sahlgrenska Academy (Global Health, Institute of Biomedicine), and their collaboration partner institutions in India.
These are Banaras Hindu University (BHU) in Varanasi; Sarai/Centre for the Study of Developing Societies (CSDS) in Delhi; Gandhian Institute of Studies in Varanasi; Jadavpur University in Kolkata; Punjabi University in Patiala; Visva-Bharati University in Shantiniketan; Tata Institute of Social Sciences (TISS) in Mumbai; Srishti School of Art, Design and Technology in Bangalore; and Union Biblical Seminary in Pune. More information on the Go:India project web site.


On 7–9 June 2011 the Go:India project arranged its first joint event in Gothenburg, a Kick-off conference where representatives from all the partner institutions met to discuss and plan the details of the planned activities for the coming three years, including, among other things, joint conferences, writing of joint research projects, teacher and student exchange. Lars Eklund, Anna Lindberg and Julia Velkova represented SASNET at the three-day meeting.
See the programme for the meeting.


Since several years Björn Gustafsson, Professor in Social Work at the University of Gothenburg, is engaged in research on China. In collaboration with Vani Barooah, School of Economics and Politics, University of Ulster, Newtownabbey, Northern Ireland, UK, and Li Shi, Insitute of Economics, Chinese Academy of Social Sciences, Beijing, he has also made a compartive study of India and China. The three researchers presented a paper titled "China and India: Income Inequality and Poverty North and South of the Himalayas" at an International conference on "Liberalization Experiences in Asia: a Comparative Appraisal", jointly organized by Centre de Sciences Humaines (CSH,) in Delhi, the Indian Statistical Institute, Kolkata and the Indian Council of Social Science Research ICSSR, Delhi. This conference was arranged in New Delhi in January 2006, with support of the French Embassy in India, The World Bank, and Centre d'Études Français sur la Chine Contemporaine, CEFC in Hong Kong. More information about this conference (as a Word file).
Abstract of paper: China and India are the most populous countries of the world and also the two largest contributors to World poverty as assessed by the World Bank. This paper, focusing on the rural circumstances is the first study using microdata to compare income inequality and poverty in the two countries. We find that at the mid 90s income inequality in rural China and rural India were relatively similar. Our results show that differences in mean income across regions are much larger in China than in India and accounts for a much larger proportion of income inequality in rural China. The proportion of the population falling under a poverty line set to 1 USD per person and day in Western China is similar to the corresponding proportion in several Indian regions but much higher than in the prosperous eastern part of China. Economic status in India is more influenced by education of household head than in China where fewer are illiterate. Common to both countries is that minority status as well as land status affect income and poverty.
PhD candidate Syeda Begum is working on a thesis project titled 'Child Poverty and child health in Bangladesh'. She is supervised by Professor Björn Gustafsson. Prof. Gustafsson, Deng Quheng (a Chinese guest researcher) and Begum are jointly working on a study comparing child poverty between Bangladesh and China. This research will be included as one of the articles in the coming thesis.
Project abstract: The concept of child poverty is still very uncommon to be considered as a social problem, both for the researchers and policy makers in Bangladesh, although a significant number of the children with ill health there are living in poor households. Since children are unable to get rid of their unfavorable situation and since their voice should be heard, this research considers studying the extent and the characteristics of child poverty in Bangladesh and children's access to health care facilities to analyze the association between child poverty and child health. Both quantitative (multivariate analysis and Logistic regression) and qualitative methods are being used for this kind of poverty research using the latest national micro data of Bangladesh Household Income and Expenditure Survey of the year 2000, which has been conducted by Bangladesh Bureau of Statistics (official data source of Bangladesh) with the technical and financial assistance of the World Bank.
Educational projects
Students from the department previously regularly participated in the so-called Sweden-India Project, initiated in the 1990s by Örebro University. This project involves travelling to India, and performing field practice with a base in Pune, Maharastra. More information.
The department has later become involved in a Linnaeus-Palme International Exchange Programme with the Tata Institute of Social Sciences (TISS) in Mumbai, India. More information about the Linnaeus Palme programme, administered by the International Programme Office for Education and Training but financed by Sida.
The collaboration project between the Dept. of Social Work, Gothenburg University and TISS was launched during the period 2009-10. More information about the South Asia related Linnaeus Palme projects for 2009-10.
Surinder Jaswal, Dean for the School of Social Work at TISS. She is also ssociate Editor for the Indian Journal of Social Work.