SWEDISH SOUTH ASIAN STUDIES NETWORK

---
Philosophy, School of Culture and Communication, Södertörns högskola (Södertörn University)
Postal address: Institutionen för kultur och kommunikation, Södertörns högskola, SE-141 89 Huddinge, Sweden
Visiting address: Alfred Nobels Allé 7, Flemingsberg
Web page: http://webappl.web.sh.se/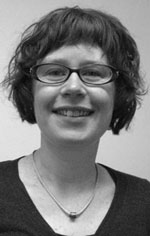 Contact person: Research Fellow Anna-Pya Sjödin, phone: +46 (0)8 608 4829. Room: PD 220 Primus
South Asia connections
Dr. Anna-Pya Sjödin defended her PhD in Indology at Uppsala University in 2007, and is still connected to the Department of Linguistics and Philology, Uppsala University, as well.
More information about her dissertation, her ongoing research project on "The little girl who knew her brother would be coming home: cognition and knowledge in Nyaya-Vaisesika", and other publication activities. Nyaya-Vaisheshika.
At Södertörn University, Anna-Pya Sjödin teaches courses on Buddhism, Materialism and Hinduism. From the Fall semester 2009, a 15 ECTS course in History of Indian Philosophy is launched. It will be the first of its kind in Sweden. It focuses on the Buddhist, Hindu, Materialist, and Sceptical traditions that have existed in India for a long time, starting with Vedic metaphysical speculations 3,500 years ago, and ends up with today's postcolonial theories. The course is aimed at students within the humanities, mainly Philosophy, Science of Religion, and from History of Ideas. A new course runs during the Fall semester 2010. More information.