SWEDISH SOUTH ASIAN STUDIES NETWORK

---
Lars Eklund's Report from Varanasi:
---
Swedish Study Centre for Indian Culture
Meeting with Mr Om Prakash Sharma
Meeting with Ms Inger Wiklund Jha
Meeting at Dept of History of Art & Tourism management, BHU
Meeting at Dept of Agricultural Extension & Mass Communication, Institute of Agricultural sciences, BHU
Meeting with Vrinda Dar, working for Kautilya Society, Association for Intercultural Dialogue
Meeting with Bhadra Mishra, Profesor of Hydraulic Engineering at BHU, founder of Sankat Mochan Foundation, and Mahant of the Sankat Mochan temple
---
Tuesday 12 March 2002
Arrived to Varanasi by the Kashi Vishwanath Express train from Delhi at 5.30 in the morning, and took a taxi to Ganga View Hotel at Assi Ghat, the southernmost bathing ghat in Varanasi.
The whole atmosphere is loaded with religious fervour, and Hindu pilgrims pass in large numbers through the street in front of the hotel on their way to the bathing ghats and numerous temples along the shore. 12 March is a Hindu religious holiday – Shiv Ratri (Shiva´s night) – and that is the reason for the big crowd.
It is a totally different world from the cosmopolitan and modern capital city New Delhi, from which I have just come. As unusual as it is to wear casual dress and sandals in Delhi, just as unusual it is to wear shoes and a European jacket here, as I did on my arrival. Many Western tourists stay for a long time in Varanasi, and quite a number of them have adapted themselves totally in dress and behaviour, and a few are even seen practising yoga on the ghats, and staying with sadhus, smoking the chillum.
Indeed a fascinating experience after spending nearly a week in the guarded luxury enclaves of the rich and mighty Indian elite in South Delhi, and meeting famous researchers at the top universities of the capital.
Swedish Study Centre for Indian Culture
Ganga Mahal is located 100 meters north of the hotel. This beautiful residential building which is also overlooking the Ganga and the bathing ghats belongs to the Maharaja of Varanasi. The first floor is at the disposal of Karlstad University (KU) as a Swedish study centre.
KU has long-standing relations with Varanasi and the Hindu Banaras University (BHU), especially in the following fields:
• Dept of Cultural Geography and Tourism, where Prof Gerhard Gustafsson and Kristina Lejonhud from KU are working on a project in co-operation with Prof Rana P B Singh at BHU.
• Dept of Religions, where ass prof Kjell Härenstam regularly brings students from KU to Varanasi. Ass prof Marc Katz at the same department did his PhD thesis in 1993 on the religious traditions among children of Assi (where the hotel is located), and he has also produced two documentary films on religion in Varanasi.
• Dept for Teacher´s Training, where every year a group of students go to either Varanasi or Dharamsala for a period of 10 weeks, led by P O Fjällsby.
For the first time a group of pre-school teaching students from the Division for Educational Sciences has this Spring come to do field work in Varanasi. They arrived in February along with Inga-Lill Fjällsby, and will stay for five weeks at Ganga Mahal. I-L Fjällsby went back to Sweden in the beginning of March and for the last weeks the students work on their own, doing field studies at pre-schools of different styles in and around Varanasi, after which they shall present their results as final term papers. More information on Karlstad University's India Programme.
I went to see them, eight women and one man (another two students were staying at a project site outside Varanasi), and had a long discussion about their experiences so far. They were all very positive to the basic idea of going to Varanasi for field studies, and they had learnt much about India, a country which only one of the students had visited previously. They were also extremely positive to the palatial place they were accommodated in, and the good services they are offered by Mr Om Prakash Sharma, the co-ordinator working at Ganga Mahal. As it was a holiday he was not in his office today, so I will met him tomorrow.
A disappointment, though, was the fact that only a couple of the students had got possibility of good objects for their field studies. After arriving in Varanasi it turned out that most of the pre-schools which were supposed to receive the students, could not fulfil the promises given, as the pre-school teachers found the presence of the Swedish students disturbing – especially at this time of the year which is the season for intensive studies to pass the examinations. Only two students, placed at a Krishna Murti-school (inspired by the Montessori tradition) had been given their due attention.
So instead of spending full days at pre-schools most of the Swedish students were allowed only short stays at the respective pre-schools, and sometimes not at all. Still they were convinced that they would be able to make papers out of what they have seen at several study visits.
Wednesday 13 March 2002
Meeting with Mr Om Prakash Sharma, at the Swedish Study Centre for Indian Culture
Om Prakash Sharma, generally called Omji, is employed part time by Karlstad University to work as a co-ordinator at the Study centre. He is also working as a language teacher (Hindi) at the BHU. Omji previously has been working for the American Peace Corps in the 1970´s and later on for the Sociology dept of London University (from which he has got a Masters degree), the Himachal Pradesh state government, and the American Wisconsin programme. He has been in touch with Karlstad University since 1986-87.
That year he organised a study tour to Nepal for teachers training students led by P O Fjällsby, and in 1988 a new batch of student went to Varanasi, staying at hotel. Marc Katz had at that time already good connections in Varanasi after spending a long time there, working on his thesis. This resulted in a formal agreement on co-operation between Karlstad University and Banaras Hindu University, BHU, in 1988. The agreement makes it possible for Swedish students to take part in courses of relevance at BHU, e g in Hindi, Music, Sociology, Indology, or any other of the 165 departments at the university.
The study centre at Ganga Mahal, close to Assi Ghat, has been rented from the Maharaja of Varanasi since 1995. It can accommodate maximum 10 students at a time, who are offered board and lodging, two computers and one Internet connection. When the number of students exceed 10 the rest are booked at Temple Hotel nearby.
Karlstad University sends groups of students to Varanasi every year, not only teachers training students but also frequently students from the Dept of Religions (groups led by Marc Katz and Kjell Härenstam), Dept of Geography and Tourism, and Dept of Social Work and Health are coming, and right now a group of pre-school teaching students are here for the first time.
Even though the centre is run by Karlstad University several other Swedish institutions have take the opportunity of using Ganga Mahal, e g:
• Uppsala University, the departments of History of Religions, and Environment studies.
• Swedish Agricultural University. I had the opportunity to see a recent report written by two students, Charlotte Furmark and Malin Larson (Minor Field Studies no 174) after their stay in Varanasi, on "Bioavailable Pollutants and their effects on fish reproduction in the Ganges river".
•Österlens folk high school has previously used Ganga Mahal for three groups of students, when they had courses led by Janina Lundell.
• Linköping University, the departements of Religion, and the Faculty of Health Sciences. The later has had students here led by Nils Clasén and Els-Marie Anbäcken.
• Svenska Naturskyddsföreningen, SNF, which is engaged in the project to clean the Ganga river, and is partly funding a laboratory (run by Prof Bhadra Mishra, at the Dept of Engineering at BHU) nearby Ganga Mahal, and which alo involves researchers from Kungliga Tekniska Högskolan in Stockholm.
Omji informed about some recent developments. In March 2001 Linköping University signed a separate MOU on students exchange with the Mahatma Gandhi Kashi Vidhyapeeth University in Varanasi. And Karlstad University is also under way to establish a co-operation with this university regarding teachers training students, to increase the possibilities in Varanasi.
Karlstad has already, since 1995, an agreement also with the Tibetan Institute for Higher Education at Dharamsala, sending students there. This is usually done when groups of teacher training students are sent to India in the months of April and May, when it is extremely hot in Varanasi but more bearable temperatures in Dharamsala.
Meeting with Ms Inger Wiklund Jha, at her residence at Gangotri Vihar Nagar
Inger came to Varanasi for the first time in 1990 as a student at Karlstad University. She married and has stayed on in Varanasi ever since, now living in a nice house just south of the city. For some years in the 1990s she continued her academic studies, as a distance student in Indology at Stockholm University (she went to Sweden in the summer, and did her examinations then), up to the D level. She could not complete her studies though as her husband fell seriously ill and she has had to take care of him for the past several years.
Inger teaches Hindi at BHU, at courses run for foreigners. Till 1995 she was also actively taking part in the Karlstad University student groups coming to Varanasi, but not since Ganga Mahal was established as a Swedish study centre. Though the years she has regularly contributed learned articles on Varanasi for the Swedish magazine SYDASIEN.
Meeting at Banaras Hindu University, Dept of History of Art & Tourism management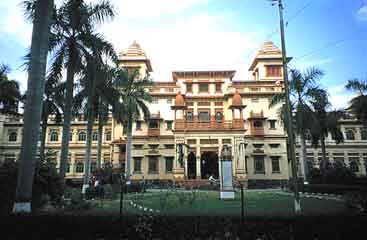 Present: Prof Rana P B Singh, Geography, Prof Deena Bandhu Pandey, Art History, Visiting faculty member Pravin S Rana, Tourism management, and Visiting faculty member Ms Nandita Pandey, Tourism management
Professor Rana P B Singh, who has a long-lasting relation with Karlstad University is also a keen supporter of SASNET after taking part in our workshop on Global netwoking in August 2001, and who spreads praise about our network in Varanasi, picked me up at the hotel and rode me on his scooter to the beautiful campus area of BHU.
BHU was founded in 1916 by Pandit Madan Mohan Malaviya with co-operation of the great personality and national leader Dr Annie Besant. The university, which is situated on the bank of the river Ganga, is a separate entity from Varanasi city, and it has besides teaching and research-cum-residential institutions its own set up of public institutions, banks, library, and in the centre of the campus an impressing temple to Lord Vishwanath.
BHU is recognised as a central university, and has all the faculties represented, plus three institutes – Institute of Technology, Institute of Medical Sciences and the Institute of Agriculture – and four Interdisciplinary centres, altogether 165 departments and around 18.000 students.
We went to the Dept of History of Art, founded in 1950 and considered among the best of its kind in India. A few years ago the department was designated to take charge for vocational courses in Tourism and Travel Management, and in 1999 also postgraduate courses were introduced. The department has along with this organised two national seminars on Dimensions of Tourism in Varanasi and on Pilgrimage Tourism.
At present 60 students are doing undergraduate studies at the department, whereas 30–35 are doing postgraduate/research studies.
I had a stimulating conversation with professor Pandey and the two young visiting lecturers, who all were keen on establishing contacts with Swedish departments dealing with tourism. They have already had contacts with Karlstad University, a Linnaeus Palme exchange programme had been planned, but it had not been possible yet to find enough Swedish participants to finalise it. Students here are most willing to take part in such a programme.
Meeting at Dept of Agricultural Extension & Mass Communication, Institute of Agricultural sciences, BHU
with Rana P B Singh and the Head of the department, Prof Deepak De.
Professor De is also the Vice president of the Global Communication Research Association, based at Macquarie University, Sydney, Australia.
The department is working on the questions of technology transfer, and its reception among farmers. Prof De stressed that this involves social as well as political, economical, psychological and other aspects. Among subjects under study are how to create awareness about the toxic consequences of using pesticides in agriculture and not keeping the safety prescriptions; how the greediness among commercial farmers thereby kills people; and the urgent need for popular education.
An International Seminar on Communication and Sustainable Development in Agriculture is planned to be held at BHU 7–9 January, 2003, and SASNET will definitely give publicity to this important seminar.
At present the department has 14 MSc students and 10 PhD students besides round 80 undergraduates.
The prospects for co-operation between this department at BHU and Swedish institutions should be good, and I promised to advertise about it through SASNET.
Varanasi 14 mars 2002
Meeting with Vrinda Dar, working for Kautilya Society, Association for Intercultural Dialogue
Web page: http://www.kautilyasociety.org/
Ms Vrinda Dar came to see me at the hotel along with Prof Rana P B Singh. She informed about the advocacy work her NGO is doing in order to preserve the cultural heritage of Varanasi, and try to get the city put on UNESCO´s list of World Heritages.
She informed about her organisation´s work to document architecture and art, and their efforts in seeking co-operation with the city administration.
As there at present is no department for Architecture and Town planning at BHU she said that plans are under way to start a special school for this in Varanasi. For that reason they are looking for possible help from outside, e g could Swedish students of architecture play a part in that?
Vrinda Dar also mentioned that she has an uncle, Ashok Dar, who previously has worked for FAO, is married to a Swedish lady and has been teaching at the Swedish Agricultural University in Uppsala.
Meeting with Bhadra Mishra, Profesor of Hydraulic Engineering at BHU, founder of Sankat Mochan Foundation, and Mahant of the Sankat Mochan temple, Varanasi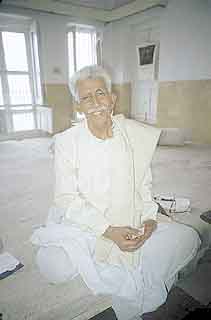 Mr Om Prakash Sharma of the Swedish Study Centre arranged for a meeting with the Mahant (Hindu religious leader residing at Tulsi Ghat). Bhadra Mishra is well-known the World over for his work with the Swatcha Ganga Project, i e Clean Ganga, and he has been portrayed in several international magazines in recent years because of his unique combination of being a trained scientist and at the same time being very much an integral part of the religious traditions concerning the river Ganga.
Svenska Naturskyddsföreningen, SNF, is involved and runs a Sida-financed project to create environmental awareness of the water pollution among the inhabitants of the ghat areas in Varanasi. This project is controversial (as Sidsel Hansson pointed out in her doctoral thesis, History of Religion at Lund University, 2001) as Prof Mishra advocates quite different solutions to the pollution problem than what the government of India stands for.
Sankat Mochan Foundation has around 150 members, five active board members plus an eight people staff and many volunteers turning up from several countries. In Sweden an organisation called Ganges Vänner has been created in Karlstad. Among its members are Eva Nordlöf and Bertil Lindahl, who use to come regularly to Varanasi and work as volunteers for 3-4 weeks a year.
SNF has contributed financially to a research laboratory at Tulsi Ghat, where the work now is performed by two scientists, under supervision from Prof Upadhyay at BHU.
Prof Bhadra mentioned that several persons from Swedish universities have been in some way involved, among them a researcher from Uppsala University now working in Stockholm, and then of course Marc Katz in Karlstad, who has made a documentary film along with him.
Information on the Swatcha Ganga project is found at the web site http://www.cleanganga.com, which is produced by the Swedish international campaign coordinator Roger Choate. More information on a web page published by The Stockholm Partnerships for Sustainable Cities.
Prof Bhadra ended up by inviting interested Swedish researchers to come to Varanasi as volunteers. The lab can be used by them. More information on Prof. Bhadra's web page, http://www.sankatmochanfoundationonline.org/