SWEDISH SOUTH ASIAN STUDIES NETWORK

---
21st European Conference on Modern South Asian Studies
at Bonn, Germany
– a report by Lars Eklund, SASNET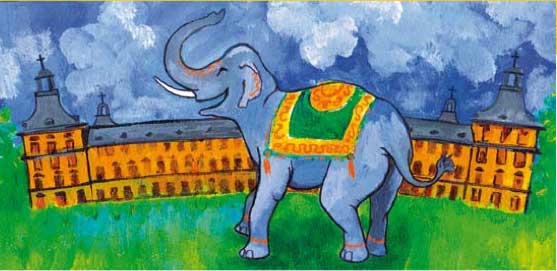 More then 300 scholars involved in research related to the South Asian region participated in the 21st European Conference on Modern South Asian Studies (ECMSAS) that was successfully held in Bonn, Germany, 26–29 July 2010. The participation from Sweden and Scandinavia was however rather small. The 21st ECMSAS hosted a total number of 41 panels, covering a broad range of research subjects.
The ECMSAS is the largest gathering of South Asia oriented researchers in Europe, covering all fields from the humanities and social sciences to technology, natural sciences and medicine. For many years, it has been an important platform and indicator of contemporary trends in South Asian studies worldwide. The ECMSAS conferences are held biannually under the aegis of the European Association of South Asian Studies (EASAS), a professional, non-profit organisation of scholars engaged in research and teaching concerning South Asia with regard to all periods and fields of study. More information about EASAS.
The council of the EASAS consists of a president (Prof. Roger Jeffery, University of Edinburgh, UK), vice-president and treasurer, and in addition, of six other European members reflecting the various academic disciplines represented by the Association. At EASAS' General Meeting, held on 27 July 2010, SASNET's Director, Dr. Anna Lindberg, was (in her absence) elected to become one of the new members to the council for the two-year period 2010-12.


SASNET organised the 18th ECMSAS conference in Lund in 2004 (more information), whereas the 2006 conference was held in Leiden, the Netherlands (read SASNET's report), and the previous one before Bonn was organised by the University of Manchester, UK in 2008.
According to a decision at the 20th conference in Manchester, the name of the conferences should be changed to just European Conference on South Asian Studies (ECSAS), but the Bonn conference retained the old acronym ECMSAS.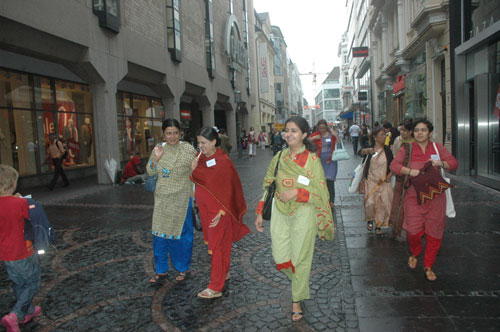 The 2010 conference was hosted by the Institute for Asian and Oriental Studies at the Rheinische Friedrich-Wilhelms-Universität in Bonn, a university with rich traditions in South Asian studies since a chair of indology, the first of its kind in Germany, was established here already in the year of the foundation of the university, in 1818. The university's main building, an old castle located on Regina-Pacis-Weg right in the city centre close to the banks of the river Rhine, was the sole venue for the conference. The conference convener was Dr. Heinz Werner Wessler, scientific collaborator at the Institute for Oriental and Asian Studies but also since last year connected to the Department of Linguistics and Philology, Uppsala University, Sweden as a guest Professor in Hindi.
Two panels were convened by Swedish scholars: No. 23, the Bengal Studies Panel, for many years led by Prof. William Radice, SOAS, London, was now convened by Kerstin Andersson, School of Global Studies/Anthropology, University of Gothenburg; and No. 37, on Confrontations in Sri Lankan politics. Origins and present developments, convened by Prof. Peter Schalk, History of Religions, Faculty of Theology, University of Uppsala.
Among other interesting ECMSAS 2010 panels could mentioned Panel 2: The History of Alcohol and Drugs in Modern South Asia (18th-20th Century), convened by Dr Harald Fischer-Tiné, and Jana Tschurenev; Panel 6: Uttar Pradesh: Development Failure and Identity Politics, convened by Jens Lerche, Roger Jeffery, and Craig Jeffrey; Panel 34: Communism Compared: Andhra Pradesh and Kerala in the 1950s, convened by V Rajagopal, and Margret Frenz; and Panel 36: Taliban, Durand Line and Refugees: The Afghan-Pakistan Border Region under Stress, convened by Conrad Schetter.
Keynote presentations and open seminars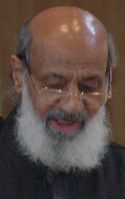 To summarize a conference of this size is not possible, there are too many parallell sessions, each with interesting paper presentations. Still, the nicest thing is the chance you have to both meet old SASNET acquaintances and friends, and gain completely new knowledge by visiting panels distant from your own main fields of interest.
The conference was inaugurated on Monday 26 July with an interesting keynote speech by Dr. Sudhir Chandra (photo to the left) , historian from Delhi who is about to finish a book on the last days of Mahatma Gandhi. His presentation was entitled "Two 'failed' Heroes: Understanding Modern South Asia", focusing on Gandhi and also Mohammed Ali Jinnah.
On Wednesday 28 July, Prof. Sukhadeo Thorat, Chairman for the Indian University Grants Commission (and Professor at Jawaharlal Nehru University in New Delhi), had been invited to hold the Ambedkar Lecture, as it is called. His engaged presentation was entitled "Identity, Social Exclusion and Deprived Groups. Search for Inclusive Society in Contemporary International Context".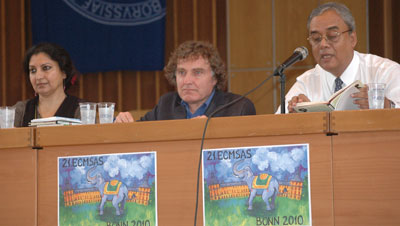 The conference organisers also scheduled one open Forums of general interest every day. Monday afternoon was devoted to a Contemporary Literature Reading, with the writer Geetanjali Shree from New Delhi, and Prof. Udaya Narayana Singh, Director, Rabindra Bhavana & Tagore Research Chair, Visva-Bharati University in Santiniketan – who is also an eminent poet writing in Maithili and Bengali (and previously Director for the Central Institute of Indian Languages, CIIL in Mysore as well). The seminar was moderated by Mr. Christian Weiss from Draupadi Publication House, Heidelberg.
Second day, Tuesday, the open Forum was devoted to the issue of "Recent Economic Developments in South Asia", with a mix of academic and commercial representatives in the panel, and including Kiran Malhotra, President Indo-German Business Forum, and Viqar Mahmood Khilji, Counsellor Economic & Commercial Affairs, Embassy of Pakistan to Germany. The discussion was moderated by Tobias Grote-Beverborg, Deutsche Welle.

On Wednesday afternoon, an open Forum on "New Media Trends in South Asia" was arranged. The panel consisted of Graham Lucas, Deutsche Welle; Britta Ohm, Institute for Social Anthropology, Bern, Switzerland; and Muhammad Atif Khan, Pakistani TV journalist with a background from GEO TV, now living in France. Their discussion was moderated by the journalist Thomas Bärthlein, Deutsche Welle (and also working for Südasienbüro in Bonn, that publishes the magazine Südasien).
On the final day, the open Forum was devoted to the issue of "The Future of Identity Politics in India and Pakistan". Sudir Chandra participated along with Karl-Heinz Kiderlen, President, German-Indian Society, Stuttgart and Binalakshmi Nepram, Control Arms Foundation of India, Delhi. The discussion was moderated by Julia Scherf from the Heinrich Böll Foundation.
The Final Assembly meeting was held on Thursday 29 July at 16.00. The meeting was presided over by Professor Emeritus Dietmar Rothermund, South Asia Institute (SAI) of the University of Heidelberg, and the former President of the European Association of South Asian Studies (the key person behind the success of the 21 ECMSAS conferences!).
Panel-hopping
Otherwise I spent the four conference days jumping from one panel to another, trying to listen to as many presentations as possible. Here is a list of those panels and papers I was fortunate to experience:
Panel 3: Radical Politics in 20th century Punjab
– The Muslim League and the Punjabi Left, 1942-48, paper by Ali Raza, Department of History, Oxford University, UK
Panel 5: Inequality and Affirmative Action in South Asia
– Some Reservations in Cheering on Reservations: Caste/Tribe, Class and Education in Jharkhand, India, paper by Robert Higham, Institute of Education, University of London, UK & Alpa Shah, Anthropology, Goldsmiths, University of London, UK
– Categorical Tensions: The "indigenous tribes" of Meghalaya, paper by Bengt G. Karlsson' Dept. of Social Anthropology, Stockholm University, Sweden
– They have it in their stomachs but they can't vomit it up': Reservations and 'caste feeling' in South India, paper by Clarinda Still, Modern Indian Studies, School of Interdisciplinary Area Studies, University of Oxford, UK (paper read, CS not present)
Panel 6: Taliban, Durand Line and Refugees: The Afghan-Pakistan Border. Region under stress
– Contested Border: Pakhtunistan – Tribalistan – Talibanistan, paper by Conrad Schetter, University of Bonn
– Changing and Contested American Perceptions of the Role of the Taliban in the War in Afghanistan: Revaluation or Continuity from Bush to Obama?, paper by Theodore P. Wright, Jr., Emeritus professor of Political science, State University of New York at Albany
Panel 7: Rethinking the Role of Religion in Processes of Development and Social Change in South Asia
– Religious Transnationalism and New Development Initiatives in South Asia: a Case Study of Ravidassias in the West Midlands, United Kingdom, paper by Gurharpal Singh, University of Birmingham, UK
– Conceiving 'Development': Aga Khan III and Some Aspects of an Islamic Welfarism in Twentieth Century South Asia, paper by Soumen Mukherjee, PhD candidate, Department of History, South Asia Institute, University of Heidelberg, Germany
Panel 9: Megacities in South Asia as Arenas of Risks and Resilience
– In search of a food policy for the Megacity Dhaka, paper by Wolfgang-Peter Zingel, South Asia Institute, University of Heidelberg, Germany
– Organizing the urban poor of Dhaka with a focus to meet the growing challenge of poverty reduction in Dhaka, paper by Salma A. Shafi, Centre for Urban Studies, Dhaka, Bangladesh
Panel 10: South Asia's Changing Security Environment and the Role of Identity
– Why small actors matter in South Asia: India's Relations with Bangladesh as a Case of Failed Hegemony, paper by Sandra Destradi, Research Fellow, GIGA German Institute of Global and Area Studies, Hamburg, Germany
– India's Soft Power: Prospects and Limitations, paper by Christian Wagner, Head Research Unit Asia, German Institute for International and Security Affairs (SWP), Berlin, Germany
Panel 13, Religion, Literature and Film in South Asia and the South Asian Diaspora
– Folk Deities, Tigers and Mortals: Life in the Mangrove Swamps of the Sundarbans, paper by Sutapa Chatterjee Sarkar, West Bengal State University, Barasat, India
– Defining our Enemy: National Consciousness and Communal Persistence in Hindi and Bengali Literature, paper by Olivier Bougnot & Dr. Anne Castaing, Institut National des Langues et Civilisations Orientales (INALCO), Paris, France
Panel 23: Bengal Studies
– Mothering Durga: The Politics of Transformation, paper by Susmita Chatterjee, Fellow designate, Indian Institute of Advanced Study, Shimla, India
– The Kolkata Intellectuals and Elite Modernity, paper by Kerstin B. Andersson, School of Global studies/Social Anthropology, University of Gothenburg, Sweden
– The 'Hungry Tide': Salish and the Arbitration of Land Cases, paper by Tiffany Hodge, Phd candidate, Emory university, West and South Asian Religions, Atlanta, Georgia, USA.
– Dramatic Performance Act, 1876: Response of the Bengali Intelligentsia, paper by Manujendra Kundu, Research fellow at Jadavpur university, Kolkata, India.
Panel 37: Confrontations in Sri Lankan Politics. Origins and Present Developments
– Indo-Chinese Competition and its Influence on the War in Sri Lanka: On the Role of External Actors in Wars and Peace Processes, paper by Sandra Destradi, Research Fellow, GIGA German Institute of Global and Area Studies, Hamburg, Germany
– Impact of the Sri Lankan Conundrum on Politics in Tamilnadu, paper by Dagmar Hellmann-Rajanayagam, Department of Indology and Tibetology, München, Germany & Sumati Rajesh, Department of Antropology, University of Madras, Chennai, India
Panel 43: Christians, Cultural Interactions, and South Asia's Religious Traditions
– A Comparative Account of the Socio-Cultural Context of Christians in the Punjab and Christians in Western (Predominantly Tribal) Orissa, paper by Georg Pfeffer, Freie Universitšt Berlin, Germany
– The Inter-Religious Riot as a Cultural System: Globalization, Geertz, and Hindu-Christian Conflict, paper by Chad M. Bauman, Butler University, Indianapolis, USA
Presentations I would have liked to attend...
Naturally, it is impossible to participate in every panel. Here are some of those sessions I really miss I could not attend:
– Malayali Communism. An Exploration of the Success of the CPI in Kerala in the 1950s, paper by Margret Frenz, Lecturer in Global History, University of Leicester, UK (and Vice-President of the European Association of South Asian Studies, EASAS)
– Communication and Caste Integration in Western India, the Chitrapur Saraswat Brahmans' Creation of a 'Demi-public sphere, paper by Frank F. Conlon, Professor Emeritus of History, South Asian Studies & Comparative Religion at University of Washington, USA (and also Administrator for the H-Asia Discussion Network)
– Religion, Education and Democracy: The Emergent Transformative Players, paper by K. Ravi Raman, Research Associate, SOAS, London
– Polio and the State of Public Health in Uttar Pradesh, paper by Patricia Jeffery & Roger Jeffery, University of Edinburgh, UK
– Between Hard Power and Soft Power: An Analytical Study of India-Japan Relations, paper by Mohammed Badrul Alam, Department of Political Science, Jamia Millia Islamia University, Delhi, India
– Some Lexical Features of Garhwali, paper by Ram Prasad Bhatt, Department of Indian and Tibetan Studies, University of Hamburg, Germany
– Labour Recruitment Pitfalls and Migration Outcome: Migration from Bangladesh to the Gulf Countries, paper by Rita Afsar, Senior Research Fellow (on leave), Bangladesh Institute of Development Studies (BIDS), Dhaka, Bangladesh
– Managing Migration Trends in Balochistan, paper by Musarrat Jabeen, Allama Iqbal Open University, Islamabad
– Sacred & Profane, Love in Medieval Bengali Vaishnava Lyrics: A Study of Jayadeva's Gita Govinda & its influences, paper by Soumajit Samanta, Dept of English, North Bengal University, Siliguri, India
– Personalism in Calcutta: the Case of Bhaktisiddhanta Sarasvati, paper by Ferdinando Sardella, Department of Literature, History of Ideas, and Religion, University of Gothenburg, Sweden
– Dalits in South India – Stuck at the Bottom – or moving upward?, paper by Aase Mygind Madsen, School of Social Work, VIA University College, Aarhus, Denmark
– Subaltern Consciousness in Post Independence Indian Literature, paper by Aswini Kumar Mishra, Chief Executive Officer, Western Orissa Development Council, India
– Education, Affirmative Action and Socio-political Unrest in Sri Lanka, paper by Siri Hettige, Department of Sociology, University of Colombo, Sri Lanka
– Jay Prakash Kardam's "Cappar" and Ajay Navariya's "Udhar ke log": Representing and transcending identity in Hindi Dalit novel writing, paper by Heinz Werner Wessler, Institute for Asian and Oriental Studies, University of Bonn, Germany
– Changing Employment Conditions of the Indian Workforce and Implications for Decent Work, paper by Ravi Srivastava, Jawaharlal Nehru university, India
– Contribution of Kripasharan Mahasthavir, founder of Bengal Buddhist Society, in the world of Buddhist Reform and Buddhist scholarship of 19th century India and beyond, paper by Swapna Bhattacharya, Department of South & Southeast Asian Studies, University of Calcutta, Kolkata, India
– Decent Work, Vulnerable Employment and the Working Poor in India: Concepts, Policies and Struggles, paper by Jens Lerche, SOAS, University of London
– Colonial Satire in South Asia as Critical Self-observation of the Emerging Middle Classes, paper by Hans Harder, Department of Modern South Asian Languages and Literatures at the South Asia Institute, Heidelberg University, Germany
Side activities
On Monday 26th in the evening, the city of Bonn invited the conference participants for a reception at reception at Katholische Hochschulgemeinde, with a jazz orchestra entertaining the guest. The following night, a Bollywood party was held in a centrally located club. It was organised in collaboration with the Südasienbüro in Bonn and the German-Indian Society.
The grand finale became an enjoyable river boat trip on the Rhine that was organised on Wednesday night, travelling soutwards for a couple of hours. Some photos to be seen below: