SWEDISH SOUTH ASIAN STUDIES NETWORK

---
SASNET in the Northeast
Report from a contact journey
to India, Bhutan, Nepal and Bangladesh,
November–December 2005
by Lars Eklund and Staffan Lindberg
In the Spring 2002 we made the first SASNET contact journey to four countries of the South Asian region. The purpose was to network with researchers and institutions, and get to know under which conditions and with what expectations they function.
We followed this up in the Fall 2003 through another journey, this time to visit universities in Pakistan and Afghanistan.
Now two years later it was time to make a third tour covering the northeastern part of the subcontinent (India, Bhutan, Nepal and Bangladesh). We travelled for a full month and visited a large number of universities and research institutions in the region, and had fruitful meetings with vice-chancellors, researchers, teachers and students everywhere. The aim of the journey was to spread information about SASNET and higher institutions of learning in Sweden, and at the same time promote research cooperation and student exchange. Read the detailed itinerary for the tour (as a pdf-file).
After returning to Sweden we have compiled the reports from all meetings. Welcome to read our reports.
Kolkata, Saturday 19–20 November 2005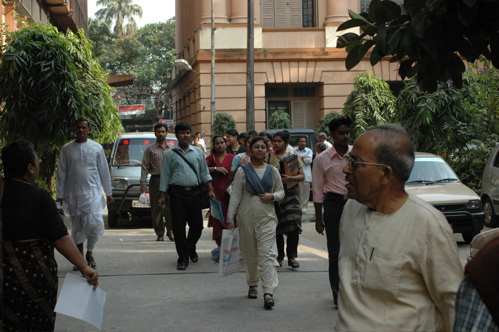 We arrived in the morning at Dum Dum Airport, now renamed Netaji Subhas Chandra Bose International Airport. We had had a 24 hours long and tiresome journey with Gulf Air with stop overs at Frankfurt, Bahrain, and Muscat. And we had witnessed the intensive travelling of South Asians to and from the Arabian Peninsula – we were among the very few Europeans on board our flight to Kolkata.
The mid-November weather was pleasant and calm with a clear and sunny sky and around 25 Degrees Celsius as we drove through more or less crowded streets on our way to the area of Paikpara in North Kolkata, and Lars' in-laws house where were going to stay on our first stop in India. Few beggars are nowadays to be seen in the streets, except at places in the city centre frequented by tourists, but street dwellers are still common here and there. New residential areas have sprung up east of the city, and the air is cleaner, even though it is still heavily polluted. Kolkata has indeed come a long way from the days when Louis Malle shot his film 'Calcutta Calcutta' in the late sixties.
Read our first report from Kolkata, capital of the Indian state of West Bengal.

Kolkata, Monday 21 November 2005
Today we dived straight into the centre of this mega-city of eastern India. From our side in North Kolkata we travelled on the very long Chittaranjan Avenue, the former Central Avenue, which when it was built in the 19th century cut through and brought down already existing buildings and streets of old congested Calcutta. The closer we came to central Kolkata, the more we felt the nerve of the world city that Kolkata still is, even after losing out in this 'battle' to Bombay after Independence, and also the rising force of the left.
To the right, we passed the huge 'red light district' Sonagachchi, famous now for its, compared to Mumbai, 'less oppressive forms' of sex-trade, if that is at all appropriate, with many women members of a trade union, running their own 'family business' and demanding use of condoms.
To the left we passed an innumerable number of plywood shops – does it really result in price competition to have them all in one place or more to air pollution by having all the building contractors go there to pick up the wood? Anyway, the dirty air thickened as we came into the city centre full of monument houses of the colonial city with an aura of British culture. We passed the police headquarters – Lal Bazar, the Writers Building – the old office complex of the British East India Company now turned into administration building for the West Bengal government, and the famous Great Eastern Hotel, for a long time now run by the City Corporation, but which has just been closed and sold to private interests amidst fierce resistance from the servants' union. 'Times they are changing.'
During the day we had meetings at Calcutta University (note that it still carries this name even though the city has changed its official name to Kolkata several years ago), first with the Vice-Chancellor Prof. Asis Kumar Bannerjee at his office in the College Street campus, and then with faculty members of the Dept. of History at the Alipore Campus.
Read report from the meeting with the Vice-Chancellor, Calcutta University

Read report from meeting at the Dept. of History, Calcutta University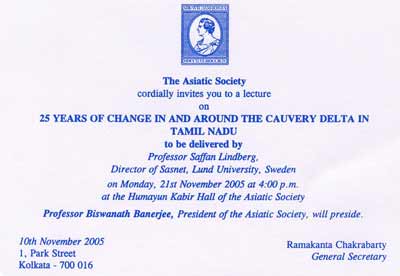 At 4 P.M. Staffan was scheduled to give a lecture at the prestigeous Asiatic Society in Kolkata, see the invitation card to the right.
After the seminar we were invited to visit the Governor of West Bengal, Mr. Gopal Krishna Gandhi, at his office in Raj Bhawan.
Read report from Asiatic Society, and from the meeting with the Governor of West Bengal
A long and hectic day full of interesting meetings was over. We returned to Paikpara in north Kolkata to have dinner, then bringing our luggage to Sealdah Station and the express train Darjeeling Mail, departing at 22.05.
North Bengal, 'Garden of Eden',
Tuesday 22 November 2005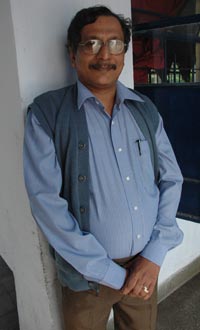 Next morning we woke up onboard the train surrounded by a flat green landscape with tea plantations, interspersed by paddy fields, grazing grounds and scattered farmsteads surrounded by fences made of a kind of coir. It looked a bit tribal but village people walking around in sarees and dhotis reassured us that this was ordinary plainspeople. They were lightly dressed so we sensed that the outside temperature was quite pleasant, which later on proved to be quite true, peaking at about 25 °C.
Prof. Chandanashish Laha, Reader in the Dept. of English (photo to the left) , met us at the New Jalpaiguri Railway station (NJP), and had organised a well-structured meeting for us, and also a warm local hospitality. Chandan, as he is called, participated in the 18th European Conference on Modern South Asian Studies, that SASNET organised in Lund in July 2004. He was a member of Panel no 39, on Bengal Studies (read about the panel), and we had become good friends.
After refreshing ourselves at the nice University Guest House we proceeded to the main building of North Bengal University, NBU.
Assam – Land of rivers, mountains, trees and conflicts
Guwahati, Tuesday 22 November 2005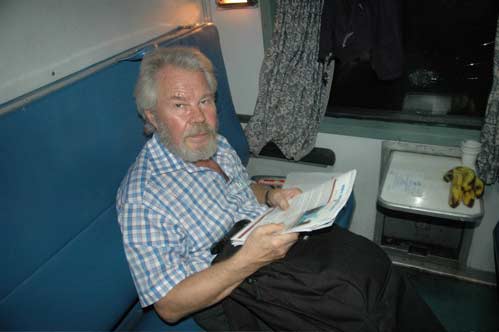 After a delicious Bengali style lunch with rice and sweetwater fish at the University Guest House in Siliguri we continued travelling by train towards Guwahati in the afternoon. We were supposed to board the Jodhpur-Guwahati Express, departing from New Jalpaiguri railway station (NJP) at 15.20.
The train was however one hour late from start, and when we finally arrived in Guwahati the time was not 23.45 in the evening (as it was scheduled to be), but close to 4 o'clock in the morning.
We literally tumbled into bed at Landmark hotel, booked well in advance by our local host Prof. Abu Nasar Saied Ahmed from OKD Institute of Social Change and Development (see our report from OKDISCD).
After a few hours of sleep, we woke up to an interesting day in this 1.4 million town, the capital of Assam. Our programme for the day included a visit to Gauhati University with a SASNET meting at the Dept. of Economics, and then in the afternoon on to IIT Guwahati (Indian Institute of Technology) located outside Guwahati.
Read report from meeting at the Dept. of Economics, Gauhati University
Read report from our visit to IIT Guwahati
'Born again'
Guwahati, Thursday 24 November 2005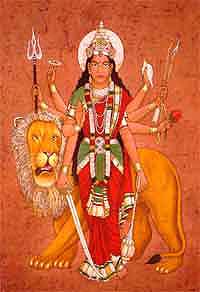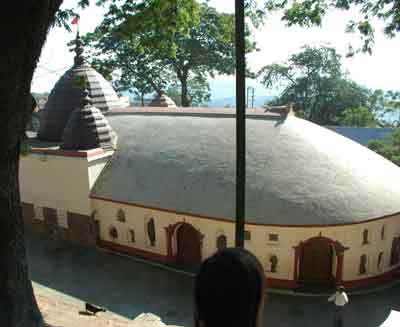 Early morning we went to the famous Kamakhya Durga temple, located on a small hillock with a wonderful view over Guwahati. After paying a special entrance fee of Rs. 501 (instead of the ordinary Rs. 1 fee) in order to be able to enter a preferential queue, we still stood in a tight row behind pilgrims from all over India, and slowly stepped inside the temple and down into the womb of the all-mighty goddess Durga. This was shakti (women's power), we felt intensively as we mixed with devout men and women, surrounded by the rising temperature to comforting warmth, and touched the water on the ground of the cave – remembering our own foetal past?
According to Devimahatmya, part of the Markandeya Purana scripture, dedicated to the goddess Durga, she saved the world from the demon king Mahisasura, after he had taken over the power in Heaven. None of the male gods had been able to stop him. The Great Goddess Durga was then born out of the combined energies of the male divinities – the energies created a supernova, throwing out flames in all directions and turning into a female form. The awesome Goddess was then adorned with the crescent moon, and her multiple arms held auspicious weapons and emblems, jewels and ornaments, garments and utensils, garlands and rosaries of beads, all offered by the gods.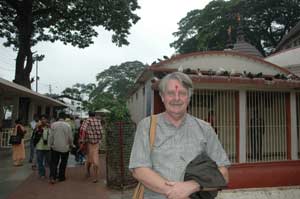 With her tremendous power – the cosmic energy, shakti, Durga managed to kill Mahisasura and his armies of demons after terrible fights, and finally save the world. Read the full story about Durga's fight with Mahisasura in an article called "Durga – Narrative Art of an 'Independent' Warrior Goddess", by Nitin Kumar in Exotic India, April 2001.
We left the temple, one of very few temples in India devoted to Durga, 'born again' and filled with female power, maybe not yet in the status of advaita but almost. We headed for our main destination for the day, the Omeo Kumar Das Institute of Social Change and Develeopment (OKDISC) in Guwahati, one of the 27 prestigeous institutions funded by the Indian Council of Social Science Research (ICSSR). A meeting was planned for us with the faculty members and scholars of the Institute at 11.30.
Report from meeting at Omeo Kumar Das Institute of Social Change and Develeopment (OKDISC)
A nice ride to Shillong, Thursday 24 November 2005
After our meeting at OKDISC we went in a comfortable Tata Indica Diesel, again arranged by Prof. Abu Ahmed, a journey to Shillong, capital of the neighbouring hill state of Meghalaya. It is a one hundred km ride trough the lovely green and low mountains of Meghalaya.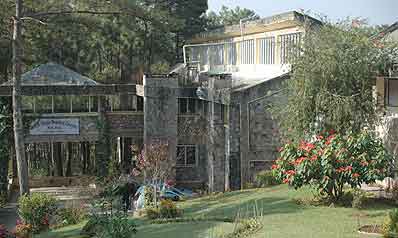 Traffic was intense so the speed was limited and safe as we were gradually swallowed by this the perhaps most westernised of all Indian states – with churches and wine-shops almost on a string line along the road. Is this what western civilization is to Indians?
It was almost pitch dark when we finally arrived at the Guest House of the North Eastern Hill University (NEHU) after the three hours long ride, prolonged at the end by the darkness and our difficulties to find the whereabouts of the university.
Once inside we however immediately felt at home in the wooden buildings that make up much of the Guest House (photo to the right). And of course, as a sign of heavenly intervention after our morning prayers, our local host Prof. Nunthara was just walking up the steps to receive us warmly.
Read our first report from Meghalaya, land of coal, potatoes and peace
After a nice sleep in the peaceful surroundings of NEHU campus we spent the following day, Friday 25 November, in Shillong, visiting the university and meeting researchers representing Sociology, Anthropology, Political Science and Environmental Studies.
Report from meeting at North Eastern Hill University in Shillong
In the afternoon our host, Prof. Nunthara, took us around in Shillong and showed its main sights, including the Pine Wood Hotel. We also visited the family Tanglura, members of which now reside in Sweden and being friends of Lars. In late afternoon we then returned with our taxi to Guwahati, for another night's stay at Landmark Hotel, next to the stadium of Guwahati.
Journey from Guwahati to Phuentsholing in Bhutan,
Saturday 26 November 2005
Saturday morning at 9 o'clock we again boarded a train, seated in an AC 2-tier compartment on the North East Express, bound for Cooch Behar in West Bengal. Professor Abu Ahmed had picked us up at the hotel and driven us here in the car belonging to OKDISC. What a fantastic host!
In Cooch Behar we were then going to be met by Dr. Soumyajit Samanta from North Bengal University, and travel by private car to the Bhutanese border town Phuentsholing.
Read our report from the journey from Guwahati to Phuentsholing
Journey from Phuentsholing to Thimphu, Sunday 27 November 2005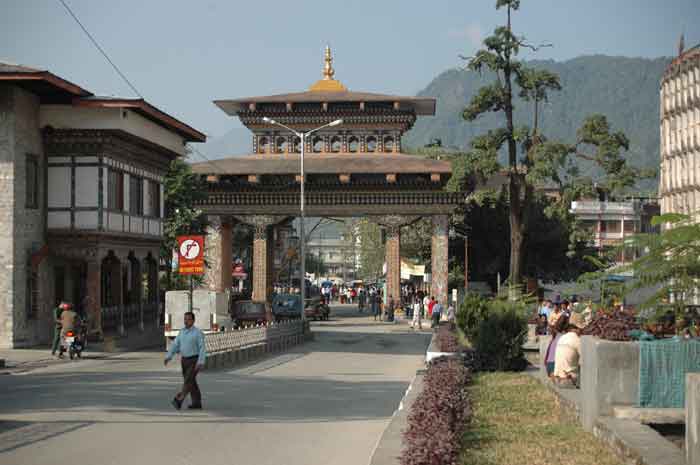 We woke up Sunday morning at Druk Hotel in Phuentsholing, our first morning in Bhutan. After checking out from the hotel we were picked up by our guide and driver, Mr. Samdruk, a Bhutanese with a degree in Commerce from Bangalore in India. He works as free-lance guide for foreign tourists and is connected to the Centre for Bhutanese Studies in Thimphu.
We returned over the open border to India and got the necessary exit stamps from the Indian passport office, opening at 9 o'clock, then back through the gate to Phuentsholing, and proceeded to the Bhutanese Immigration office to get our visas (photo of the visa officer in charge, see below).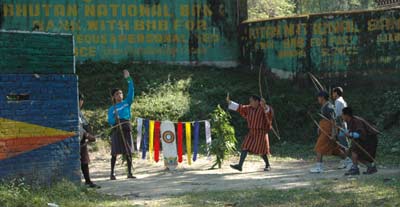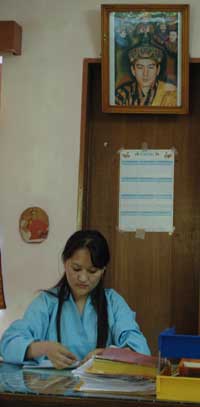 After watching some Bhutanese teams practising the national sports of Archery (photo to the right) and the Bhutanese variety of dart game, Khuru, we left Phuentsholing for a seven hours journey to the capital of Bhutan, Thimphu.
It was a fantastic tour along a steep road with hairpin bends all the time, surrounded by mountains and a dramatic nature full of fascinating views. Along the road we had to pass at least three checkpoints, where the car and the passengers were reported.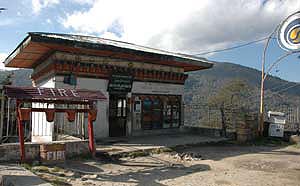 If there is any place close to heaven, maybe this is. We gradually realise that we are in what the Bhutanese refer to as an actually existing 'Shangri-la', where progress and development is measured, not in pecuniary terms alone, or even literacy and infant mortality as in the Human Development Index, but as a weighted index called Gross National Happiness.
We are passing the water power stations being built by India (producing not only electricity but also good income for the Bhutanese government), roadside eateries and petrol stations all nicely designed in a typical Bhutanese style (see the petrol station on the photo to the right). In the afternoon we reach the plain where Thimphu is located, a town that has grown a lot in recent years. The houses now strech far up the hillsides, and down along the river Bhutan's first strech of highway is being constructed.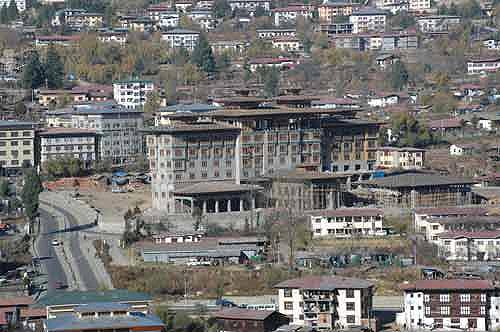 We were taken to Jambayang Resort, a small hotel beutifully located with a view over the entire city. Here we would stay for two nights.
Thimphu, Monday 28 November
Thimphu–Paro, Tuesday, 29 November 2005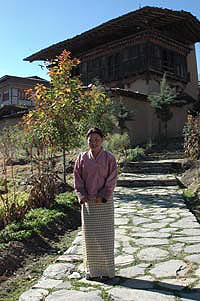 This day was was devoted to seeing the most important sights in Thimphu and the historic town of Paro, 60 km away, from where we were going to fly out of the country the following day.
After checking out from our Thimphu hotel we first visited the Folk Heritage Museum in Thimphu, consisting of one big traditional farm house. We were guided by the museum guide Ms. Karma (photo to the left), who herself hails from a village far away with no road connection. So she knew what she was showing us.
It is a self-contained farmstead with a four-storied house, with a compound wall at one side of the house, where horses and other cattle are kept together with the ploughs and other implements used. On the ground floor is room for more cattle, floor 1 is used for storing grains and saddles. On second floor is the kitchen, the combined drawing and sleeping room, and the altar room, where also monks and honoured guests usually stay over night. On the top floor there are no walls, being the place for drying of straw, etc.
The most impressive thing about these traditional houses is the woodworks around the windows.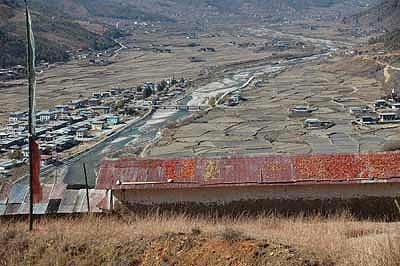 We then proceeded to Paro. The road passed through scenic beauty, with a river at the bottom of the valleys and surrounding high mountains. We learnt that there were trout fishes in the river and that sport fishing was allowed in some places. As we came closer to Paro the landscape changed, we came out into a plainland, flat enough to accommodate Bhutan's only airport.
Paro is a much smaller town than Thimphu, located in the shadow of an old fort, dzong. On a nearby hilltop stands an old watchtower, built by stone. This building with several floors has been converted into the National Museum of Bhutan (see photo), and that was our first stop.
The museum houses the history of Bhutan from the 15th century onwards, which is closely connected with the spread of Buddhism in the region. From the early 16th century there is a kind of a nation state formation organised by leading abbots of that time, who conquered and ruled the land and the people with hired soldiers and the word of Buddha.
This theocratic state existed up to 1907, when under British 'protection' a royal dynasty was installed in Thimphu. The present ruler is the fourth king of Bhutan. Most probably the British found it hard to negotiate with a religious head of state.
Paro–Kathmandu,
Wednesday 30 November 2005
After an overnight stay at Kichu Resort in Paro we left in the early morning for the airport. Our Druk Air flight was scheduled for 09.30, and we spent the waiting time inside the beautiful airport terminal building, as most buildings in Paro designed in a typical Bhutanese architecture (photo to the right).
The one-hour flight between Paro and Kathmandu is probably one of the most scenic in the World. Sitting on the right side of the plane we had extraordinary views of the Himalayas.
It was clear sunshine as we sailed just over the beautiful mountain range, first green Bhutanese hills with valleys richly inhabited and later with the naked snow covered cliffs of the highest mountains in the world on our right hand side, Kanchenjunga and Mount Everest so close and the Tibetan tablelands behind. Totally amazing sights, this is the wonder that you may experience only once in a lifetime.
Kathmandu, Nepal, Wednesday 30 November 2005
Arriving at Tribhuvan Airport in Kathmandu we were warmly welcomed (and graced with the traditional Nepalese scarves) by our local host Dr. Tek Nath Dhakal and his friend and colleague, Dr. Govind Prasad Dhakal. Dr Tek Nath Dhakal is Campus Chief of the Public Administration Campus of Tribhuvan University, and also a member of SASNET's South Asian Reference Group.
Our accommodation was arranged for at Boudhanath Guest House in the northeastern part of Kathmandu, just in front of the historical Boudhanath stupa (known to Tibetans as Chorten Chempa or the "Great Stupa"), on UNESCO's list of world heritage sites since 1979. It is the focal point for Tantric Buddhism in Nepal. An entire village has been built around the stupa inhabited mainly by Tibetans, many of whom are living in exile since the Chinese took over Tibet in 1959. More information on the Great Stupa of Boudhanath.
After leaving our luggage we immediately proceeded towards central Kathmandu for our first meeting, with faculty members and students at Dr. Dhakal's Campus of Public Administration. It is one of the totally 61 campuses all over Kathmandu and even in other parts of the country that together form Tribhuvan University.
Read our first impressions of Nepal – country in political turmoil

Read report from the Department of Public Administration, Tribhuvan University
From the centrally located Public Administration campus we travelled through the crowded streets of Kathmandu going south, and entered the lush green Kirtipur main campus of Tribhuvan University.
We had an appointment to meet the University Vice Chancellor, but on the way we were informed that he had been called for a meeting at the Ministry of Finance, and our meeting had to be postponed to another day. Instead we headed for the Centre for Nepal and Asian Studies, located within the Kirtipur campus.
Report from the Centre for Nepal and Asian Studies, CNAS, Tribhuvan University
Thursday 1 December 2005
In the morning hours we visited the Social Science Baha, a meeting place for social scientists in Kathmandu. Most of the day was however dedicated to visiting the heritage places in central Kathmandu and the town of Bhaktapur, 14 km east of Kathmandu. This was due to the fact that two Nepalese architects, Ram Govinda Shrestha and Rupa Dongol, came to Lund University in the autumn 2005 to participate in a postgraduate International training course on Conservation and Management of Historic Buildings. We now had been invited to see the conservation works carried out in the Kathmandu Valley, and not only that. As we happened to be in town just at the time for Rupa Dongol's marriage, we were also invited to participate in the reception party of her wedding ceremony in the evening at Kismis Party Palace in Kathmandu.
Report from meeting at Social Science Baha

Report from visits to heritage places in Kathmandu and Bhaktapur
Kathmandu, Friday 2 December 2005
The first programme on this day was to meet Dr. Dinesh Raj Manandhar, Managing Director for the private enterprise Development Network Ltd, and also working with an NGO called Community Development Forum. We were in contact with Dr. Manandhar, as he has collaborated on research regarding solid waste management, with Professor William Hogland, Dept. of Technology, University of Kalmar, since 2003. From there we proceeded to Tribhuvan University's Kirtipur Campus for a meeting with the Vice-Chancellor and a visit to the Research Centre for Applied Science and Technology, RECAST. Our final destination for the day was Tribhuvan University Teaching Hospital, to meet people involved in a collaboration project with Göteborg University.
Kathmandu, Saturday 3 December 2005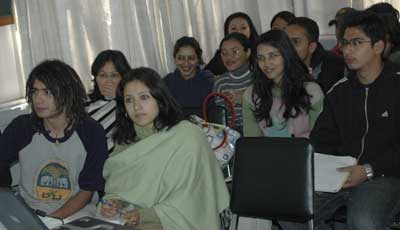 Our final day in Kathmandu, with Staffan holding a lecture for students at National College (photo to the right). The flight with Biman Bangladesh Airlines to Dhaka, supposed to depart from Kathmandu at 16.55 did not leave until 21.00. We had time to reflect over the fragile political situation in Nepal, and read the newspapers reporting about the biggest street demonstrations in Kathmandu since 1990 carried out the day before. 'Tens of thousands of people rallied against autocratic monarchy and in favour of republican democracy' (Kathmandu Post, 3 December 2005). In the same paper we also learnt that the Maoists had extended their truce by another month, whereas the Royal Nepalese Army declared continued war against them.
Read report from lecture at National College, Kathmandu

Read our article, trying to understand the situation in Nepal
Saturday evening at about 10 o'clock we landed at Zia International Airport in Dhaka, the capital of Bangladesh, four hours late. The taxi took us on the new first class highway towards the city. We got a feeling that the recent SAARC meeting had meant an uplift of this part of the city, which the elite diplomats travelled through on their way to the conference venue. We reached our guest house in the Banani area, where we were going to stay.
Dhaka, Sunday 4 December 2005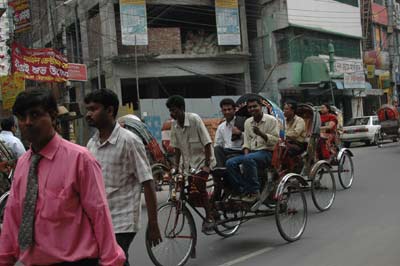 Our first day in Dhaka, with several meetings booked in advance, at Dhaka University/ Dept. of Chemistry, the Bangladesh Institute of Development Studies (BIDS), and with representatives of James P. Grant School of Public Health, launched in 2004 by BRAC University and the International Centre for Diarrhoeal Disease Research, Bangladesh. But we also had time to reflect upon the political and economic situation of Bangladesh.
Dhaka and Savar, Monday 5 December 2005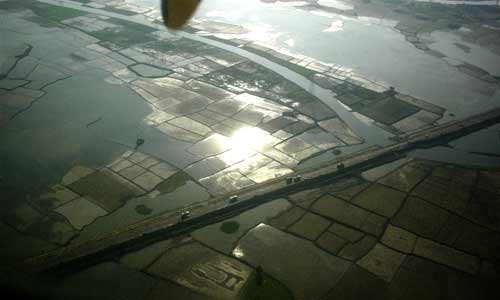 In the morning we visited Jahangirnagar University in the town of Savar, 32 km north of Dhaka, along the Trans-Asian Highway (photo to the right). We were invited to the university by Asst. Prof. Bashir Ahmed at the Dept. of Government and Politics, who had arranged for a meeting with the Vice-Chancellor Professor Mustahidur Rahman and the university faculty.
A visit was also planned to Gono Bishwabidyalay University (also in Savar), involved in research collaboration and student exchange projects with the Department of Applied Information Technology (2IT), KTH School of Information and Communication Technology in Kista, but the visit was unfortunately cancelled.
So instead we returned after lunch to Dhaka, and the rest of the day we spent at Bangladesh Institute of Research and Rehabilitation in Diabetes, Endocrine and Metabolic Disorders, BIRDEM, led by the dynamic Professor Liaquat Ali, renowned biochemist supported by the International Science Programme of Uppsala University. He is also involved in cultural activities, and in the evening we were invited for a musical evening and buffet dinner at the Centre for Cultural Development, set up by Prof. Liaquat Ali as a side activity to his work at BIRDEM,
Report from visit to Jahangirnagar University, Savar

Report from meeting with the Biomedical Research Group, Bangladesh Institute of Research and Rehabilitation in Diabetes, Endocrine and Metabolic Disorders, BIRDEM, Dhaka

Report from a cultural evening at the Shangskriti Bikash Kendra (Centre for Cultural Development), Dhaka
Staffan visits Rajshahi, and Lars visits Sylhet, Tuesday 6 December 2005
Staffan travelled 5 hours on the Trans-Asian Highway in a comfortable Volvo buss (made in Bangalore) to Rajshahi in western Bangladesh. With the improved infrastructure in the country (especially the new Jamuna Bridge, inaugurated in 1999) fast long distance bus lines now connect Dhaka with all major cities in the country, certainly a nice and environmental friendly alternative to domestic air flights. Staffan was invited to meetings at Rajshahi University, and was also going to visit the village Thanapara just outside Rajshahi. This village is connected to the work of the Swedish NGO The Swallows since the 1970's, and the undergraduate course students from Österlen folk high school in Tomelilla every year end up their South Asian field work trip with one week stay in Thanapara.
Report from meeting at the Dept. of Sociology, Rajshahi University

Report from meeting at the Institute of Environmental Sciences (IES), Rajshahi University

Report from visit to the Thanapara Swallows Development Society
Lars on the other hand flew early Tuesday morning to Sylhet in the northeastern part of Bangladesh, by the private GMG Airlines. A 50 minutes flight in a small propeller-driven aircraft over the lush Bangladeshi countryside, crisscrossed with streams and rivers, and covered with rice fields and agricultural land divided into small plots. Closer to Sylhet the landscape changes into small hills, this is the land of the Bangladeshi tea gardens. Lars was invited to visit the Shahjalal University of Science and Technology (SUST).
Report from Sylhet, and meetings at Shahjalal University of Science and Technology
Return to Dhaka, Wednesday 7 December 2005
Staffan returned from Rajshahi to Dhaka in the afternoon by a Biman Airlines flight, delayed as usual. Still he managed to rush to the Swedish Embassy in the Gulshan area, for a scheduled meeting with the new Swedish Ambassador to Bangladesh Britt Hagström, and the Deputy Head of Mission Anne Bruzelius. A discussion focused on the academic cooperation between Swedish and Bangladeshi institutions was held. Today there is quite a significant Swedish involvement in the natural sciences and medicine, but it would of course be desirable if this interaction could also be extended to the social sciences and humanities. There is also an increasing interest among Bangladeshi students to go for higher studies in Sweden, perhaps as a result of the fact that Muslims feel less welcome in the US after 9/11, and also because of a strong resentment about US foreign policy in the Middle East. Another factor of importance is that Swedish universities do not charge tuition fees. However, the Embassy is today preoccupied with a number of visa applications that prove to be based on false premises, faked bank account statements, etc. It appears as if the opportunities for higher studies in Sweden are being tried by persons with sinister ambitions…
Swedish Embassy web page: http://www.swedenabroad.com/pages/general____24242.asp
Lars also returned from Sylhet in the afternoon, again with a GMG Airlines flight, and after joining with Staffan we spent a nice evening together with the Swedish journalist Viveka Risberg and her husband Olof, working as country representative in Bangladesh for Save the Children Sweden-Denmark. We were invited for dinner, and so was also Anna Gren, project coordinator for the Swallows India-Bangladesh section.
Visit to the International Centre for Diarrhoeal Disease Research, Thursday 8 December
We spent the whole day at ICDDR,B, an institution that once used to be known as the Cholera Hospital in Bangladesh, but since then has grown into being an international health research institution. In collaboration with partners from academic and research institutions throughout the world, the Centre conducts research, training and extension activities as well as programme-based activities. Several Swedish universities are involved in collaboration projects with ICDDR,B and the key person in Swedish academia related to it is Prof. Lars-Åke Persson at IMCH, Department of Women's and Children's Health, Uppsala University, who has worked at ICDDR,B for four years as manager for its Research division on Public health.
Chittagong, Friday 9 December 2005
Terrorism on the increase
This is now a nation in shock, in deep political and human instability. The day before a terrible suicide bomb attack at Netrakona took at least eight lives and injured at least 100. Meanwhile, bomb explosions in Khulna, Nilphaman, Naogaon and Meherpur resulted in death of two and at least six injured.
As we flew out of Dhaka in the morning on board a GMG Airlines plane, heading for Chittagong, we somehow felt relief about leaving the over-crowded city but also the many pessimistic discussions about the mounting fear of terrorist violence and breakdown of civil life. The politicians are blamed for nurturing Islamic extremism in their folds, for not recognising the importance of the bombings and now for not doing anything about it in terms of police and military actions.
But we had only just landed at Chittagong Airport, when we were informed that also this university had been subject to a bomb threat a few days earlier, and that our hosts did not dare to arrange a meeting there the day after. Instead the meeting would have to be arranged in a safe place somewhere else in the city on Sunday.
Cox's Bazar
Saturday 10 December 2005
So where to go when no place is safe? It is one thing to avoid crowds, we think as we now walk on the world's longest beach at Cox's Bazar in southeast Bangladesh among holidaying honeymoon couples and middle class families touching the waves in full dress and resting under the umbrellas. It is quite fascinating to see how a western beach culture is being transformed by this Muslim society.
This is not far from Chittagong, and we went here while waiting for the meeting with the faculty and students on Sunday.
Cox's Bazar is one of few beach resorts in Bangladesh and this time of the year usually full of domestic tourists. Now the beach and hotels seemed half-empty and we read in the newspapers that people from Dhaka and elsewhere were afraid of travelling because of the violence. So far no foreigners have been the target, but foreign tourists have also stopped going to Bangladesh, which is quite understandable. We met only two young European girls during our 18 hours stay in the resort.
Chittagong, Sunday 11 December 2005
We checked out from our Hotel Media in Cox's Bazar in the morning and returned to Chittagong afer first visiting the fascinating 18th Century Arakanese/Burmese Buddhist temple in Cox's Bazar (photo to the right). This part of Bangladesh was historically not a part of Bengal but of Arakan, and still there is a non-Bengali minority living here, practicing Buddhism.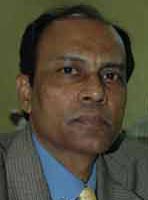 In Chittagong our local host, Prof. Imam Ali (photo to the left) from the Department of Sociology, Chittagong University, had arranged for a meeting with teachers and students from the faculties of Social Science and Arts, to be held in the Kernel National School & College in central Chittagong.
Report from meeting with Chittagong University teachers and students
Back in Kolkata, Monday 12 December 2005
From Chittagong we had tickets for the convenient one hour GMG Airlines flight directly to Kolkata. But when it was time to fly it turned out that this route was no longer operational on Mondays. So instead of reaching Kolkata in the morning we had to make a detour via Dhaka and spend several hours in the airport there, before finally hopping over to India in the mid-afternoon.
Too late for any organised SASNET programme. Otherwise we had planned to visit the famous Indian Statistical Institute (ISI), an institution founded in 1931 and which has had an enormous importance for India's planning after independence, through its legendary Director Mahalanobis.
Instead we checked in at a hotel near Netaji Subhas Chandra Bose International Airport, and then spent a nice evening socialising with the Munshi family, Lars' relatives in their Tala Park Avenue residence.
Centre for Built Environment, Kolkata, Tuesday 13 December 2005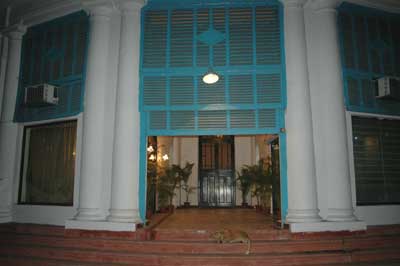 Today we had been invited by Prof. Santosh Ghosh, Centre for Built Environment (CBE), to participate in a seminar at the Academy of Fine Arts, on "Changing face of South Asian cities – on society, culture and environment". The seminar was organised by CBE, an institution that has been much involved in collaboration with Lund University, several architechts from here have taken part in Sida-supported post-graduate courses in Lund. And when the seminar was over we were even invited in the evening to participate in a Lund University Alumni meeting held at the prestigeous Tollygunge Club in the southernmost part of Kolkata (a club established in 1895 (photo to the right), on the premises that till then had been the princely estate for the exiled family of Tippu Sultan, the deposed ruler of Mysore).
We had originally planned to visit the Indian Institute of Technology (IIT) in Kharagpur, the oldest of the seven prestigious Indian IIT's set up as centres of excellence in Science and Engineering. IIT Kharagpur was however closed during this period for winter vacations, we learnt from our main contact person at IIT, Prof. Subrata Chattopadhyay, Dept. of Architecture (who was a guest professor at Lund University in 2002).
Read report from visit to the Centre for Built Environment
Jadavpur University, Kolkata, Wednesday 14 December 2005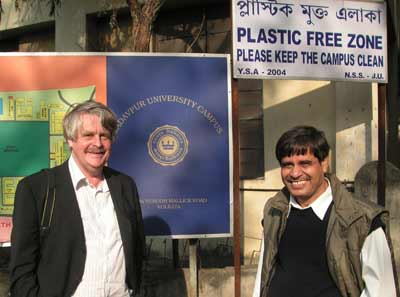 During our first sojourn in Kolkata in November we visited Calcutta University. Now time had come to visit the other major university in the city, namely Jadavpur University (JU). It is known for its excellence in the fields of Science and Technology, but also housing an Arts Faculty boasting many departments of special assistance, including English and Comparative Literature, and with India's only Dept. of Film Studies. Our main contact person was Professor Asoke Bhattacharya (on the photo to the right, along with Lars Eklund) from the Adult and Continuing Education and Extension Centre at JU, who had organised meetings for us with the Vice-Chancellor and faculty members. Besides we also had made appointments to visit the Indian Institute of Chemical Biology, and the School of Environmental Studies, both institutions with strong Swedish research connections.
As Lars happened to stay on in Kolkata after the completion of the SASNET contact journey, he was again invited to visit Jadavpur University in the beginning of January 2006. A meeting was arranged with members from different faculties.
Dept. of South and Southeast Asian Studies, Calcutta University,
Thursday 15 December 2005
This was our final day to visit academic institutions in Kolkata, and we devoted the day to Calcutta University, and its Dept. of South and Southeast Asian Studies, the home department of our host in Kolkata, Dr. Swapna Bhattacharya.
In the afternoon Lars proceeded by an Indian Airlines flight to Bhubaneshwar in the neighbouring state of Orissa, for a two days stay there, whereas Staffan on the other hand travelled by night train to Patna in Bihar. Bhubaneshwar and Patna were supposed to be the final destinations of the contact journey.
Lars still in Kolkata later also visited the Maulana Abul Kalam Azad Institute of Asian Studies (MAKAIAS) and Visva-Bharati University in Shantiniketan.
Report from visit to the Dept. of South and Southeast Asian Studies, Calcutta University

Report from visit to Maulana Abul Kalam Azad Institute of Asian Studies (MAKAIAS)

Report from visit to Visva-Bharati University, Shantiniketan
Lars visits Bhubaneshwar, Friday 16 December 2005
In Bhubaneshwar, capital city of the state of Orissa, Lars was invited to attend the release function of a book on Indian Dalit Literature, incorporating papers presented in a panel at the 18th ECMSAS conference organised by SASNET in Lund in July 2004. He was also going to visit Utkal University in Bhubaneshwar, and meet Prof. Emeritus Lars Henrik Ekstand, School of Teacher Training, Malmö University, who now lives in the city.
Staffan visits Patna, Friday 16 December 2005
Staffan was invited to visit Patna University by Professor Hetukar Jha, Dept. of Sociology. He also had time to reflect upon the political and economic situation in the state of Bihar, writing an article based on Prof. Jha's and others' observations.
Patna, Bihar – in another country? Article by Staffan Lindberg
Kolkata, Saturday 17 December 2005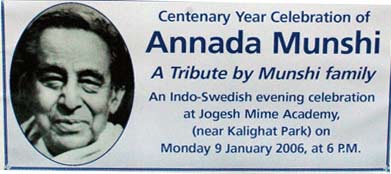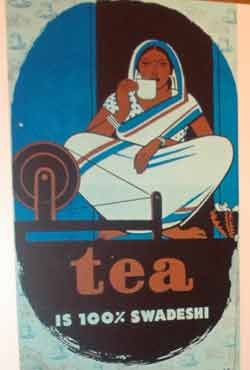 Our contact journey was completed at the same place as where we started it a month earlier. Lars stayed on in Kolkata for another 3.5 weeks, participated in a Centenary function for his father-in-law, the artist Annada Munshi (see invitation to the right), the father of modern advertising in India. An exhibition at Kolkata Information Centre in December 2005 was devoted to how tea drinking became an Indian habit – and no longer confined to the colonial masters – only in the 1930s. Annada Munshi's hand drawn ads published in the Times of India (see one example to the left) played a prominent role in this effort.
Lars and his family also made another private tour to Upper Assam (Jorhat, Sibsagar, Majuli Island, Kaziranga, Tezpur, Guwahati). He returned to Sweden on 12 January 2006.
Staffan left for Kochi in Kerala for a holiday with his family, but he also participated in the South Asia Sociology Workshop II held at Surajkund, outside New Delhi, 22–23 December 2005 (read his report about SASW II, as a pdf-file). He also spent another three weeks working on his research project in Tamil Nadu, before returning to Sweden on 27 January 2006.
Lund 13 February 2006, Lars Eklund & Staffan Lindberg, SASNET

Back to Home


---