SWEDISH SOUTH ASIAN STUDIES NETWORK

---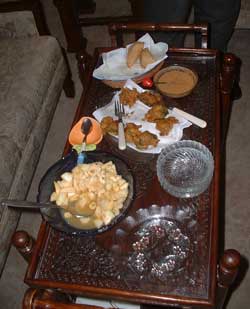 SASNET impressions from Pakistan and Afghanistan
Report from a fascinating contact journey
in November–December 2003
by Lars Eklund and Staffan Lindberg
In the Spring 2002 we made a contact journey to four countries of the South Asian region. The purpose was to network with researchers and institutions, and get to know under which conditions and with what expectations they function.
We snowballed on the basis of our own and other Swedish researchers´ existing networks in South Asia. What difference could contacts and co-operation with Swedish researchers mean to them? Who could be possible partners in various projects and ventures?
Therefore it was quite natural that we now continued our efforts to create ties between researchers and academic institutions in Sweden and South Asia through another journey, this time to Pakistan and Afghanistan. We travelled for three weeks, met lots of people and had fascinating experiences. These are our impressions.
Pakistan/Karachi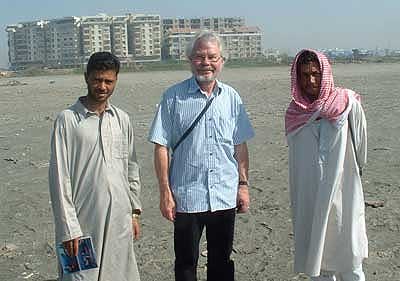 Our tour to Pakistan started in the early hours of Thursday 20 November 2003, by taking a taxi from Lund to Malmö, train to Kastrup airport and a short SAS flight to Frankfurt in Germany. From there we travelled by Gulf Air to Karachi, via the island kingdom of Bahrain. We finally landed at Karachi's Quaid-e-Azam International Airport at 4 o'clock the next morning.
It was Friday 21 November, Jumatul Wida, the holiest of all Fridays in the month of Ramadan (just before Eid ul Fitr), and there were enormous queues by home-coming Pakistani guest workers from the Gulf to every single immigration counter, even to the one labelled Diplomats/Businessmen but once getting first in line it took only a few seconds to pass the immigration official.
We were met by people from the Aga Khan University Conference Centre, who brought us to the excellent guest house belonging to the Institute of Educational Development (part of the Aga Khan University), situated in a posh cantonment area of Karachi, southeast of the city centre, and home to many famous persons like for example the president himself. We felt safe within the walled and guarded compound.
We managed to get a few hours sleep before we again were picked up at 11 o'clock and brought to the other end of the city, where Aga Khan Hospital and University are located. Inaugurated in 1985, the impressive main buildings in red polished sandstone reminded us of the Mughal/Islamic architectural heritage. Combined with modern architectural features and well-equipped premises this gave a bright and welcoming impression. The beautiful Karachi November sunshine, with an enjoyable 20 plus weather and clean air in the surroundings, further helped us feel comfortable despite our recent 30 hours journey.
Report from the visit to Aga Khan University 21 November 2003
Report from the visit to Karachi University 22 November 2003
On 23 November, Sunday morning, we went for a quick sightseeing tour of Karachi, before proceeding by an afternoon flight to the federal capital of Islamabad. Our Karachi taxi driver was given two hours to show us Saddar, the old town, other interesting places and also the Clifton beach. Read our reflections from the Karachi sightseeing!
Pakistan/Islamabad 1
We left Karachi by air to Islamabad on 23 November in the late afternoon. By some strange reason the officer at the PIA check-in desk at Karachi Airport could not find our names in the computer, meaning we had no confirmed reservations, but in a typical pragmatic way, characteristic of South Asia, we were promised that things would turn out OK anyway.
So after waiting for an hour in the airport lounge, seats were arranged for us and we were airborne again an hour before sunset. After a short while plates of snacks were served, along with cool drinks. All passengers on board happily accepted the snacks, but then sat back without touching the food for another hour. The Ramadan fast was observed by everybody, even children and what we considered to be a westernised elite. We felt a bit awkward, like small children doing the forbidden thing, when we had our bites and drinks in splendid isolation.
Then immediately after sunset a message in Urdu appeared on the loudspeaker. Everybody eagerly grabbed their plates and started eating and drinking just in time before the plane should land at Islamabad International Airport.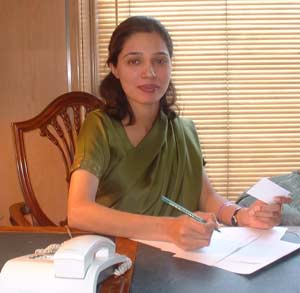 We landed on time, and after a short taxi drive along a well-maintained highway we arrived at Hotel Crown Plaza, a mid-range hotel in the Blue area of Islamabad, where we were kindly taken care of by their charmingly sari-clad employees – an unexpected feature in Pakistan (photo to the left).
Dr. Ruth Laila Schmidt, from the Dept of East-European and Oriental Studies, University of Oslo, Norway, already waited for us in the foyer and later joined us for dinner. Ruth was in Pakistan to see where her students from Oslo might be placed for the study of Urdu. She was visiting various institutions, and was at the time we met her inclined to make a memorandum of understanding (MOU) with the University of Punjab in Lahore for this purpose.
Ruth is an old-time Pakistani visitor. She came here for the first time already in 1964, and she has lived in Pakistan for altogether 15 years. She now stayed with friends in Rawalpindi, Islamabad and Lahore. Her research interest is focused ondialects of the Shina language spoken in the Kohistan region of northern Pakistan. Along with two Pakistani researchers she is working on a grammar for that language.
Ruth Schmidt is one of the panel convenors of the 18th European Conference of Modern South Asian Studies in Lund in July 2004 (Panel 27. South Asian languages in linguistic focus).
The following day we had a full programme, visiting the Swedish Embassy, and meeting several academic people.
Report from meetings in Islamabad Monday 24 November 2003
Pakistan/Lahore 1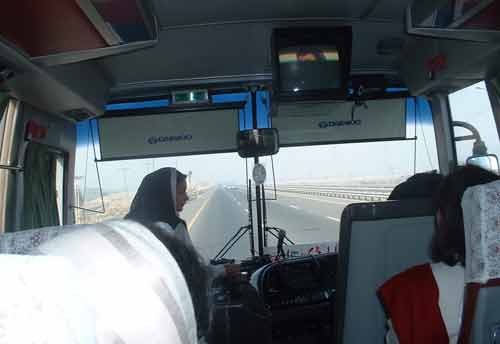 The Korean Daewoo Express bus service on Tuesday 25 November carried us comfortably on the new super express highway built by Prime Minister Navaz Sharif in the 1990s (maybe one of his few lasting legacies). It is South Asia's best motorway and the bus traversed without much shaking the 400 km long distance in just 4,5 hours, with a stop-over in a nice clean motel halfway, at Kallarkahar.
We arrived before the evening in Lahore, where we had reserved rooms at the legendary Gymkhana Club located on the Mall. This is the modern successor of the British club originally built in the late 19th century. Colonial in style, with strict dress regulations (tie and suit compulsory to use in the dining hall and the Chandni Lounge; no jeans nor sandals permitted).
The club has all the activities a gentleman can require, including golf, squash, a reading room, library with Internet facilities, a modern gym in the basement, swimming pool, as well as restaurants, coffee shop, club room, family room, verandah with a view, etc. The guest rooms are spacious suites, but alás no BBC news was to be found among the 40 channels available on the cable television.
The following morning we woke up leisurely. It was the first day of Eid-ul-Fitr, the holiday celebrating the end of Ramadan. The Gymkhana Club was all quiet, and we enjoyed a nice breakfast with toast and eggs and Nescafé, reading the English language newspapers full of articles and commentaries about Indo-Pakistani relations, as well as on the President and his proposed Legal Framework Order (LFO), by many considered to sideline the constitution, parliament and a democratic government system.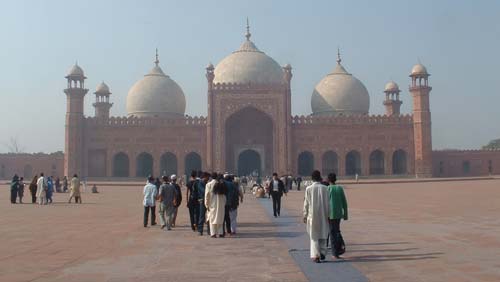 In spite of the fact that it was Eid-ul-Fitr, meaning that all offices and all universities are closed, we had managed to make a programme for the day, meeting several people of relevance for SASNET.
Report from meetings in Lahore Wednesday 26 November 2003
The next day, 27 November, was the second day of the Eid festival and we also decided to keep half a day off from official work and went sight-seeing Lahore. Mr. Saeed Ahmad from the Punjab Tourism Development Corporation had promised to show us around, taking us to the Lahore Fort, the Badshahi mosque and the old town.
We went by motorised rickshaw to a taxi stand on the Mall near the Anarkali market, from where we proceeded by taxi to the Red Fort and the landmark of Lahore, the Badshahi Mosque.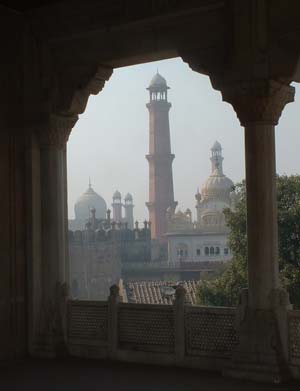 The Badshahi Mosque built by Aurangzeb, the last great Mughal emperor, in 1676 is big and imposing. It can easily house around 100 000 people for prayer in its big square, and many had been there just the day before at the Eid morning prayer.
Opposite stands the mighty fort, Shahi Qila, given its current form by the Emperor Akbar in 1566, rebuilt by later Mughal emperors, by the Sikh king Ranjit Singh and finally the British, who used it as a military fort till 1927 (when it finally was handed over to the Archaeology Dept.).
It reminded us of Agra and of Fatehpur Sikri. Lahore was one of the capitals of the Mughals and they stayed here frequently for extended periods of time, making Lahore a major centre of learning, art and music. We wandered through courtyards of the Mughal families, the women's garden, the Palace of mirrors … and ended by the picture wall where birds also had their nests. Here was the entrance of the royal family carried by elephants up the broad stairs to their quarters.
Lahore continued to be the centre of the Northwestern part of India during British rule. Many new buildings, including university colleeges and the famous Lahore Museum (where Rudyard Kipling's father was the curator), were added to the Mughal ones making the city truly magnificent even today. The broad and lofty roads and avenues, the cleanliness of the city and the friendliness of its people all impress and leave a lasting memory.
We had excellent Kashmiri chai with herbs at the so-called Food Street, and then went for a walk through the old city, entering through the Delhi Gate. Narrow lanes and lines of small shops but since this was an Eid holiday not much people nor vehicles thronged the narrow passages. We came to the open square outside the famous Wazir Khan mosque, where a lot of people had gather enjoying their holiday. We went inside the beautiful mosque decorated all over with mosaic figures, and sat down on a mat in the main prayer hall and watched the open yard outside, and had a friendly chat.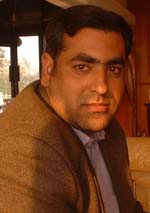 In the afternoon we met Mr. Ali Raza, a journalist working at the daily newspaper The News in Lahore. He is just 31 years old, but already has a long experience as a journalist. He started off as a journalist specialised on crime reporting, but later changed into business, energy, water, and more recently rural development.
Raza told us about the great problems journalists have in pursuing their profession in Pakistan. Journalists are also vulnerable because of their low pay and uncertain employment situation, and even the newspapers face economic difficulties, since the government and others may withhold advertisements when displeased with the content of the paper.
Despite his young age, Ali Raza has an advanced and critical understanding of recent developments in Pakistan.
Friday 28 November was a hectic day. In the morning we visited the National College of Arts (NCA), meeting Prof. Ajaz Anwar, then we had a lunch meeting with the faculty of NCA at Dr. Durre S. Ahmed's residence. After that a meeting with Prof. Sajjad Naseer and colleagues at Gymkhana Club, and finally a meeting at the Punjab Club with Professors Fehmida Jalil and Shaukat Raza Khan in the evening.
Full reports from meetings in Lahore Friday 28 November 2003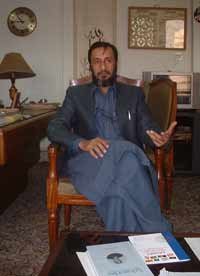 On Saturday 29 November we had an appointment to visit the Iqbal Academy Pakistan. Its Director, Mr. Muhammad Suheyl Umar (photo to the right), picked us up at Gymkhana Club and brought us to the Aiwan-i-Iqbal Complex, in which Iqbal Academy is situated. The complex is nice three-towered building, which also houses a big auditorium and seminar halls, in the centre of town, opposite to Faletti's Hotel.
The Iqbal Academy is caretaker of the legacy of Allama Muhammad Iqbal, the poet philosopher and spiritual father of Pakistan. The Academy publishes books and journals about Iqbal, networks with the departments of Iqbal studies in the various universities of Pakistan, and organises seminars and conferences. It is also networking with foreign scholars who work on Iqbal. It has a library, it publishes cd:s and it is bringing Iqbal online. (http://iqbalcyberlibrary.net/)
In Pakistan, Iqbal has become the public hero, comparable to Mahatma Gandhi in India. Recently there has been a controversy about the role of Iqbal in the creation of Pakistan, but Umar has recently published a booklet called 'Iqbal and the concept of Pakistan' (2002) in which he refutes these ideas.
Religion is the basis of nationalism.
If the stars are not bound to each other,
there is no star-lit sky.
Arise! Emancipate the wretched of the earth by the power of Ishq
and enlighten the world with the name of Muhammad.
Be faithful to Muhammad, and we yield ourself to you;
not this world alone – the Tablet and the pen your prize shall be.
(Jawab-i-Shikwah, Answer to the complaint)
We returned to Islamabad on Sunday 30 November, once again by a comfortable Dawoe Express bus.
In the evening we were once again invited by Ms. Nasim Zehra for a dinner meeting with some prominent researchers in Islamabad: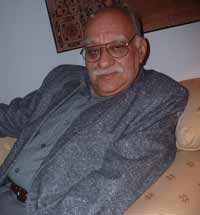 • Dr. Rifaat Hussain, Professor & Chairman, Department of Defence and Strategic Studies, Quaid-i-Azam University (note that this study department at Quaid-e-Azam University has no links with the Institute of Strategic Studies, also to be found in Islamabad, which is a research institution closely connected to the Pakistani government and its official policies)
• Dr. Dushka H. Saiyid, Chairperson, Department of History, Quaid-i-Azam University
• Dr. Khalid Mahmud, Research Analyst, Institute of Regional Studies
We had a very interesting discussion about the ongoing reconciliation process in Indo-Pak relations. Khalid Mahmud (photo to the left), senior professor at the well-reputed Institute of Regional Studies, and previously also editor of the daily newspaper The Nation, turned out to be extremely well-informed about regional politics. He argued that there are differing communal relations in different parts of India, and in his opinion the state of Gujarat is an exception from the rule in Indian politics. He has travelled extensively all over the region.
The institute is funded by the government but is run independently, and it carries out research not only on South Asia, but also since the past 4–5 years to a certain extent on China and Central Asia.
Dr. Rifaat Hussain informed us about the institutional setup at Quaid-e-Azam University within the fields of social sciences and area studies. The university runs two area studies centres; one on North America, South America and Africa (!), and one on Pakistan Studies. In the social sciences field an exchange of scholars regularly take place with France and Germany.
Rifaat also mentioned that an Area Studies Centre for Central Asia exists at Peshawar University, which we unfortunately had no time to visit.
On Monday 1 December we spent the morning at Hotel Crown Plaza, and had a meeting with Dr. Qasim Ayub, Deputy Director, Biomedical & Genetic Engineering Division, Dr. A. Q. Khan Research Laboratories, Rawalpindi. The Laboratories, founded by – and named after – the controversial Abdul Qadeer Khan, the father of the Pakistani nuclear bomb, are more commonly known as the Kahuta laboratories). It is a fairly new institute, small in size, but with very qualified researchers and modern equipment. It is interested in collaboration with similar institutes. We were supposed to visit the laboratory but due to technical problems it could not materialize.
More information on A.Q. Khan, and Pakistan's nuclear weapons program, which has been a source of extreme national pride in Pakistan.
Afghanistan/Kabul
The Ariana Afghan Airlines flight to Kabul took off at about 13.00 on Monday 1 December 2003, and after nice overview over the plains of Punjab and NWFP and of the mountain ranges separating Pakistan and Afghanistan (with snow covered mountain tops), we landed in the valley of Kabul.
After landing we proceeded to the Swedish Committee for Afghanistan (SCA) compound in Shar-e-Nau where we were accommodated during our stay in Kabul.
In the afternoon we had an appointment the Swedish Counsellor Jörgen Persson at the local Sida office, and in the evening we met the staff at SCA.
Report from meetings in Kabul Monday 1 December 2003
On Tuesday 2 December we visited the Afghanistan Research and Evaluation Unit, AREU, in the morning; and in the afternoon we had a meeting with Dr Sharif Fayez, Afghanistan's Minister for Higher Education. In the evening we met a few expatriate scholars staying in Kabul.
Report from our meetings in Kabul Tuesday 2 December 2003
The following day was mainly devoted to visiting Kabul University and its faculties. We also visited the National Centre for Policy Research and were impressed by its ambitious programme to train Afghani researchers. In the evening we met some expatriate Swedish experts.
Report from our meetings in Kabul Wednesday 3 December 2003
On Thursday 4 December Staffan returned to Islamabad by the PIA flight at noon, whereas Lars stayed on in Kabul for another three days. Before we parted there was however still an appointment that we were happy about, namely a meeting with Nancy Dupree at the Swedish Committee for Afghanistan office. Nancy had just flown in from Peshawar to give a lecture at the Afghanistan Academy of Sciences.
Report from our meeting with Nancy Dupree, Thursday 4 December 2003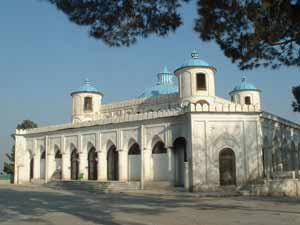 Lars enjoyed staying more days in Kabul, having plenty of time walking around in the city and visiting interesting places in the Afghan capital that he had previously visited 28 years ago, including the Bagh-e-Bala palace on a hillock with a grand view over Kabul (photo to the right).
On Sunday 7 December he then departed for New Delhi, India with once-weekly Ariana Afghan Airlines jumbo-jet flight. From there he proceeded to his beloved Kolkata to spend his holiday there before returning to Sweden in the beginning of January 2004.
Read Lars Eklund's article on Kabul Revisited, published in SYDASIEN 4/2003 (in Swedish only)
Pakistan/Islamabad 2
Staffan returned to the Pakistani capital Islamabad on Thursday 4 December, in order to participate in a meeting at the Quaid-e-Azam University the following day. The reason for arranging the meeting now, after the completion of our Afghanistan tour, was that due to the Eid festival no such gathering of prominent Islamabad scholars could be materialized during our previous visit to the capital city.
Report from meeting at the Quaid-e-Azam University in Islamaba Friday 5 December 2003
Pakistan/Lahore 2
Lahore became the final destination of our contact journey 2003. Staffan had to return to the city, this time by domestic flight, in order to have a meeting with scholars from Punjab University, and King Edward Medical College; and visit the Lahore School of Economics. This was not possible during our first stay in Lahore due to the Eid festival.
After completing his mission in Lahore Staffan returned once again to Islamabad, from where he flew back with Gulf Air to Sweden in the early morning of Monday 7 December.
Report from Staffan's meetings in Lahore Sunday 6 December 2003
Back to Home


---