SWEDISH SOUTH ASIAN STUDIES NETWORK

---
60 years of research collaboration with Pakistan and India
Karolinska Institutet Medical University has been involved in collaboration projects wih Pakistan, and especially with Aga Khan University (AKU) in Karachi, since the 1950's. Professor Emeritus Bo Lindblad at IHCAR has been instrumental in much of these projects. Read his report on the 50 years of KI–AKU collaboration.
Prof. Lindblad also served as Professor and Chairman of Paediatrics at the international Aga Khan University in Karachi during the years 1992–98. He was a member of SASNET's board during the years 2001-06.
The president of AKU Dr Shamsh Kassim Lakha visited KI in 2001 and an MOU (Memorandum of Understanding) for research collaboration was signed by him and KI's Dean of Research Professor Jan Carlstedt Duke. In July 2005 this was followed up with a decision by KIRT, Karolinska Institutet Research and Training Committee, KIRT, to intensify and extend the already existing collaboration on research and research training with Pakistan, mainly through the Aga Khan University.
In 1997 and 1999 Mr Syed Ahmed Naqvi from the Library of AKU visited the KI Medical Information Center and started a collaboration to improve the library science facilities at AKU, which serves other universities in Pakistan.
Among specific collaboration projects can be mentioned that Professor Zeenat Issani and Dr Jamal Raza from the National Institute of Child Health & Human Development, NICH, Karachi has visited KI; and Professor Claes Frostell and Head Nurse Christine Johnstone-Jolinger from the Pediatric Intensive Care Unit of Astrid Lindgren's Children's Hospital of Karolinska Hospital, KI, visited the NICH in 2001 in order to intiate a collaboration to improve the situation, especially nursing in the heavily burdened Intensive Care Unit of the National Institute of Health, Karachi, Pakistan.
Since 1995 Associate Professor Tommy Linné from the Dept. of Woman and Child Health, Karolinska Institutet has lectured on pediatric nephrology at several symposia organised by the Urology Unit of Dow Medical University, Karachi, Pakistan.
Karolinska Institutet (and IHCAR) is also involved in extensive collaboration projects regarding research as well as students and teachers exchange with India. Several of the researchers and professors at IHCAR, including Prof Bo Lindblad, have long-standing relations with institutions in India, especially the Thiruvananthapuram Medical College (TMC), but lately also with the Indian Institute of Science (IISc) in Bangalore (an MoU was signed in early 2006).
Karolinska Institutet Medical University has a special India Programme, coordinated by Dr. Sanjeevi at the Centre for Molecuar Medicine. More information about Karolinska Institutet's India program.
A long-standing relationship exists between Karolinska Institutet (KI) in Stockholm, and TMC in Thiruvananthapuram (Trivandrum) since the eraly 1950s, when the Swedish professor Axel Höjer became the first Principal for TMC. Later, Prof. Bengt Höjer (Axel Höjer's son) was instrumental in realising and developing a collaboration programme. During the period 1995-2001, Bengt Höjer was Head of IHCAR.
The Lahore Child Health Project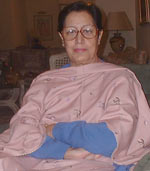 A major long-term research and research training project on Early Child Health in Lahore was running from 1976 to 1995 with support from Sida/SAREC. The project was jointly managed by IHCAR; Dept. of Women and Child Health; and Dept. of Clinical Immunology, the two latter at Göteborg University, the Dept. of Children's Dentistry and Ortodontics of Lund University; the Dept. of Clinical Genetics of Uppsala University; the Dept. of Epidemiology of Umeå University; the Dept. of Paediatrics, Queen Mary Hospital, University of Hong Kong; the departments of Paediatrics, and Social and Preventive Paediatrics, at the renowned King Edward Medical University (KEMU), Lahore, Pakistan; and finally the Dept. of Applied Psychology at the University of Punjab, also in Lahore. The main contact persons at KEMU has been Professor Emeritus Fehmida Jalil (photo to the right) and Dr Shakila Zaman.
On 17 March 2004 Uppsala University awarded the 2004 Rosen von Rosenstein medal to Prof. Dr. Fehmida Jalil in honour of the 40 years she has been involved in this research. The award ceremony took place in Uppsala University's Gustavianum hall. Earlier the same day she held the traditional Rosen lecture in the Grönwall hall. The lecture dealt with "Perinatal problems in Pakistan". More information about Prof. Jalil.
A summary of the research results, including six Pakistani and three Swedish research students' completed theses was given in the final report to Sida, and in the Supplement 390, Vol 82, August 1993 of Acta Paediatrica (entitled "Early Child Health in Lahore, Pakistan"). The material presented in the 13 chapters build on very well controlled follow up material from four different communities in and around the city of Lahore and represent a well defined and reliable material from both rural and urban women and child populations of South Asia.
The collaboration has continued, now concentrated on yearly medical student exchange between Göteborg University and Lahore, and a follow-up study of the effects of prenatal growth retardation, which was seen in up to 30 % of the material. The infants originally studied in Lahori communities from 6th month of pregancy are now up to 35 years old and the material offers a unique possibility of long term follow-up of well defined and controlled Intrauterine growth retardation in a low income country's poor urban and rural population.
Contact persons for the Lahore project: Professor Emeritus Lars Å Hanson, Dept of Clinical Immunology, Göteborg University, Professor Lotta Mellander, Dept. of Pediatrics, Göteborg University, and Professor Bo Lindblad at IHCAR.
PhD and postgraduate researchers from South Asia:
A large number of Pakistani students, PhD candidates and post-docs have studied at Karolinska Institutet over the years. No less than six present faculty members at AKU received their PhD's at Karolinska. They all still maintain close contacts with their former KI departments, supervise KI students and come to do lectures in Sweden regularly:
• Dr Shahid Baig (Neurologist, supervised by Professor Hans Link, Head of the Neuroimmunology Research Unit).
• Professor Zulfiqar Bhutta (Paediatrics, supervised by Professor Olle Söder), now Head of the Dept. of Paediatrics, Aga Khan University, Karachi (photo to the right). Bhutta defended his doctoral thesis at KI in 1996 on "Nutritional rehabilitation of Persistent Diarrhoea in Childhood. Factors determining recovery and the relationship of systemic infections with intestinal function. Faculty opponent was Professor Lars Å. Hanson, Department of Clinical Immunology, University of Göteborg. Prof. Bhutta is also a member of SASNET's South Asian Reference group.
• Dr Mahmud Ahmad (Orthopaedics, supervised by Professor Andris Kreicbergs).
• Dr Tashfeen Ahmad (Surgical Sciences supervised by Professor Andris Kreicbergs).
• Dr Arif Zaidi (Endocrinology, supervised by Professor Egon Dicsfalusy, Head of the Department of Reproductive Endocrinology between 1981 and 1986, retired in 1987).
• Dr Taranum Sultana (supervised by Professor Olle Söder, Unit of Paediatric Endocrinology, Department of Women and Child Health; Associate Professor Günther Weber, Unit for Clinical Genetics, Department of Molecular Medicine; and Professor Anwar Siddiqui at AKU). Dr. Sultana defended her doctoral dissertation on "Molecular and functional studies on interleukin-1-alpha in the testis" in 2002, and then returned to work at the Dept. of Biological and Biomedical Sciences, Faculty of Health Sciences, Aga Khan University, Karachi. The thesis dealt with a novel splice form of IL-1-alpha being isolated from the adult testis. The cDNA of the splice variant was cloned and sequenced, and the corresponding protein expressed end functionally investigated.
She is however now (2008) back in Sweden. She has got a 2-year position at the Stockholm Branch of the European Ludwig Institute for Cancer Research, located at the Karolinska Institutet (and affiliated with the Dept. of Cell and Molecular Biology).

Anila Yasmeen was another PhD sandwich student at Karolinska, who has returned to Pakistan. Yasmeen's supervisor was Associate Professor Mats A A Persson, Center of Molecular Medicine. Dr Yasmeen was registered at AKU as their first PhD student in a new facility and travelled between AKU and KI during her studies, before completing a thesis on "An immunological study of the possibility of early determining the risk of Chrinicity in Hepatitis C Infection, a major problem in the Subcontinent."

A number of higly qualified PhD candidates from Pakistan, one from King Edward Medical College in Lahore, and the rest from AKU, initiated a sandwich research training at KI during 2005. They all had Swedish Institute stipends. Among them were Farasat Zaman and Shahzad K. Akram, connected to the Paediatric Endocrinology Unit at the Dept. of Woman and Child Health, Sheikh Muazzam Nasrullah at the Division of Social Medicine, Dept. of Public Health Sciences, and Fauzia Rabbani at IHCAR. More information on her research.
Global Health courses and other programmes with relevance to South Asia
A 7.5 ECTS credits course in Global Health is arranged every semester for three weeks at KI, and then two weeks abroad – in East Africa, Cuba, Iran, India or Pakistan. The course is run in collaboration between IHCAR, the Dept. of Public Health Sciences, and the Department of Nursing at Karolinska Institutet. It is open to students at Karolinska Institutet in the Medical programme, Midwifery programme, Nursing programme, Dental programme, Biomedical laboratory programme, Physiotherapy programme, Occupational therapy programme, and the Biomedical programme. In South Asia, the students can choose to do the field work at Karolinska's two main collaboration partner institutions: The Aga Khan University in Karachi, Pakistan; and Trivandrum Medical College (TMC) in Thiruvananthapuram, India. More information on the Global Health course.
Course coordinator: Dr. Birgitta Rubensson, phone: +46 (0)8 524 833 89.


The courses in Global Health has been running twice a year since 1996. The initiative originally came from Prof. Hans Rosling, at that time working at the Unit for International Child Health, Uppsala University but soon after changing over to the Division of International health (IHCAR), Department of Public Health Sciences at KI. Earlier, during the 1990s, Prof. Shenoy worked together with Prof. Hans Rosling in a project on Cassava Toxicity, funded by WHO and Sida/SAREC. The Global Health course was a side effect of their collaboration.
As former Head of IHCAR, Prof. Bengt Höjer was also instrumental in realising the collaboration programme.
More than 500 medical students from KI have received training in Global Health only at TMC. The students coming to Kerala mostly has had a background in Medicine, Dentistry and Biomedicine, and they stay for two weeks. Prof. K.T. Shenoy, Dean, Faculty of Medicine, University of Kerala, has been the person in charge of the collaboration from the start on the Indian side. Read a SASNET report from TMC, November 2007.

IHCAR has previously organised World Health Core Courses on infectious diseases, in collaboration with the Infectious Diseases Unit, Department of Medicine. The course has been open for research students and public health students. Three weeks to be spent abroad after completing the course. Course coordinator: Staffan Bergström, Professor of International Health (Chair).
Prof. Bergström is also Head of the Research group on "Sexual and Reproductive Health and Rights". The group gives priority to research related to maternal mortality and severe morbidity. Particular emphasis is given to abortion research and reproductive health issues concerning adolescents. Several projects are ongoing in HIV/AIDS related areas with focus on obstetric infections, postpartum haemorrhage and outcome for orphans after maternal death. Female genital mutilation and infertility belong to other areas of priority research. Countries where research projects are undertaken include India and Pakistan.
A course in Complementary and Alternative Medicine has also been aranged. The courses lasting for three weeks have been open for undergraduate medical students and practising medical doctors. Course coordinator: Torkel Falkenberg, Professor of Pharmacology, Center for Studies of Complementary Medicine (CAM).