Tala Park Avenue, Calcutta - 1982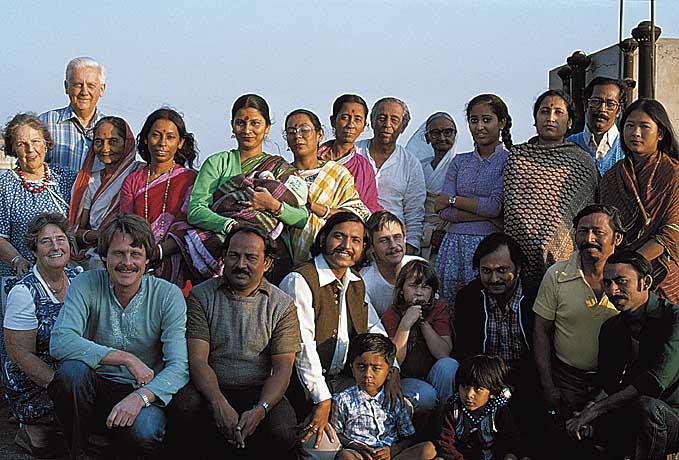 This photo was taken on the roof to 48, Tala Park Avenue, Calcutta, in December 1982, a few days after the traditional hindu wedding of Lars and Bubu had taken place at the same place. Back row from the left: Gun Ahlquist (bridegroom´s maternal aunt), Arne Eklund (bg`s father), Jayathi Munshi (bride´s mother), Bubu Munshi herself, Madhubani Nag, "Boni" (bd´s youngest sister), Buku Bagchi (bd´s younger sister), Buru Sen (bd´s elder sister), Annada Munshi (bride´s father), AS (bd´s maternal aunt), Bumbi (daughter of Abir), Romu (wife of Abir), Abir (bd´s eldest brother) and Polly (wife of bd´s elder brother Manto).
Front row: Gerd Eklund (bridegroom´s mother), Lars Eklund himself, Kumkum (bride´s elder brother), Avijit Bagchi, "Mishtu" (husband of Buku), Charlie Eklund (bg´s eldest brother, Pernilla (Charlie´s daughter), Shibhashish Nag, "Rana" (husband of Boni), Tutu (bd´s elder brother), Krishnajit, "Bhai" (bd´s younger brother).
Extreme front: Bhujan (son of Buru) and Banjul (younger son of Manto)


On the 2nd of May, 1982, I first set foot at Kingdom of Heaven, which was the residence of the renowned Calcutta artist Sri Annada Munshi. There I met Bubu for the first time an evening after she returned from her teaching Rabindrasanghet and performing with her groupe, Shantiniketan Ashramik Sangha, led by "Konkorda", maternal uncle of the Nobel Laureate to be, Amartya Sen.

From the beginning I was feeling welcomed inte the home of the Munshi family, and soon it became my home away from Sweden. Bubu and I decided to share our lives together, and seven months later our alliance was crowned with a great wedding ceremony on the roof at Tala Park Avenue, including 11 guests from Sweden.

Sri Annada Munshi (1905-1985), the photo shot a few months before he passed away on January 13, 1985. Here welcoming Lars, Bubu and Mattias to Tala Park when they arrived at Calcutta in October 1984.
Kumkum Munshi, who carried on the artistic heritage of his renowned father. Also working as an art teacher in a girlīs shool at DumDum. Kumkum visited Sweden thrice, in 1986, 1990 and 1995, where he got many friends.

Bubu as a young child in the early 1950´s