SWEDISH SOUTH ASIAN STUDIES NETWORK

---
Department of Biochemistry and Organic Chemistry, Uppsala University:
Postal address: Inst. för Biokemi & Organisk kemi, Uppsala University Bio Medical Centre (BMC), Box 576, SE-751 23 Uppsala, Sweden
Visiting address: BMC, Husargatan 3
Web page: http://www.biorg.uu.se/
Research and education connected to South Asia: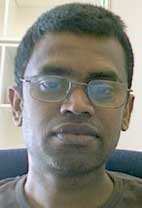 Wimal Pathmasiri was affiliated to the department till 2007, when he defended his doctoral dissertation entitled "Structural and Biophysical Studies of Nucleic Acids". Faculty opponent was Dr. Lena Mäler, Lena, Dept. of Biochemistry and Biophysics, Stockholm University. More information, with a link to a full-text version of the thesis.
In 2008, Dr. Pathmasiri took up a postdoctoral position in the University of North Carolina at Chapel Hill, USA.
His research work focuses on Medicinal Plants and herbal preparations in Sri Lanka. He defended his Licentiate thesis on "COX 2 Inhibitors of Natural origin: Dereplication, Isolation, and Structure Eludicidation" at the Division of Pharmacognosy, Department of Medicinal Chemistry, in November 2003. More information about the thesis.
At SASNET's symposium for PhD candidates held in Marstrand in October 2003, Wimal participated in the session called "INPUT – Recruitment, financing and supervision", describing how he first studied at Colombo University. He then applied for funding from the Asian Development Bank (ADB) and was granted a scholarship to pursue his PhD studies anywhere in the World. After approaching Premila Perera Ivarsson, then assistant professor at the Division of Pharmacognosy at Uppsala University, and an expert on Ayurvedic medicine in Sri Lanka, he was given a chance. He was invited to Uppsala and there he was finally accepted for PhD studies. More information about the Marstrand INPUT session.
Mr. Pathmasiri was a deputy member of SASNET's board for the period 2007-09, representing Swedish PhD candidates, but stepped down from this position when he moved to USA.