SWEDISH SOUTH ASIAN STUDIES NETWORK

---
Division of Pharmacognosy, Department of Medicinal Chemistry, Uppsala University:
Postal address: Inst. f. Läkemedelskemi, Avd. f. Farmakognosi, BMC (Uppsala Biomedicinska Centrum),
Box 574, SE-751 23 Uppsala
Visiting address: Husargatan 3, Entrance C7, Offices B7:5, Laboratories B5:3
Fax: +46(0)18 50 91 01
Web page: http://fkogserver.bmc.uu.se/
Contact person: Professor Lars Bohlin, Head of department; phone: +46 (0)18 471 4492
Research and education connected to South Asia:
The Division of Pharmacognosy at the Dept of Medicinal Chemistry (Läkemedelskemi) has for many years been connected to South Asia, especially Sri Lanka. Assistant professor Premila Perera Ivarsson, an expert on Ayurvedic medicine, dealt with traditional medicine in her research; a task which included identifying anti-inflammatory components from Sri Lankan medicinal plants and herbal drugs. She was also teaching the 5 credits course on Global Pharmacy at Uppsala University, and responsible for sending Swedish students to Sri Lanka as part of the Linnaeus Palme exchange programme.
Premila Perera Ivarsson however tragically passed away on 19 June, 2002, and her funeral was held in the Uppsala Cathedral on July, 8, 2002.
The connection to Sri Lanka remains however. Professor Lars Bohlin is currently engaged in a research collaboration with Professor Jayantha Welehinda, University of Colombo, Sri Lanka. They work jointly in the field of biochemistry of medicinal plants.
Prof. Bohlin also teaches at the 5 credits course in Global Pharmacy, organised by the Division every year, and Prof. Welehinda supervises students from the course when they do field work in Sri Lanka.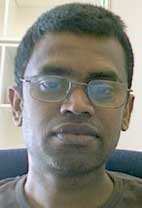 PhD candidate Wimal Pathmasiri has been engaged in research on Medicinal Plants and herbal preparations in Sri Lanka. He defended his Licentiate thesis on "COX 2 Inhibitors of Natural origin: Dereplication, Isolation, and Structure Eludicidation" at the department on 3 November 2003.
Abstract of the licentiate thesis:
Cyclooxygenase-2 (COX-2) enzyme, also known as prostaglandin endoperoxide H synthase-2 (PGHS-2), is shown to be involved in inflammation and cancer; thus it has become a drug target for finding novel anti-inflammatory drugs. Two Sri Lankan medicinal plants, Gynandropsis gynandra (Capparidaceae) and Acronychia pedunculata (Rutaceae), were selected for investigation of novel COX-2 inhibitors, based on their use in traditional medicine against inflammatory diseases.
Wimal Pathmasiri has since moved from the department, and defended his doctoral dissertation in 2007 at the Dept. of Biochemistry & Organic Chemistry at Uppsala University.