SWEDISH SOUTH ASIAN STUDIES NETWORK

---
Molecular Biology, Department of Cell & Molecular Biology, Biomedical Center (BMC), Uppsala University
Postal address: Dept. of Cell & Molecular Biology, Biomedical Center, Box 596, SE-751 24 Uppsala, Sweden
Visiting address: BMC, Husargatan 3, Corridor D9:2
Web page: http://www2.icm.uu.se/molbio/
Contact person: Associate Professor Suparna Sanyal, phone: +46 (0)18 471 4220
Dr. Suparna Sanyal is a researcher coming from Kolkata, India. She is leading a research group working on a project related to Various Roles of Ribosome in Protein Synthesis and Protein Folding. Ribosome is the protein synthesis machinery of the cell, which decodes the genetic information in the form of functional proteins. This whole process involves two major steps, namely 'translation' - when the genetic codes encrypted in mRNAs are translated in the form of amino acid chains, and 'folding' - when the linear peptide chain folds to achieve its functional three-dimensional conformation. The role of ribosome in protein synthesis is well-established, but its involvement in folding nascent protein chains is a rather recent discovery. The research in the group deals with different aspects of both of these sectors with highlight on ribosomal stalk structure and function, ribosome-factor interactions, mechanism of action of certain antibiotics inhibiting such interactions, on one hand, and the mechanism of ribosome assisted protein folding and its role in propagation of neurodegenerative diseases on the other.
In the Uppsala University magazine 'Innovation' (No. 2/2008), an article was published about Dr. Sanyal and her research. The article is titled "Suparna reveals the secrets of ribosomes". Read the article (as a pdf-file)
Research connected to South Asia
In October 2007, Dr. Sanyal received SEK 450 000 as a three-years grant (2008-10) from the Swedish Research Links programme (funded by Sida and the Swedish Research Council) for a India related project titled "Ribosome assisted protein folding and its implication in misfolding diseases". More information on the Swedish Research Links grants 2007.
The project deals with fatal neurodegenerative diseases, such as Kuru and Creutzfeld-Jakob disease (CJD) among humans, and bovine spongiforme encephalopatis (BSE), more known as "mad cow"-disease among cattle. Read a detailed abstract of the project.
A one day mini-symposium on "The Ribosome Assisted Protein Folding and Misfolding Diseases" was held in Uppsala on Wednesday 27 August 2008. It was organised by the Dept. of Cell & Molecular Biology. Among the participants were Chanchal Das Gupta, Professor at the Dept. of Biophysics, University of Calcutta, Kolkata, India, who talked about "Protein Folding by Ribosome – A Journey in the Wilderness". Read the full programme.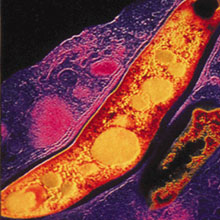 In June 2009, Sweden and India decided to jointly support research in tuberculosis. The Swedish Governmental Agency for Innovation Systems (VINNOVA) and the Department of Biotechnology (DBT), Ministry of Science and Technology, India, agreed to support top level research co-operation between Indian and Swedish scientists in the field of "Biology, diagnosis and treatment of Tuberculosis". The programme is one of the first bilateral co-operations, based on joint funding, between the two countries. Under this scheme, VINNOVA funds the Swedish research teams and DBT the Indian side. VINNOVA is committing around SEK 16 million to this program. More information on the Indo-Swedish collaboration project.
Four Indo-Swedish projects, out of a total of 15 proposals, were selected by DBT and VINNOVA and will receive funding for the period 2009–12. More information.
Dr. Måns Ehrenberg at the Dept. of Cell and Molecular Biology, was selected for a project entitled "Mechanisms of protein synthesis and ribosome targeting antibiotic drugs in Mycobacteria". The main collaboration partner on the Indian side is Dr. Umesh Varshney, Department of Microbiology and Cell Biology, Indian Institute of Science (IISc) in Bangalore.