SWEDISH SOUTH ASIAN STUDIES NETWORK

---
Center for Molecular Medicine, Karolinska Institutet Medical University, Stockholm:
Postal address: Centrum för Molekylär Medicin, SE-171 76 Stockholm, Sweden
Visiting address: CMM, KS-ringen 6, Karolinska Hospital, Solna
Fax: +46 (0)8 517 761 80
Web page: http://www.cmm.ki.se/
The Center for Molecular Medicine (CMM) was initiated in 1977, and has been financed for the most part by donations. CMM gathers clinical and experimental. expertise from Karolinska University Hospital and Karolinska Institutet. It consists of several research units, out of which some are working on South Asia related projects.
South Asia related research at CMM:
---
Gastroenterology and Hepatology Unit:
Contact person: Professor Rolf Hultcrantz

Prof. Hultcrantz has a collaboration with Professor K.T. Shenoy at the Thiruvananthapuram Medical College, Kerala, India. In November 2004 they received a three-years (2005-07) grant from the Swedish Research Links programme for a project called "Nonalcoholic fatty liver as a risk factor for the development of chronic liver disease and hepatocellular". It is a study about the effect of fatty liver and insulin resistance on chronic liver diseases and hepatocellular carcinoma.
Aims behind project: To study the impact of fatty liver on chronic liver disease (CLD) and Hepatocellular carcinoma (HCC) in two different areas with high (Kerala) and normal frequency of diabetes mellitus Type II. Workplan: Patients with CLD and HCC will be compared. Fatty liver will be quantified with ultrasound. Alcohol use, HBV, HCV HFE mutations will be determined. Lipid and glucose metabolism will be investigated as well as genes and gene families responsible for defence against oxidative stress. In patients with HBV induced HCC, HBV genotypes and polymorphims in the precore region will be investigated. Importance: This study will be important to show the impact of metabolic syndrome and fatty liver on the development of CLD and HCC. Mode of cooperation: Patients will be identified in Kerala and Sweden. Analysis of blood and sera will be analysed in Sweden by Swedish and Indian researchers.
---
Molecular Immunogenetics Unit:
Contact person: Associate Professor Carani B. Sanjeevi, phone: +46 (0)8 517 76 254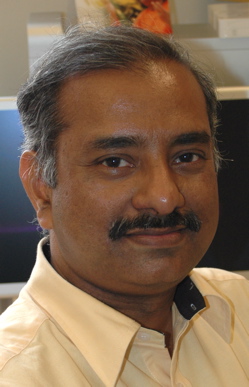 Dr. C B Sanjeevi (photo to the left) is Group leader for the Molecular Immunogenetics lab. The group focuses its research on Type 1 diabetes, an autoimmune disease with strong genetic basis (its incidence in Sweden is one of the highest in the world). The group's main interest lies in the understanding of the immunogenetic factors, especially its structural and functional aspects of these genes, in the understanding of the etiology of the disease and finding ways to predict the disease and possibly to prevent the disease.
More information on the Molecular Immunogenetics Research Group.
Dr. Sanjeevi is running a Type 1 Diabetes network in India. The activity is coordinated by the Cuttack Diabetes Research Foundation in Cuttack, Orissa, and included holding of the so-called 1st Karolinska Symposium on Current Problems in Diabetes 2006 (CPID) in Bhubaneswar, Orissa 9–11 January 2006.
In October 2006, Dr. Sanjeevi received a SEK 600 000 as a grant from the Swedish Research Links programme (funded by Sida and the Swedish Research Council) for a research project titled "Genetic and immunological aspects of diabetes development and the mechanism of protection in young-onset diabetes and malnutrition modulated diabetes in India". The project will be carried out in collaboration with Dr. Alok Kanungo at Cuttack Diabetes Research Foundation. More information about the project, with an abstract.
From January 2005 Dr. Sanjeevi was appointed as a member of the Editorial board of HUMAN IMMUNOLOGY, and he is also appointed to the International Advisory Board of the Journal of Association of Physicians of India (JAPI) from January 2005. Besides Sanjeevi is an associate editor for DIABETOLOGIA (published by EASD), member of the Editorial Board of 'Current Diabetes Reviews' from USA and Editor for the 'IMMUNOLOGY OF DIABETES' series published by the Annals of the New York Academy of Sciences (USA).
Karolinska Institutet's India program
Dr. Carani Sanjeevi is also Karolinska Institutet's Representative for India, and acts as coordinator for the Linnaeus-Palme Programme in Medicine for India at KI. Go for Karolinska Institutet's Internet Gateway "Go Asia", giving information on the India related activities at KI. He has been instrumental in developing the long-standing relations between Karolinska Institutet and the Medical College in Thiruvavanthapuram (Trivandrum) in Kerala, founded in 1951 and with the Swedish professor Axel Höjer as its first Principal.
Karolinska Institutet Medical University is now involved in a Linnaeus Palme exchange programme with the Trivandrum Medical College (TMC) in Thiruvananthapuram. A reciprocal exchange of students and teachers are taking place every year between the two institutions. The exchange involves both the Medical doctors training, and the midwifery training at the Division for Reproductive and Perinatal Health/Department of Woman and Child Health.
Coordinator for the Linnaeus-Palme program at TMC is Professor B. Jayakumar.
The collaboration was further stabilised after a meeting between representatives of KI, including Dr. Sanjeevi, and the Chief Minister of Kerala in November 2004. It was then proposed that KI doctors should be sent for clinical courses/workshops and conduct the clinical part of KI's postgraduate courses in TMC. A new International Office in TMC will coordinate these activities as a single window clearance system.
Since the start in 2001/02, 6 students from Karolinska Institutet have gone to TMC, and seven students the opposite way. 6 techers from KI and 9 techers from TMC have also been involved in the exvchange programme.
From 2007/08, discussions are also under way to open up a similar collaboration with Vellore Christian College in Andhra Pradesh.
Information about the Linnaeus Palme grants 2007, given by Swedish International Programme Office for Education and Training (Internationella programkontoret).
In November 2002 KI organized a research symposium on Diabetes mellitus at the Trivandrum Medical College, in association with the state government of Kerala. This symposium was intended to develop collaboration in research and post-graduate education between the two institutions subsequent to the signing of a Memorandum of Understanding in December 2001 under the Linnaeus-Palme programme. The symposium was organized by Dr. Sanjeevi with support from a joint committee. From KI professors Claes-Goran Östenson, Gunnar Norstedt, Hans Gustaf Ljunggren, Bo Lindblad, Md. Shahidul Islam and Akhtar Khan also participated. It resulted in exchange of ideas and initiation of collaboration in areas of diabetes research and infectious diseases, and several funding areas were identified that could be applied for, to support research and exchange of students for Masters Programmes. Karolinska Institute would also help in developing telemedicine capability for exchange of ideas between the two institutions.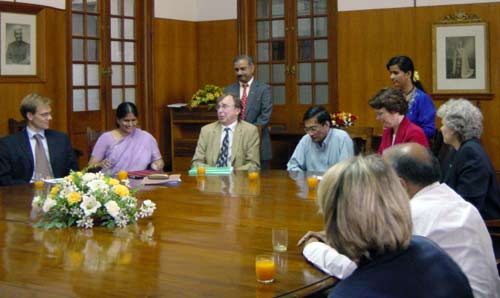 In the first week of March 2006, a delegation from Karolinska Institutet Medical University went to Bangalore, India, headed by the KI President Prof. Harriet Wallberg Henriksson and accompanied by Prof. Hans Wigzell and Associate Prof. Sanjeevi. KI had discussions with Biocon to strengthen their existing collaboration, and signed a Memorandum of Understanding with the Indian Indian Institute of Science (IISc) in Bangalore for cooperation in research and education. The MoU covers sharing of knowledge and conducting joint research on infectious diseases, metabolic diseases and cardiovascular diseases.
The event, graced by the Swedish Ambassador to India, Ms. Inga Fogh Ericsson, was widely covered by Indian press. See articles in Times of India (Bangalore edition), and The Hindu.
KI and IISc also organized a joint 'Indo-Swedish workshop on Innovations in Life sciences' 4–5 March 2006 on behalf of Vinnova at the IISc campus in Bangalore. This was attended by 25 Swedish experts and 50 Indian experts in the field of Infectious Medicine (HIV, Malaria and Tuberculosis), Cardiovascular Medicine and Metabolic diseases. KI's President inaugurated the workshop.