SWEDISH SOUTH ASIAN STUDIES NETWORK

---
Report from SASNET's participation in the 14th session of the Indo-Swedish Joint Commission, April, 1–2 , 2003 in New Delhi:
By Jan Magnusson/SASNET
During 2003 the Swedish government is committed to increase trade and financial investment between Sweden and India. The commitment includes a number of events and activities to this end. SASNET is also mentioned as an operative in this context – see http://www.regeringen.se/sb/d/3895/a/23502;jsessionid=aNhHlcZiX7Id.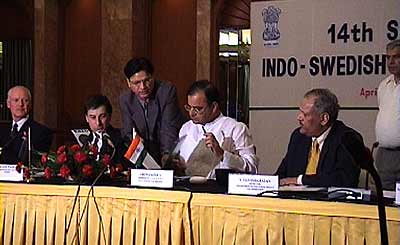 That is why SASNET was recently represented by staff member Jan Magnusson when the 14th session of the Indo-Swedish Joint Commission was held on 1-2 April in New Delhi. The Commissions agenda consisted mainly of issues of industry and trade but also science and technology. The Swedish delegation was led by Sweden's Minister of Industry and Trade, Mr Leif Pagrotsky. The Indian delegation was led by Indian Minister of Commerce and Industry, Mr Arun Jaitley, sided by joint secretaries and other representatives mainly from the Ministry of Commerce and Industry and the Department of Industrial Policy and Promotion.
Besides representatives from the embassy, the Swedish Ministry of Industry and Trade, and the Foreign Ministry, the Swedish delegation also included a number of CEOs from Swedish companies active in India as well as representatives from several Swedish industry and trade organizations. SASNET's participation was motivated by its aim to network and stimulate interaction between the research sector and the business sector in Sweden and India.
After their introductory speeches the two ministers departed for other meetings and special programs. The business representatives also followed their own program including a business summit and study visits at some leading Indian industries in New Delhi.
The working session was led by Ms Eva Walder-Brundin, Deputy Director General at the Swedish Foreign Department's Dept. for Asia and the Pacific, and S Jagadeesan, Joint Secretary at the Dept. of Industrial Policy and Promotion, joined by Secretary V Govindarajan on the second day.
An overview of how to do business in India was presented by Dr R N Pandey from the Dept. of Industrial Policy and Promotion (available as printed power point sheets from SASNET). Pointing out that India is the second largest emerging market today Dr Pandey described a more foreign investment friendly Indian government policy. He also talked about simplified procedures of interaction through so called "single windows", "fast track committees", and "pro-active one stop after care service" facilities for foreign investors. To be more accessible for foreign investors the Dept. of Industrial Policy and Promotion has launched a new website at http://www.dipp.nic.in.
SASNET facilitating intermediary in bilateral research interaction
The Joint Commission's agenda included issues relating to trade, investment and WTO matters, custom cooperation agreements, public procurement, infrastructure (power and energy, public sector, privatization policies), science collaboration over water supply and treatment, inland waterways and construction based industries, industrial cooperation in the biotechnology and food processing sectors and the steel industry, and IT. SASNET was given the opportunity to add a statement to the official minutes regarding SASNET's role as a facilitating intermediary in bilateral research interaction, as well as in the identification of potential Swedish collaboration partners for Indian research institutions and individual researchers.
During the deliberations the Indian side repeatedly expressed its interest in technology transfer while the Swedish side- representing concerns and problems of Swedish companies operating in India- pointed to what it conceived as inadequacies in the Indian rules and regulations surrounding foreign investment and trade tariffs. Many Swedish companies feel that India is an unpredictable business environment and prefer clear, general principles and equal treatment of all foreign companies. It seems that foreign companies are presently able to bargain special tariffs and concessions for themselves. The Indian side replied that they could not answer in general terms, and asked the companies to send them the exact details of their particular problem to see what could be worked out. The general feeling on the Swedish side was that the commission did not get very far on this issue.
Future development cooperation a programme between equal partners
Technology transfer was also the subject when Swedish development co-operation with India was discussed. The Indian side explicitly pointed out water treatment technology and the areas of rural and urban development. India is primarily interested in technical capacity building in local authorities in conservation (such as in problems of sustainability of soils and depleting groundwater), water treatment, recycling and solid waste management. An USD 8 million water sanitation program supported by the World Bank and Sida was especially mentioned as a focus sector for future development cooperation between India and Sweden. Mr Ove Andersson, head of the Sida section at the Swedish embassy in New Delhi, emphasized that it was a program between equal partners.
Before the session, SASNET had submitted three so called talking points:
1. SASNET regrets the new guidelines for research interaction between India and the rest of the world issued by the Ministry of Human Resource Development on January 31 2003. We would like the Government of India to change them in a more liberal direction in order to promote academic exchange and cooperation.
2. In view of the new guidelines, SASNET would like to offer all possible help in providing information so that applications can be handled swiftly and there will be no delay in implementing various types of exchanges and cooperation. SASNET is also willing to help handling the applications by Indian scholars and students for Swedish visas.
3. SASNET requests that the Government of India approves the application by the Nordic Centre in India to open a liaison office in new Delhi. More information on Nordic Centre in India.
The talking points were met by C Balakrishnan, Joint Secretary who had been called from the Ministry of Human Resource Development (MHRD). He replied that there would not be any problems or delays with applications, but that MHRD wanted to enter so called "umbrella agreements" through diplomatic channels. He further stated that the guidelines are not intended to prevent research collaboration but to provide the MHRD with an overview of contacts between Indian and foreign research institutions. As for the Nordic Centre in India's application (which was submitted in March , 2001) Balakrishnan said that it was back on "the highest level" and that a decision could be expected within a couple of months.
Jan Magnusson/SASNET
Back to SASNET


---