SWEDISH SOUTH ASIAN STUDIES NETWORK

---
Department of History, Faculty of Social and Life Sciences, Karlstad University: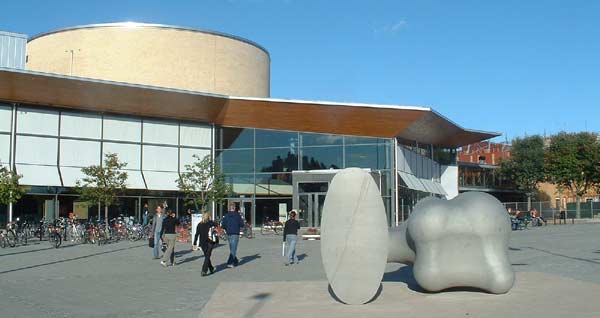 Postal address: Historia/Fakulteten för samhälls- och livsvetenskaper, Karlstad University, 651 88 Karlstad
Visiting address: Universitetsgatan 1
Fax: +46 (0)54 7001498
Web page: http://www.sam.kau.se/historia/
Contact person: Per-Olof Fjällsby, phone: +46 (0)54 7001018
History is taught both as courses on their own, and as part of the Teacher's training programmes at Karlstad University. The students at these courses/programmes, due to an initiative taken by P-O Fjällsby and other academic teachers at Karlstad University already in the late 1980's, regularly go to to India for field studies and exchange programmes with different universities and other cultural institutions. More information on Karlstad University's South Asian studies.
In 1996 Karlstad University established a Study Centre, Ganga Mahal, which offers opportunities for students from Karlstad, and from other Swedish universities, to spend shorter or longer periods of field works in Varanasi. P-O Fjällsby has been largely responsible for the management of Ganga Mahal, located close to the river Ganges at Assi Ghat, not far from the Banaras Hindu University. Lars Eklund, SASNET, vivited the centre in March 2002. Read his report.
P-O Fjällsby teaches contemporary South Asian history at the department, as well as at the Centre for Asian Studies, CEAS, at Göteborg University.
Research at the department connected to South Asia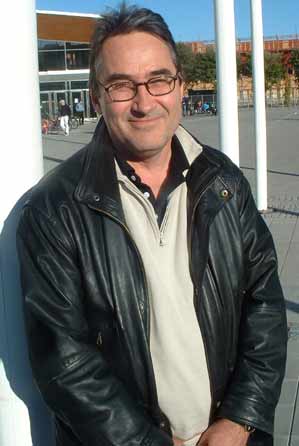 Due to the South Asia connection advanced students (C- and D-level) at the department sometimes carry out research on India. However no PhD level studies is done in Karlstad, which means that the students who want to proceed with research move to other universities.
Per-Olof Fjällsby himself (photo to the left) is therefore since 1998 registered as a part-time PhD candidate at the Department of History at Göteborg University, where he is working with a project called "Theosophy and Indian nationalism". The thesis deals with political ideas and activities related to the Theosophical Society and its involvment in the Nationalist movement in India during the period 1879–1930.
Abstract: The first attempt from the Theosophist's to interact with the nationalist movement in India was taken already in 1879. Contact was than established with the Hindu revival movement, Arya Samaj and its leader Dayananda Saraswati. In 1885 A O Hume, at that time a theosophist, was (one of) the founder to the Indian National Congress. In 1909 more than 10 000 were members in TS, mostly people from the middle class in the Anglo-Indian society.
The most famous of political activists among the Theosophists are of course Mrs. Annie Besant, founder of Central Hindu College and the first women to become president of the Indian National Congress as a result of her leadership in her All India Home Rule Movement 1915-17. She was, at the same time, president of the International Theosophical Society. Mrs. Besant's quality for political leadership lay also in her earlier political involvement in the Freethought Movement in Britain before she became a theosophist 1889 and came to India in 1893.
In the study P-O Fjällsby tries to explore the various ways in which the past was used by the Theosophist in order to construct a national identity in India. Three subjects are in focus; their national political ambitions, efforts in the field of a national education and in the women's movement.
At the moment P-O Fjällsby is engaged in a project about Change and Continuity in the mohallas in Benares. The purpose is to see how earlier integrated townships are affected over time by modernisation/globalisation.

History Seminar programme in collaboration with Dalarna University, Campus Falun
Since the Fall 2004 the Department of History at Karlstad University is involved in a collaboration project on common Higher Seminar in History with the Department of History at Dalarna University, Campus Falun. This is carried out within the framework of the National research school for Didactic work (NaPa). The Higher Seminars are held alternately at Falun and Karlstad (and sometimes on neutral ground, in Kopparberg). More information on the Higher Seminars.
On 9 March 2005 P-O Fjällsby presented his ongoing PhD research project , titled "En udda brobyggare mellan öst och väst. Teosofernas roll i Indiens frihetskamp", at a seminar in Karlstad, and a year later, on 29 March 2006 he presented another part of his project at a seminar titled "Indiskt nationalstatsbyggande".