SWEDISH SOUTH ASIAN STUDIES NETWORK

---
Visit to the Centre for Development Studies (CDS), Thiruvananthapuram, Wednesday, November 7, 2007
Web page: http://www.cds.edu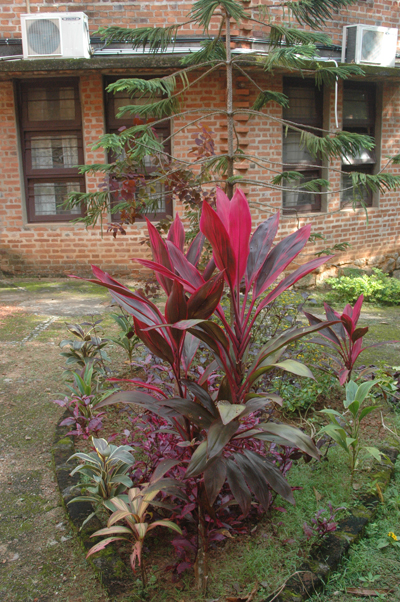 Since our flight from Delhi was delayed we arrived at the Centre for Development Studies (CDS, ) only at 3:00 pm, just in time for our meeting with Professor K.N. Nair, Director of CDS.
CDS is an autonomous research institute that was established in 1971. It is considered one of the foremost economic development research centres in India. Several faculty members who have been at CDS since its inception have also worked as politicians or advisers to the Kerala Government. With its strong ideology of human development, CDS has always promoted research, teaching, and training that aim at improving society. The health, education, and well-being of ordinary people have been the primary focus of CDS researchers, many of whom have actively contributed to the "Kerala model" – or, as it has come to be termed, the Kerala experience.
CDS has traditionally placed great emphasis on economics, although in recent years, gender, migration, and globalisation have grown in importance as CDS research areas. M. Phil. and doctoral programs at CDS are affiliated with Jawaharlal Nehru University, New Delhi.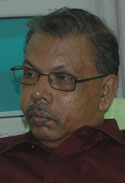 Prof. Nair (photo to the right) gave a presentation of the institute, that has 27 faculty members and a fine reputation. CDS offers a number of shorter courses and training programs, but they also have programmes for Masters and Ph.D. students. At present, CDS has approximately 30 Ph.D. students. Among the strongest research areas at CDS are gender and development, impact on ICT (information, communication, and technology), globalisation, health and social security, migration, economic development, conflict solutions, and environmental and social issues related to water.
This is a dynamic period for CDS. Eventually they will also have undergraduate programs. Professor Nair told us that CDS is interested in collaborating with Swedish Universities, preferably in exchange programs that will benefit both parties, and in networking to discuss and share research results.
This should be put in relation to the fact that every year many foreign scholars visit CDS in order to study development growth. In this regard, the institution's library, with its 130,000 volumes, is a great asset.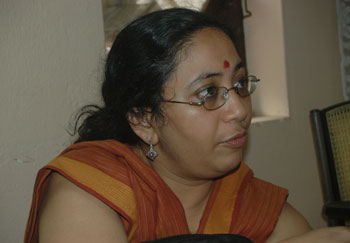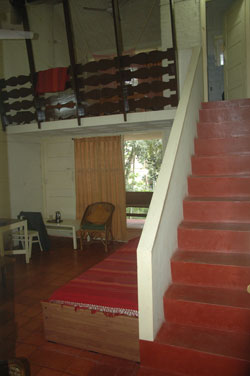 When we visited the CDS campus, Dr. J. Devika (photo to the left), a member of the SASNET South Asian Reference Group, was our guide. She pointed out campus buildings that were constructed with the environment and human development in mind. They were designed by the architect Laurie Baker, whose life's work in India was dedicated to showing how it was possible to construct modern public buildings using material and local knowledge, rather than imitating expensive Western glass complexes that consume a great deal of energy. More information about Laurie Baker's architecture.
Typical of Baker's architecture is the way buildings follow the natural landscape. This has occasioned the bridges or stairs that interconnect various levels of CDS buildings. Common features include inner yards with water dams, structural elements that the wind can pass through, and thick brick walls. Despite the tropical climate, such walls keep the buildings cool and make air conditioning unnecessary in all but the computer room.
The CDS guest house – see photo from one of the rooms to the right, where we were lodged for two nights, and J. Devika's residence, which we visited one evening, are both examples of Laurie Baker's beautiful architecture.
Back to 2007 contact Journey


---