SWEDISH SOUTH ASIAN STUDIES NETWORK

---
SASNET tour in India
Concluding Report: SASNET Contact Journey
to Delhi, Western, and Southwestern India
in November 2007
by Lars Eklund and Anna Lindberg
SASNET's former director, Staffan Lindberg, and deputy director, Lars Eklund, made three previous contact journeys to India, 2002, 2003 and 2005. The purpose of the current trip was for Anna Lindberg and Lars Eklund to visit universities and research institutes in geographical areas in India not covered by SASNET earlier. Organizations were chosen based on their collaboration with Swedish universities or with future collaboration in mind. Our aim was also to cover a variety of disciplines. We mostly focused on institutions with research and Ph.D. programs, and less on colleges providing undergraduate education alone. Read the itinerary for the tour (as a pdf-file).
Our one month journey, during which we visited almost thirty institutions and organizations, taught us a great deal about the Indian system of higher education. Some of our appointments were brief "courtesy visits", but in most places we met with vice-chancellors, staff from the international office, or others with influential positions in the university, and had fruitful discussions about various collaboration possibilities with SASNET partners in Sweden.
It was gratifying to learn that SASNET is relatively well known and enjoys a good reputation in many of the places we visited. People expressed their appreciation of SASNET's newsletters and our website, which have contributed to putting Swedish Universities on the international map of research and higher education. Where people were not familiar with SASNET, we had the opportunity of introducing them to the organization.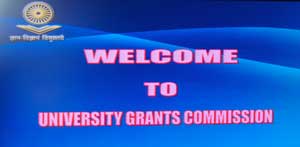 In order to become better informed about the Indian system of Higher Education, we met with the chairman of the University Grants Commission (UGC), Professor Sukhadeo Thorat, who was kind enough to receive us at the Commission's main office in New Delhi.
The Indian Government established the UGC in 1956. Since then, it has established and coordinated standards of teaching, examination, and research in higher education. UGC serves as a link between the central and state Governments, and the various education and research institutions. Among its many tasks, UGC provides recognition for universities in India, disburses grants to universities and colleges, and grants accreditation to approximately 100 institutions ("deemed universities"), giving them a certain amount of autonomy with regard to courses, syllabi, and administration.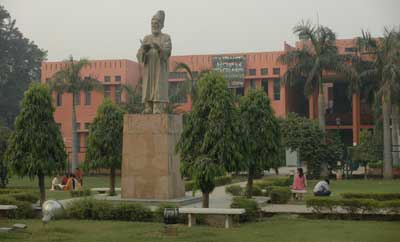 Central Universities
There are more than 300 universities in India, most of them public. Among the public universities, approximately twenty are central universities that were established by the Government of India. The remainder were founded by state governments.
We visited two of the central universities: Delhi University and Jamia Millia Islamia University (photo to the right) in New Delhi. In both cases we met with individual scholars from various departments, and with the two vice-chancellors. At Delhi University we also spoke with the Dean of International Relations. All of those we contacted expressed their desire for more collaboration with Swedish universities. Some of the faculty members we encountered were quite enthusiastic and indicated great interest in actively participating in future networking.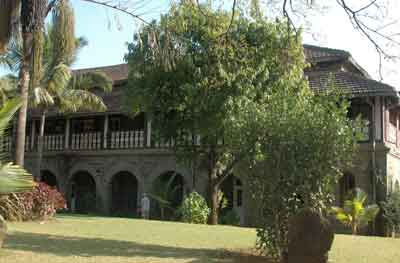 Deemed Universities
We visited five of the deemed universities in the following fields: social science, economics and management, medical science, natural science, and energy:
• Tata Institute of Social Sciences, Mumbai
• Gokhale Institute of Politics and Economics, Pune (photo to the right)
• Pravara Rural Medical University, Loni, Ahmednagar Dist., Maharashtra
• Indian Institute of Science, Bangalore
• The Energy and Resource Institute (TERI School of Advanced Studies), New Delhi
State Universities
We also visited five different state universities in Maharashtra, Karnataka, and Kerala:
• University of Mumbai, Maharashtra
• University of Pune, Maharashtra
• University of Mysore, Karnataka
• University of Kerala, Kerala
• Mahatma Gandhi University, Kottayam, Kerala
Research Institutes of National Importance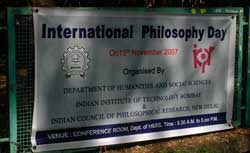 The Indian Institutes of Technology (IITs), are a group of seven autonomous engineering and technology-oriented institutes of higher education established and declared as Institutes of National Importance by the Government of India. The Indian Institutes of Management (IIMs) belong to the same category. They are India's premier business schools that also conduct research and provide consultancy services in the field of management to various sectors of the Indian economy. There are seven IIMs in India.
We visited IIT in Mumbai, IIM in Bangalore, and IIM in Kozhikode (Calicut, Kerala).
The Indian Institute of Science in Bangalore (IISc), which we also visited, is placed in a similar group of research institutes with national importance.
Other Research Centres and Research Institutes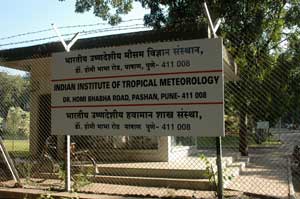 Our visits extended to a number of important research institutes heavily involved in Indo-Swedish collaboration in various fields and various forms.
• Centre for Science and Environment (CSE), New Delhi
• Institute of Social Sciences (IIS), New Delhi
• Centre for the Study of Developing Societies (CSDS), New Delhi
• Centre for Development Studies (CDS), Thiruvananthapuram
• Indian Institute of Tropical Meteorology, Pune (photo)
• National Chemical Laboratory, NCL, Pune
• Institute of Social and Economic Change (ISEC), Bangalore
• Central Institute of Indian Languages, Mysore
• Anthropological Survey of India, Mysore
• Centre for the Study of Culture & Society, Bangalore
Other Educational Institutions
• Loyola College of Social Science, Thiruvananthapuram
• Orchid School, Pune
Meeting with SASNET's South Asian Reference Group
On November 3, we had a day-long meeting with the South Asian Reference Group. The group's members are:
• Dr. Rita Afsar, Bangladesh Institute of Development Studies, Dhaka, Bangladesh
• Dr. Tek Nath Dhakal, Chief of Public Administration Campus, Tribhuvan University, Katmandu, Nepal
• Dr. J. Devika, Centre for Development Studies, Thiruvananthapuram, India
• Dr. Dipak Malik, Gandhian Institute of Studies, Jamui Campus, Bihar, India
• Dr. Kumudu Wijewardena, University of Sri Jayewardenepura (SJP), Colombo, Sri Lanka
Unfortunately, Dr. Zulfiqar Bhutta, Department of Paediatrics, Aga Khan University, Karachi, Pakistan, was unable to participate due to a delay in obtaining a visa.
The brainstorming session was very fruitful and the participants expressed their satisfaction with the meeting. (For a full report, see www.sasnet.lu.se/jour07ref.html)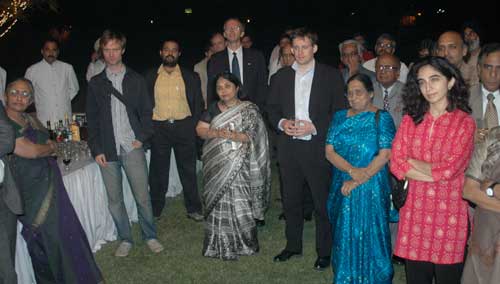 The Swedish Embassy
On November 2, the Swedish Embassy in New Delhi organised a reception and dinner for New Delhi academics in honour of our visit. Approximately sixty persons participated. The reception took place at the residence of Anders Sjöberg, Deputy Head of Mission at the Swedish Embassy.
Several people from the Embassy were there, including Stefan Jonsson, Counsellor of Science and Technology, and Carl-Gustaf Svensson, Counsellor of Development Cooperation. We were very pleased by the interest shown in our work on the part of the Embassy and the many participants.
Conclusion
Our itinerary was very crowded, and we sometimes wished we could spend more time in each place. However, in spite of the fact that our visits were occasionally brief, we felt that we succeeded in establishing important connections for future networking and collaboration. Perhaps more important than the amount of time spent in each place was the quality of our encounters. The meeting with the South Asia Reference Group was most productive and it was gratifying to learn that members of the Group wanted to become more active in the work of SASNET. We were also very pleased to learn that the Swedish Embassy had such an interest in the work of SASNET. This journey allowed SASNET to add to its already substantial visibility in India – something the Swedish Embassy told us that they considered important. The future challenge for SASNET will be to find a sound balance between networking among Swedish researchers and developing contacts in South Asia.
More detailed information is available in our reports from the meetings we had at each and every university/research institution. Welcome to read our reports. Go for our more detailed journey report with links to all meetings.

Lund 7 January 2008
Lars Eklund & Anna Lindberg, SASNET

Back to Home


---