SWEDISH SOUTH ASIAN STUDIES NETWORK

---
Report from meeting with SASNET's South Asian reference group,
in New Delhi, Saturday 3 November 2007
Participants:
Dr. Rita Afsar, Bangladesh Institute of Development Studies, Dhaka, Bangladesh
Dr. Tek Nath Dhakal, Chief of Public Administration Campus, Tribhuvan University, Katmandu, Nepal
Dr. J. Devika, Centre for Development Studies, Thiruvananthapuram, India
Dr. Dipak Malik, Gandhian Institute of Studies, Jamui Campus, Bihar, India
Prof. Kumudu Wijewardena, University of Sri Jayewardenepura (SJP), Colombo, Sri Lanka
Mr. Lars Eklund, SASNET, Sweden
Dr. Anna Lindberg, SASNET, Sweden
Prof. Zulfiqar Bhutta, Department of Paediatrics, Aga Khan University, Karachi, Pakistan, whose application for an Indian visa was delayed, was absent. The participants all regretted that Dr. Bhutta was unable to attend.
The workshop was organized informally and as a "think tank" session, and was held at the the Nordic Centre in India flat in Nizamuddin East, New Delhi. Although we had an agenda, it was agreed that we could depart from it whenever necessary. The atmosphere at NCI was conducive to an open and relaxed discussion, and the results were very fruitful.
Those present had already met each other the day before. We began the session by providing information on the Nordic Centre in India consortium (NCI). We were assisted by Mr. Malik, the manager of NCI.
Although most members of the reference group were acquainted with SASNET's background, structure, and aims, we described it in depth for the benefit of the group's new member, Dr. J. Devika. Participants asked relevant questions and contributed to a discussion of various aspects of SASNET's activities.
The members and their institutional affiliations were then introduced in more detail in order to find areas of common interest and develop ideas on how to network and collaborate in the future. Some participants cited successful projects that were initially funded by SASNET, and suggested that we bring people who have been involved in such projects together in a workshop so that they can share their experience of successful collaboration with others.
Two large themes were discussed toward the conclusion of the meeting: "How to network, and why?" and "What concrete objectives can we work toward in the short and long-run?"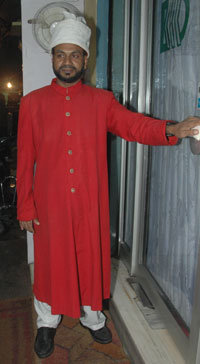 We ended the session at the Nordic Centre on positive note minds, with many of those present commenting they felt very encouraged by the meeting. If the day was a success, it was the result of our joint efforts and everyone contributed in a significant way.
On behalf of SASNET we were very grateful that the members of the reference group gave of their time to meet with us. The meeting was productive, efficient, and very cordial.
After the meeting we gathered for a lovely dinner at Karim's famous Restaurant in Nizamuddin West (photo to the left), near the mausoleum of the Sufi saint Hazrat Khawaja Nizamuddin Auliya.
Back to 2007 contact Journey


---