SWEDISH SOUTH ASIAN STUDIES NETWORK

---
School of Humanities, Linnaeus University, Växjö
On January 1, 2010, Kalmar University and Växjö University were amalgamated and formed Linnaeus University

Postal address: Institutionen för humaniora, Linnéuniversitetet, SE-351 95 Växjö
Visiting address: Pelarplatsen 7, House F, Entrance 7, Teleborg Campus
Web page: http://www.vxu.se/hum/
Contact person: Professor Margareta Pettersson, Comparative Literature, phone +46 (0)470 708468. Personal web page.
Within the School of Humanities, there are programmes in the following subjects, that also offer doctoral programmes:
• Comparative literature; • English; • French; • German; • History; and • Swedish language.
Research in Comparative Literature connected to South Asia:

Prof. Margareta Petersson defended her doctoral dissertation titled "Indien i svenska reseskildringar 1950–75" at Lund University in 1988, dealing with the images of India in Swedish travel descriptions between 1950 and 1975. describes the image of India that emerged in the travel accounts and places this image in an overreaching Western pattern of thinking about third-world cultures. She has been employed by the School of Humanities at Växjö University since 1995, where she is teaching in Comparative Literature. During 2000 and 2001 she was Vice Dean of the Faculty Board. Her research has focused on cross-cultural contacts and post-colonialism.
In 1996 she published the book "Unending Metamorphoses, Myth, Satire and Religion in Salman Rushdie's Novels", focused on questions of interpretation determined by cross-cultural contacts. She deals with the strong reactions against Rushdie's novels, discussing whether he insults politicians, blasphemes religion and expresses contempt for women as has been claimed. Is this true? The study discusses the relevance of the accusations and the extent to which the interpretation has been guided by the cultural background of the critics.
In a new study, cross-cultural contacts in Indo-English literature have been discussed. It comprises Indian authors writing in English – a 150-year-old tradition. Here the problems concerning the authentic or hybrid status of cultures are treated and the importance of one's concept of culture for how literary works are interpreted. Texts by Raja Rao, Anita Desai, Salman Rushdie, M.G. Vassanji, Amitav Ghosh and Arundhati Roy are in focus. The study has resulted in a book, "Globaliseringens ansikten: Den indo-engelska romanen", published in 2008. More information about the book.

Over the years, Margarerta Pettersson has written many articles on Indian literature for scientific as well as popular Swedish journals. See her list of publications.
Between 1999 and 2006, she was a member of the executive committee for the project "Literature and Literary History in Global Contexts", financed by the National Research Council. This was a research project run by the Department of Oriental Languages at Stockholm University (but with shared responsibility by several universities in Sweden). In late 2006, the project finally materialised in a set of four volumes being published by Walter de Gruyter in Berlin & New York. Being the Editor of Volume 3:1 dealing with "Literary Interactions in the Modern World", she has written an article about "Encounters between literary cultures in the 19th and 20th centuries". More information.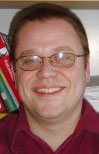 PhD candidate Carl Klintborg is working on a dissertation project titled "Historia och historieskrivning i Michael Ondaatjes roman Anil's Ghost", dealing with the prose work of the Srilankan writer Michael Ondaatje. In addition to his best-known novel, "The English Patient", the study also comprises the titles "Coming through Slaughter", "Running in the Family", "In the Skin of the Lion", and "Anil's Ghost" which appeared in the year 2000.
Klintborg's project includes two major areas of an intermedial and postcolonial character, which are linked theoretically through the concept of intertextuality. In the author's abundant sphere of references are to be found quotations from, e.g., Herodotus, Shakespeare and Duke Ellington, and marginal characters like Indian sappers during World War II, bridge builders in the Toronto of the 1930s and miners from Sri Lanka. Historical events, myths and real persons often form the basis on which Ondaatje builds his stories, creating a hybrid form, where fiction and reality meet. In this sphere of cross-cultural contacts, interartiality and history, there exists a partly unexplored area where the combination of European, Indian, Afro-American and North American references makes Ondaatje's writings interesting and exciting to explore.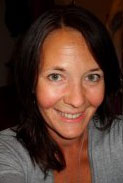 PhD candidate Karin Filipsson is working on a dissertation project focusing on the Indian writer Amitav Ghosh at the Dept. of English within the School of Humanities. Earlier, Ms. Filipsson has studied Cultural Anthropology at University of California, Santa Cruz, and Indology and Hindi at the Section for Indology, Department of Oriental Languages, Stockholm University. Her research interests are Postcolonialism, Feminism (ecriture feminine, ecofeminism), Environmental critique, Identity building, and Autobiographical literature.


Karin Filipsson is supervised by Prof. Maria Olaussen, Dept. of English.
More information on the research in Comparative Literature at Linnaeus University in Växjö.
More information on the research in English at Linnaeus University in Växjö.
Other South Asia related activities at the School of Humanities
The School of Humanities has been instrumental in setting up a network for postcolonial studies, Postkolonialt Forum i Sydost, that has existed since 2007. The forum has members at three universities, Växjö, Kalmar and Blekinge. Approximately 20 people are regularly involved in its activities consisting of interdisciplinary research seminar series every semester connecting scholars on Literature, History, Political Science and other subjects. It has resulted in a vibrant exchange of ideas. Dr. Piia Posti, Dept. of English, is the coordinator of the network. It is funded by grants from Crafoord Foundation and STINT. More information about Postkolonialt Forum i Sydost.
The School of Humanities have also joined a new Nordic research collaboration project on "Postcolonial Literatures in English" through the so-called Nordplus Framework Programme, a funding programme administred by the Nordic Council of Ministers aimed at strenghtening educational collaboration between universities in the Nordic and the Baltic states. The collaboration involves the University of Växjö; University of Aarhus, Denmark; Joensuu University, Finland; and University of Bergen, Norway. The project will start working from 2010.


A key person in the project is Associate Professor Tabish Khair at the Department of English, University of Aarhus. Born and educated mostly in Gaya, India, he is the author of many books. Previously a journalist with the Times of India, Khair continues to write and review occasionally for papers in different countries. In particular, he writes for the Hindu (India) and the Guardian (UK).
Other Routes, an anthology of pre-modern travel texts by Africans and Asians, co-edited and introduced by Khair (with a foreword by Amitav Ghosh) was published in the UK and USA in 2005 and 2006 respectively. Khair's latest novel, FILMING: A Love Story (2007), examines memory and guilt against the backdrop of the Partition and the 1940s Bombay film industry. A paperback edition came out late in 2008. More information on Tabish Khair' private web page.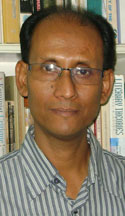 In March 2009, Dr. Ashis Sengupta (photo to the right) from the University of North Bengal in India was invited to Sweden on a SASNET guest lecturer grant. The School of Humanities at Växjö University was one of inviting Swedish university departments, the others being Mälardalen University in Västerås and the School of Arts and Languages, Högskolan Dalarna. Dr. Sengupta lectured for students in Växjö on Friday 20 March 2009. The title of the presentation was "Gender and Sexuality in Contemporary Indian English Drama".

SASNET's deputy director Lars Eklund visited the School of Humanities, Växjö University on the very same day, 20 March 2009, and met with Margareta Pettersson, Maria Olaussen and Piia Posti. Read a report from the meeting.