SWEDISH SOUTH ASIAN STUDIES NETWORK

---
Division of Molecular Structural Biology, Department of Medical Biochemistry and Biophysics (MBB), Karolinska Institutet Medical University, Stockholm
Postal address: Institutionen för medicinsk biokemi och biofysik (MBB), Karolinska Institutet, SE-171 77 Stockholm, Sweden
Visiting address: Scheeles väg 2, Solna
Web page: http://ki.se/ki/jsp/polopoly.jsp?d=17141&l=en
Contact person: Professor Gunter Schneider, phone: +46 (0)8 524 876 75
The Division of Molecular Structural Biology is one of the 12 research divisions within MBB.
The Department of Medical Biochemistry and Biophysics was founded 1992 as a merger between the former departments of Physiological Chemistry, Biochemistry and Medical Biophysics. The department has a long heritage of internationally renowned research.
Research connected to South Asia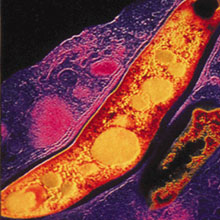 In June 2009, Sweden and India decided to jointly support research in tuberculosis. The Swedish Governmental Agency for Innovation Systems (VINNOVA) and the Department of Biotechnology (DBT), Ministry of Science and Technology, India, agreed to support top level research co-operation between Indian and Swedish scientists in the field of "Biology, diagnosis and treatment of Tuberculosis". The programme is one of the first bilateral co-operations, based on joint funding, between the two countries. Under this scheme, VINNOVA funds the Swedish research teams and DBT the Indian side. VINNOVA is committing around SEK 16 million to this program. More information on the Indo-Swedish collaboration project.
Four Indo-Swedish projects, out of a total of 15 proposals, were selected by DBT and VINNOVA and will receive funding for the period 2009–12. More information.
Prof. Gunter Schneider at MBB was selected for a project entitled "Structure-guided design of new antibacterial agents against dormant Mycobacterium tuberculosis". The main collaboration partner on the Indian side is Dr. D. Sriram, Birla Institute of Technology & Science (BITS), Hyderabad.