SWEDISH SOUTH ASIAN STUDIES NETWORK

---

Newsletter 36:
17 February 2004
• Great International interest for the EASAS conference in Lund in July 2004
The 18th EASAS conference organized by SASNET and Lund University 6–9 July 2004 has attracted a great interest from researchers on South Asia related studies from all over the World. More than 200 researchers have already registered for the conference, which will have a total number of 46 panels, covering a wide scope of research fields from the social sciences and humanities to medicine and technology. Go for the full list of panels!

• Register to the conference before 1 May 2004
The last date for registration has been changed to 1 May 2004, and the conference fee should be paid before 1 June. Full information on the conference, including registration forms, links to hotels in Lund, etc. is found at our conference web page, http://www.sasnet.lu.se/EASAS18.html.
• Travel and accommodation grants distributed to young researchers
Last date for applying for travel and accommodation grants was 1 February 2004, and a reference group has decided upon the limited number of such grants. Two categories of participants to the 18th EASAS conference in Lund were eligible to apply, namely:
1/ Panel convenors from South Asia and Eastern Europe who need financial support to attend the conference; and
2/ Younger researchers from South Asia and Eastern Europe who need financial support to attend the conference.
The grants consist of getting flight tickets to and from Lund, plus food and accommodation during the conference period.
• Apply for SASNET planning grants before 15 June 2004
Applications are now invited for the coming round of SASNET planning grants for research and educational projects and programmes involving Swedish researchers in collaboration with colleagues/institutions in South Asia. SASNET has distributed 40 planning grants since the start in 2001. Go for the full list of these grants given.
Closing date for applications to the new round is 15 June 2004, and decisions will be taken in the end of August. More information.
• SASNET's root node office changed location in November 2003
The new office is located within the premises of the Centre for East and South East Asian Studies, ACE, House Alfa 1 at Ideon Research Village, room 2042 (first floor), 2 km northeast from the city centre. Postal address: SASNET, Scheelevägen 15 B, SE-223 70 Lund, Sweden. This is the physical place where you find SASNET's webmaster/deputy director Lars Eklund, whereas Staffan Lindberg, SASNET's director, keeps his office at the Dept. of Sociology in central Lund. More information on SASNET's organisation.
• Use SASNET's advanced search function
An advanced search function was created for SASNET two years ago by Netlab at Lund University. It provides for a full text search not only to our own web site, but also to all the pages we link up to, in two steps (at present that means more than 20 000 web pages). Therefore our engine is most useful for searching material specifically connected to South Asia. It is found at http://www.sasnet.lu.se/searchf.html
• Sida/SAREC planning grants to South Asia related research projects
Several South Asia related research projects were given money from Sida/SAREC when it distributed its latest round of planning grants in November 2003. A total sum of SEK 47 million were given for field work, research collaboration and similar activities in the Third World. SASNET presents the full list of successful South Asia related project applications. Go for it!
• Swedish Research Links grants distributed to South Asia related projects
Several South Asia related research projects were given Swedish Research Links grants from Sida and the Swedish Research Council in its second round, distributed in December 2003. The Research Council in November 2003 also gave three-years project grants to a few other South Asia related research projects. Go to SASNET's list of these projects.
• Bank of Sweden Tercentenary Foundation gives major grant to project on South India
Dr. Anna Lindberg, Dept. of History, Lund University, in November 2003 was given a grant for SEK 1,4 million by the Bank of Sweden Tercentenary Foundation (Stiftelsen Riksbankens jubileumsfond), for a new research project on "Marriage payment in South India from 1930 to the present". More information on Anna Lindberg's research.
• Third Call for proposals under EU's Asia-Link Programme
The EuropeAid Co-operation Office on 23 December 2003 launched a third Call for Proposals (OJ C 313/04) under the Asia-Link Programme, which is a European Union initiative to foster regional and multilateral networking between higher education institutions in EU Member States and South Asia, South-East Asia and China. A total budget of almost EUR 42,8 million has been allocated to fund the programme over a five-year period, valid until the end of 2005. The third Call for Proposals makes EUR 17,8 million available to fund a maximum of 111 projects, and also introduces two new types of Asia-Link project: Information Support and Studies, and Capacity-Building Actions. More information about the Asia-Link Programme (including guidelines for applicants and application form).
• Dissertation at Uppsala University on Tamil deity in Sri Lanka
Amirtalinkam Cellaiya (Amirthalingam Selliah), Dept of Theology; History of Religions, Uppsala University, defended his doctoral dissertation on "Murukak katavul valipatu. A Study of the Worship of God Murukan in Malaiyakam on Ilam and in Tamilakam", on Monday 8 December 2003. The dissertation focuses on the act of worship of Murukak katavul, as it is continuously practiced and developed as Tamil heritage in Sri Lanka. Faculty opponent was Professor S Pathmanathan from Peradeniya University, Sri Lanka. More information on the dissertation.
• Doctoral dissertation on Sacred Architecture in Bhutan
Ingun Bruskeland Amundsen from the Oslo School of Architecture, AHO, Norway, defended her doctoral dissertation on "Sacred Architecture and the Dzongs of Bhutan. Tradition and Transition in the Architectural History of the Himalayas" on 12 December 2003. Faculty opponents were Dr Anne Chayet, Institut d'Études Tibétaines, Instituts d'Extrême-Orient, Paris, France; and Prof. Attilio Petruccioli, Polythecnic of Bari, School of architecture, Como, Italy. More information on her research in an article from The Journal of Bhutan Studies in 2001.
• Bangladesh e-Journal of Sociology initiated
The Bangladesh Sociological Society, BSS, has started to publish a peer-reviewed e-Journal of Sociology welcoming contributions from all over the world, particularly from Bangladeshi sociologists working abroad. Although it is an electronic journal, it strives for a level of excellence comparable to the major journals in the print medium. BSS is a non-profit organization funded by the contributions of the participating members only. More information.

• Jan Lundqvist takes up part-time position at SIWI
Prof. Jan Lundqvist, Dept. of Water and Environmental Studies, Linköping University, has for several years been closely involved with the Stockholm International Water Institute, SIWI, and its symposia taking place every year in August in connection with the Stockholm Water Week. Since the Fall 2003 Jan Lundqvist is serving on a part-time basis as Chair of the Scientific Programme Committee for the Stockholm Water Symposium. As such he will also participate in collaborative research projects undertaken by SIWI. More information.
• Sida supports CORDIO research on coral reef degradation in the Indian Ocean
Sida, the Swedish International Development Cooperation Agency has decided to support the Coral Reef Degradation in the Indian Ocean programme (CORDIO) with SEK 12 million, for another 4-year period (2004-2007). CORDIO is a programme created to respond to the degradation of coral reefs throughout the Indian Ocean, initiated by the extensive bleaching and mortality of corals that occurred during 1998. Besides Sida it is supported by the World Bank, FRN (Swedish Council for Planning and Coordination of Research), MISTRA (Foundation for Strategic Environmental Research) and WWF (Worldwide Fund for Nature). In South Asia CORDIO is actively involved with reef monitoring, bioerosion studies and socio-economic monitoring programmes in India (in Lakshadweep Islands and the Tuticorin Coast); Maldives (collaborating with the Marine Research Centre); and Sri Lanka. During 2003 the National Aquatic Resources and Research Agency, NARA, carried out detailed taxonomic studies of Acropora corals of Sri Lanka, in collaboration with Museum of Tropical Queensland, Australia. Due to political instability the coral reefs on the East Coast of Sri Lanka have not been properly surveyed for many years. CORDIO is howevere now supporting Eastern University, Batticaloa, to start up a coral reef unit. More information on CORDIO.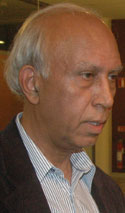 • ACHA Star award to Ishtiaq Ahmed
The Association for Communal Harmony in Asia (ACHA) in December 2003 recognized Dr. Ishtiaq Ahmed, Dept. of Political Science, Stockholm University, with its ACHA Star award. Originally from Pakistan, he teaches such subjects as Theory and Practice of Human Rights, Religion and Politics in Islam, Politics of South Asia, and Nationalism and Ethnicity, and he has carried out research on Human Rights in Pakistan, and Secularism in India. Currently he is working on the 1947 Forced Migration and Ethnic Cleansing in Punjab. All in all he has published two books and about 30 papers on religious nationalism, ethnic conflict, and separatist movements in India and Pakistan. He is on the advisory Board of two professional journals and the Chief Editor of the Journal of Peace and Democracy in South Asia. Also he writes weekly Op-eds for the Daily Times, a Pakistani newspaper. Since the year 2000, he has been the moderator of ACHA electronic discussion group, Asiapeace.
• Erasmus Mundus offers great possibilities for the future
The Erasmus Mundus programme is a co-operation and mobility programme in the field of higher education which promotes the European Union as a centre of excellence in learning around the world. It supports European top-quality Masters Courses and enhances the visibility and attractiveness of European higher education in third countries. It also provides EU-funded scholarships for third-country nationals participating in these Masters Courses, as well as scholarships for EU-nationals studying in third countries. Erasmus Mundus will provide grants for some 5,000 graduate students from third countries to follow the selected Masters courses, and for more than 4,000 EU graduate students involved in these courses to study in third countries. Similarly, within the context of these Masters courses, the programme will also offer teaching or research scholarships in Europe for 1,000 or more incoming third-country academics and for a similar number of outgoing EU scholars. Last but not least, Erasmus Mundus will support about 100 partnerships between Erasmus Mundus Masters courses and higher education institutions in third countries. The proposed duration of the programme is five years (2004-2008) with a planned financial envelope of 230 million Euro for the whole period. It will be implemented as of the academic year 2004/2005. The European Commission will publish a first call for proposals relating to the year 2004 in early April 2004. More information on the programme.
• Collaboration on Asian studies betweeen Lund and Copenhagen
Researchers and teachers involved in Asian studies at the Faculty of Humanities, Copenhagen University are taking part in a joint project with colleagues at Lund University, and SASNET, to promote possibilities to combine courses in Asian languages and religious studies given on both sides of the Öresund. An Øresund Network of Asian Studies, ØRNAST, was established in 2003, and this will eventually entail focused cooperation at all levels of education within the Øresund University framework. The purpose is to strengthen East, South-East and South Asian education and research at the universities and university colleges involved in the Øresund University Consortium. More information on ØRNAST.
• Doctoral course on Religion, Conflict and Identity at Lund University
SASNET and Lund University arranges an independent, interdisciplinary researcher training course for masters and PhD students on Religion, Conflict and Identity in South and Southeast Asia in the academic year 2004–05. Lectures and seminars constitute a 7.5 ECTS reading course, and an additional 7.5 ECTS course writing a paper. The course supplies the students with overviews of the broader religious developments in South and South East Asia, as well as with in-depth analyses of three cases where religious affiliation has served as important identity markers and sources of conflict. Course leaders are Dr. Catarina Kinnvall, Dept. of Political Science; Dr. Sidsel Hansson, Centre for Theology and Religious Studies (CTR); and PhD Candidate Ann Kull, CTR. Registering for the course should be made to Sidsel Hansson before 15 August 2004. More information (as a pdf-file).
• Travel reports from Österlen folk high school students in India
Students from the one-year undergraduate social science course on India/South Asia at Österlen folk high school in Tomelilla, are currently doing their fieldwork in India and Bangladesh. The course, giving 10 academic points and arranged since 2001 in co-operation with the Dept. of Sociology at Lund University (and supported by SASNET), started in August, 2003. After an initial common course at Kerala the students during January–April 2004 visit different places in India and Bangladesh where they make individual field work. The students give regular reports through Internet travel diaries. Read the the travel diaries of the students.
• Summer course for Nordic students in Hyderabad, India
The Nordic Centre in India organises a four-weeks summer course for Nordic students on "Contemporary India" in Hyderabad, India, in July 2004. The course, which was run also last year, is is organised by the Study India Programme at the University of Hyderabad, and is open to students from all Nordic universities and institutions of higher learning. Students from from the NCI member institutions can join the course at a much reduced cost compared to other participants. More information on the Hyderabad summer course.
• Summer School in Comparative Social Science Studies at Oslo University
The University of Oslo in 2004 offers a Summer School in Comparative Social Science Studies (on PhD level) titled "Dreamworld and Catastrophe: The State in the 'Third World". The course is led by Professor Stuart Corbridge, University of Miami, USA; and London School of Economics, UK, expert in the fields of international political economy and development studies, and who for about 25 years has carried out fieldwork in mainly rural areas of eastern India. Apply before 1 May to the course which will be held at Blindern, University of Oslo, 26–30 July 2004. More information.
• Invitations to Heidelberg Summer School in South Asian studies
The third University of Heidelberg Summer School in South Asian studies will be held this summer from 24 July – 14 August 2004. The themes of the course are: Modern South Asia: Analyzing Political, Economic and Cultural Change; Thematic Modules: South Asia and the Impact of a Globalized Economy, Politics, Past and Present; and Society and Culture in a Changing South Asia. The course is based on lectures, group work, roundtable discussions as well as one week of guided research and will be addressing historical, political, and religious aspects of the region as well as questions of the economy and development. Cooperation partners include: Dr. Willem van der Geest (EIAS), Prof. Roger Jeffery (University of Edinburgh), Prof. Subrata K. Mitra (University of Heidelberg), Prof. Pamela Gwynne Price (University of Oslo), and Dr. Marie Saglio-Yatzimirsky (INALCO).
• 8th Summer Program in Punjab Studies in Chandigarh
The 8th Summer Program in Punjab Studies will be held in Chandigarh, India, 4 July – 14 August 2004. The program provides six weeks of instruction in Punjab Studies, andincludes the learning of Punjabi (50 hours), and history and culture of the region (90 hours). It is open to both graduate and undergraduate students. Application deadline is February 27, 2004. More information.
• Courses for development professionals at East Anglia University
The Overseas Development Group (ODE), a charitable company wholly owned by the University of East Anglia, Norwich, UK, regularly organizes short courses for development professionals, some of them during the Summer 2004, on subjects like "International Human Rights", "Land Degradation and Sustainable Rural Livelihoods; and "Literacy and Livelihoods". ODE manages the research, training and consultancy activities undertaken by faculty members of the East Anglia University's School of Development Studies.
Important lectures and seminars
• Buddhist scholar lectures at Lund University
The Srilankan scholar Sumana Ratnayaka lectures on "Remarks on Early Buddhism: The New Edition of the Buddhist Canon" at Lund University on Wednesday 18 February, 14.15–16. It is arranged by the Faculties of Humanities and Theology at Lund University, and besides Ratnayaka two Thai studies scholars, Suradhaj Bunnag, and Anatole Peltier take part in the lecture. Venue: Centre for Theology and Religion, room 218, Allhelgona Kyrkogata 8, Lund.
• PhD students present their research at Dept. of Oriental Languages, Stockholm
The council for doctoral students at the Dept. of Oriental Languages, Stockholm University arranges a research presentation day on Friday 20 February 2004, 9.50–12.30. Mirja Juntunen, PhD candidate of Indology will lecture on "Rahul Sankrtyayan (1893-1963): A key figure within Buddhist modernist literature in India" at 10.30. Venue: Main hall, Kräftriket 4 A, Stockholm.
• Communist Nepalese leader lectures at NUPI in Oslo
The Norwegian Institute of International Affairs, NUPI, arranges a public lecture with Madhav Kumar Nepal, General Secretary of Nepal's Communist Party (UML), on Monday 23 February 2004, 13–15. Madhav will lecture on "The Maoist Insurgence and Prospects for Peace in Nepal". Venue: NUPI, C J Hanbros plass 2 D, 6th floor (Sæter seminar room), Oslo.
• Sidsel Hansson lectures on the Ganges river water at Lund University
A public lecture on "Reinventing a sacred landscape? The Ganges river as a contested domain" is held at Lund University, on Tuesday 2 March 2004, 15–17. Dr. Sidsel Hansson from the Centre for Theology and Religious Studies, and the Centre for East och South East Asian Studies, lectures on material from her 2001 doctoral thesis entitled 'Not just any water? Hinduism, ecology and the Ganges water controversy'. Venue: Java Hall, Alfa 1 building (at Ideon), Scheelevägen 15 B, Lund.
• Marc Galanter lectures on courts in India at Oslo University
The Network for Asia Studies (Nettverk for Asiastudier) at the Centre for Development and the Environment (SUM), Oslo University, arranges a public lecture with Professor Marc Galanter, University of Wisconsin, Madison, USA, on Thursday 18 March, 14.15–16. Prof. Galanter will talk about "Gruff Justice: Lok Adalats, Informalism and the Courts in India". Venue:SUM, Seminar room, 4th floor, Sognsveien 68, Oslo. More information.
• Workshop on Religion, Violence and the State in South Asia at Balliol College
A Workshop on "Religion, Violence and the State in South Asia" is held at Balliol College in Oxford, UK, on 26 March 2004. It is organised by Professor Ian Talbot, Coventry University. For further information, please contact Ian Talbot.
• Uppsala workshop on Political Corruption and Democracy
A conference and workshop on "Political Corruption and Democracy – the Role of Development Assistance" is arranged by the Collegium for Development Studies at Uppsala University, in collaboration with Sida's Division for Democratic Governance, 29–30 March 2004. The aim of the conference is to discuss development cooperation and its connection to political corruption, defined as the use of resources to acquire or exercise political power in illegitimate ways. Times: March 29, 9.00–17.00; and March 30, 9.00–15.30. Venue: Missionskyrkan, S:t Olofsgatan 40, Uppsala. Register no later than 8 March to Mia Melin.
• Syracuse University arranges film festival on Human Rights in South Asia
A film Festival on Human Rights in South Asia is arranged by the South Asia Center at Syracuse University, New York, USA, 20–22 February 2004. In the four-day festival, named "Illuminating Oppression", the film director Prakash Jha takes part, presenting his recent film Gangaa Jal, a searing look at the intractable issues of police corruption in India. Several films focused on the themes "Children's Rights" and "Identity and Conflict" are also shown.
• International conference on Coalition Politics in Indian and Hindu Nationalism
The Institute of Commonwealth Studies arranges an International conference on "Coalition Politics in Indian and Hindu Nationalism" in London 21–22 February 2004. Venue: Menzies Room, Institute of Commonwealth Studies, 28 Russell Square, London. Last date for registration: Friday 13 February. More information.
• Large number of panels at the San Diego conference
The 56th Annual Meeting of the American Association of Asian Studies is arranged at San Diego, California, USA, 4–7 March 2004. A large number of panels are planned. Included in the programme is a roundtable discussion called "Knowledge, Nature, Power and States: From Landscapes to Genomes in South Asia" organized by Ronald Herring and K Sivaramakrishnan. A "transatlantically modified version" of this will also appear in the EASAS conference at Lund in July (panel 15). Venue: Town & Country Resort and Conference Center, San Diego. More information.
• International conference in New Delhi on Women in Science
The Indian National Institute of Science, Technology & Development Studies (NISTADS) organizes an International conference on "Women in Science – Is the glass ceiling disappearing?" on 8–10 March 2004. Participation is by invitation only. Foreign women scientists interested to participate are advised to contact Dr. Neelam Kumar, director for NISTADS. The conference is co-sponsored by the Dept. of Science and Technology, Government of India, and the Indian University Grants Commission, and commemorates the International Women's Day (8th March). It will be inaugurated by Ms Buyelwa Sonjica, Hon'ble Deputy Minister of Arts, Culture, Science and Technology, Republic of South Africa.
• Symposium at Syracuse University on Religious Boundaries in South Asia
The Religion and Society Programme at Syracuse University, New York, USA, arranges a Ray Smith Symposium on "Drawing a Line in Water: Religious Boundaries in South Asia", 1–3 April 2004. It includes lectures by Riffat Hasan, University of Louisville, on "Struggle for Women's Empowerment in Pakistan: Challenging Theological Assumptions & Cultural Practices"; Shail Mayaram, Centre for Developing Societies, Delhi, on "Beyond Ethnicity? Being Hindu and Muslim in South Asia", and Eliza F. Kent, Colgate University, on "Synergy and Sin: The Hindu Christian Church in Nineteenth-Century Tamil Nadu". More information.
• BASAS annual conference held at East Anglia University
The British Association for South Asian Studies, BASAS, arranges its annual conference 2004 at the University of East Anglia in Norwich, UK, 5–7 April 2004. The conference theme will be "Contemporary Developments in South Asia". Panels which have already been suggested and are being considered for the conference include: • Contemporary Cinema, • Dalit Literatures, • South Asian Political Economies, and • International Relations: Changing Relationships between South Asia and the USA. More information.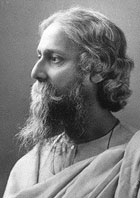 • Conference on Rabindranath Tagore at Fayetteville State University
A conference named "Celebrating Tagore: Fayetteville State University" is arranged by the Dept. of Government and History, Fayetteville State University, Fayetteville, North Carolina, USA, 9–11 April 2004. The conference provides an academic forum for the exchange of knowledge and scholarship regarding the Indian Nobel Laureate poet Rabindranath Tagore. Besides academic panel sessions there will also be cultural activities, e g will the Fayetteville State University Theater group perform Tagore's play "The Post Office". Keynote Speaker will be Dr. Sujit Basu, Vice Chancellor and Chief Executive Officer, Visva Bharati University, India.
• Heidelberg perspectives on Subaltern Health in South Asia
A workshop on "The Ills of Marginality: New Perspectives on Subaltern Health in South Asia" is arranged by South Asia Institute at Heidelberg University, Germany, 17–18 June 2004. Venue: SAI, Im Neuenheimer Feld 330, Heidelberg. More information from the Prof. William Sax.
• Paris seminar on Theory and method in Indian intellectual history
A seminar on "Theory and method in Indian intellectual history" is arranged in Paris 28–30 June 2004. The seminar is organized by the Équipe de recherche LACMI, the international research group 'Sanskrit Knowledge Systems on the Eve of Colonialism' (University of Chicago) and the the International Institute for Asian Studies (IIAS), Leiden University, the Netherlands. More information from Prof. Jan Houben.
• International conference in Cambridge on Ayurvedic Identities
The Dharam Hinduja Institute of Indic Research (DHIIR), based at the Faculty of Divinity, University of Cambridge, UK, hosts its 8th International Conference on Indic Health: Ayurvedic Identities Past and Present. The Case of Modern and Global Ayurveda", Friday–Saturday 2–3 July 2004. The conference will discuss the case of modern and global Ayurveda as part of a larger project, the Indic Health and Medicine Research Programme (IHMRP), which has been the focus of DHIIR research since October 2000. Venue: DHIIR, Faculty of Divinity, West Road, Cambridge.
• Kolkata conference on Post-colonial Indian Political Affairs
A conference on "Post-colonial Indian Political Affairs: A Review" will be held at Kolkata, India, 6–8 July 2004. The conference is arranged by the Indian Society for Indological Studies, and will focus on Indian constitution & social justice; and Religion & Indian politics. More information.
• First announcement for the 14th World Water Week in Stockholm
The 14th World Water Week in Stockholm, internationally known as a global platform for continuing dialogue on critical water issues, takes place 16–20 August 2004. An exciting series of leading-edge seminars, side events and ceremonies – together with the Stockholm Water Symposium – make the World Water Week a valuable meeting point for experts and organisations from many water-related disciplines. The First Announcement includes a call for abstracts and posters for the 14th Stockholm Water Symposium, "Drainage Basin Security – Regional Approaches for Food and Urban Security". More information.
• Brittish conference on mapping the South Asian religious field
The British Association for The Study of Religions affiliated to the European Association for The Study of Religions and the International Association for The History of Religions invites for their 50th Anniversary Conference (1954-2004), 13–16 September 2004, at Harris Manchester College, Oxford. Subject area is "Mapping the Field", considering past, current and future trends and research. Panels and papers may be focused on individual religions (e.g. Sikhism, Jainism); typologies; geographical areas; key themes or figures which contribute to the field. Offers of panels, and individual papers are invited before 1 June 2004.
• Nordic conference on Ritual practices in Indian religions at Lund University
A Nordic conference on "Ritual practices in Indian religions and contexts" is held at Lund University 9–11 December 2004. The conference is arranged by the seminars of Indian Religions and Ritual Studies at the Department of History and Anthropology of Religion, Lund University, in cooperation with the academic journal Chakra – Tidskrift för indiska religioner. Scholars and PhD students engaged in research concerning Indian religions (Buddhism, Hinduism, Jainism and Sikhism) and rituals are invited to take part. Presented papers will be considered for publication in the journal Chakra. Participants should register for the conference and submit their abstracts for papers before 1 April 2004. More information.
• More conferences connected to South Asian studies, see SASNET's page, http://www.sasnet.lu.se/conferences.html#conf
Cultural News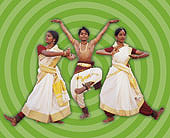 • Ethno Techno Project touring Western part of Sweden
The Ethno Techno Project, combining Indian traditional music and dance with modern Western house music, is touring the Western part of Sweden during the Spring 2004. The Swedish sitar player Niklas Holmberg, along with the Indian musicians Nakod Pandit Rajendra (tablas), Deepu K Nair (violin and vocals) and Geetha K N Bhat (vocals) perform together with the professional dancers Sibi Sudarshan, Saroopa Vipindas and Anitha Jones. The tour is organized by Musik i Väst and had its premiere at Dalslands Folkhögskola in Färgelanda on 10 February 2004. After that performances follow others at a large number of places in Bohuslän, Västergötland and Småland during February and March, after which a final show will take place at Musikmuseet in Stockholmon on Saturday 27 March, 23.00. More information.
• Poem by Yousaf Jhelumi
The Pakistani poet Yousaf Jhelumi, now residing in Sweden, has written a poem exclusively for the SASNET web site, on the occasion of Eid-ul-zoha 2004. Read his poem!
New and updated items on SASNET web site
• More Swedish departments where research on South Asia is going on:
An impressive and extensive list of research environments at Swedish universities, presented by SASNET. The full list now includes 108 departments! Go to the presentation page
• Several new articles recommended for reading
Look at http://www.sasnet.lu.se/recreading.html for suggestions on interesting new articles on South Asia in International media. Many new items added, especially on Pakistan, India, and the South Asia region.
---

Best regards

Staffan Lindberg Lars Eklund

SASNET/ Swedish South Asian Studies Network

SASNET is a national network for research, education, and information about South Asia, based at Lund University. The aim is to encourage and promote an open and dynamic networking process, in which Swedish researchers co-operate with researchers in South Asia and globally.
The network is open to all sciences. Priority is given to co-operation between disciplines and across faculties, as well as institutions in the Nordic countries and in South Asia. The basic idea is that South Asian studies will be most fruitfully pursued in co-operation between researchers, working in different institutions with a solid base in their mother disciplines.
The network is financed by Sida (Swedish International Development Cooperation Agency) and by Lund University.


Postal address: SASNET – Swedish South Asian Studies Network, Scheelevägen 15 B, S-223 70 Lund, Sweden
Visiting address: Ideon Research Park, House Alfa 1 (first floor, room no. 2042), in the premises of the Centre for East and South East Asian Studies at Lund University (ACE).
Phone: + 46 46 222 73 40
Fax: + 46 46 222 30 41
E-mail: sasnet@sasnet.lu.se
Web site: http://www.sasnet.lu.se
Staff: Staffan Lindberg, director/co-ordinator & Lars Eklund, webmaster/deputy director
Back to SASNET


---