SWEDISH SOUTH ASIAN STUDIES NETWORK

---

Newsletter 42:
27 August 2004
• SASNET Planning grants given to ten research and educational projects/programmes
A total number of 24 applications were delivered for consideration in the latest round for SASNET planning grants. On Tuesday 24 August 2004 ten projects – six related to research and four to education – were selected by the SASNET Reference group (consisting of three eminent Nordic South Asia scholars) to receive grants. The total amound distributed was 593 000 SEK. See the full list of the projects. On the same page is also found all other projects that have been given SASNET grants in the earlier rounds.
• Applications for the next round of SASNET planning grants
New applications are now invited. Closing date for applications is 15 November, 2004. More information.
• Similar Planning grants can also be applied for from Sida/SAREC
They are offered for field work, research collaboration and other activities, including costs for salaries and travelling expenses. SASNET presents information on these and other Planning and Travelling grants open for researchers engaged in South Asia related research. Go for the page!
• Updated information on the successful ECMSAS conference in Lund
SASNET has successfully arranged the 18th European Conference on Modern South Asian Studies in Lund 6–9 July 2004. With 360 participants from all over the World actually turning up (including a large number of PhD candidates and participants from from South Asia itself) it was the largest ECMSAS conference so far, and certainly the largest gathering ever on Swedish soil of South Asia oriented researchers, covering all fields from the humanities and social sciences to technology, natural sciences and medicine. Full updated information on the Lund conference.
A large number of full papers presented to the 44 conference panels are already posted on the conference website, and more will follow after the conference. See the full list of conference panels, abstracts and papers
An extensive Conference Diary was prepared by Dr. William Radice, renowned Bengali Studies scholar from the School of Oriental and African Studies, University of London, UK, and a brilliant writer. He was assigned by the conference organisers to write it. Read his report called "Swedish Rhapsody"! (as a pdf-file)

• Use SASNET's advanced search function
An advanced search function was created for SASNET two years ago by Netlab at Lund University. It provides for a full text search not only to our own web site, but also to all the pages we link up to, in two steps (at present that means more than 20 000 web pages). Therefore our engine is most useful for searching material specifically connected to South Asia. It is found at http://www.sasnet.lu.se/searchf.html
• First Report on Religion based on the 2001 Census of India released
The first Report on Religion based on the 2001 Census of India will be released on 6 September 2004, see http://www.censusindia.gov.in/. The detailed statistics provide information on distribution of population by religion at India, state and district level. For the first time in independent India, datasets are made available showing population in the age group 0 to 6 years, number of literates and category and type of workers among the major religious groups.
According to the Census of India 2001 Hindus constitute 80,5 p.c. of the Indian population, whereas Muslims count for 13,4 p.c, Christians 2,3 p.c, Sikhs 1,9 p.c, Buddhists 0,8 p.c, Jains 0,4 p.c, and "other religions & persuasions" (mainly tribal religions, but also including 69.601 Zoroastrian individuals) 0,6 p.c.
• Doctoral dissertation in Stockholm on the Jaipur town plan
Mirja Juntunen from the Section for Indology, Dept. of Oriental Languages, Stockholm University, will defend her doctoral dissertation on "The Town Plan of Jaipur: Its Sources and Narrations", on Friday 10 September 2004, 10.00. Venue: Main Hall, Dept. of Oriental Languages, Kräftriket 4, Roslagsvägen 101, Stockholm. Faculty opponent is Prof. Nalini Balbir, Université de Paris-III (UFR Orient), France. More information with abstract.
• Cooperation on Ergonomics programme between Luleå and Pakistan
During the summer 2004 Rupesh Kumar from the Dept. of Human Work Sciences at Luleå University of Technology has tought Ergonomics in a summer course at Fatima Jinnah Women University, Islamabad, Pakistan. The course was arranged in order to enhance further cooperation between Luleå University and Fatima Jinnah University, and the trip to Pakistan were sponsored by the Swedish Institute. The ambition is to establish a Masters programme in Ergonomics in cooperation between the two universities. More information.
• Asian studies collaboration between Lund and Copenhagen ready to launch
The ØRNAST educational cooperation project between the universities of Lund and Copenhagen will be formally inaugurated with a ceremony at Copenhagen University, Njalsgade 120/134 (building 23, auditorium 23.0.50) on Tuesday 14 September 2004, 16.00–18.00. Representatives from the involved departments/faculties at Copenhagen and Lund universities will participate. Invitation to the Ørnast inauguration ceremony (as a pdf-file)
• Uppsala University organizes course on Hinduism and Buddhism for teachers
The section for History of Religions at the the Dept. of Theology, Uppsala University, in the Spring 2005 will arrange a 5 credits Internet-based course on "Hinduism and Buddhism for teachers", focusing on the modern religious landscape of South Asia.
• Uppsala Masters programme on Religion in Conflict and Reconciliation
The section for History of Religions at the the Dept of Theology, Uppsala University along with the Life & Peace Institute, also in Uppsala, has started a four semesters part-time (40 credits) Masters programme on Religion in Conflict and Reconciliation, called "War and Peace in the Name of God". The programme starts on 6 September 2004 and involves studies and fieldwork in Europe, Africa and Asia (Hyderabad, India).
• Success for the undergradiate courses at Tomelilla
Österlens folk high school in Tomelilla successfully organizes one-year undergraduate social science courses on India/South Asia, giving 10 academic points. These courses have been arranged since 2001, in co-operation with the Department of Sociology at Lund University. A new course started in August, 2004, with field work in south India during January–April 2005. After an initial common course at Kerala the students will visit different places in India and Bangladesh where they make individual field work. The students give regular reports through Internet travel diaries. Read the the travel diaries of the 2003-04 course students.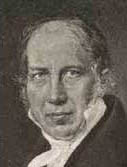 • Göteborg lecture by Kolkata professor on N F S Grundtvig
• Professor Asoke Bhattacharya from the Adult and Continuing Education and Extension Centre, Jadavpur University, Kolkata, India, lectures at the Grundtvig Institute, Göteborg University, on Wednesday 8 September 2004, 14–16. He lectures on "Let no-one cry out for bread at his table". Professor Bhattacharya who was instrumental in establishing a Grundtvig Research Institute at Jadavpur University in 2003 is an expert on the Danish priest, poet and writer N F S Grundtvig (1783-1872) – portrait to the right – who also happened to be a pioneer within the field of adult education. Venue: Gruntdtviginstitutet, Room 10, Vasagatan 33, Göteborg.
• Oslo film seminar on Tamil suicide bomber
The Centre for the Study of Civil War (CSCW) at PRIO, the International Peace Research Institute in Oslo, Norway, organizes a film seminar called "Civil War and Suicide Bombers" on Friday 17 September 2004, 18.30. During the seminar the 2001 Indian film "The Terrorist" ("Malli"), dealing with a young Tamil woman suicide bomber will be shown. An iintrodution is given by CSCW Director Scott Gates. Venue: Cinema Neuf, Slemdalsveien 7, Oslo. More information.
• Global justice theme for Lund University Development Research Day
Lund University arranges another Development Research Day on Friday 17 September 2004, 9.00–17.00. The theme for the event, organized by the Centre for Environmental Studies (MICLU), and the Dept. of Human Ecology, is "Global Justice". Lectures are given by Tom Tomich, Prof. Harvard University of CGIAR; Kenneth Hermele, Freelance Economist and writer; and Göran Hydén, Prof. University of Florida, Gainsville. Venue for morning session: Kårhuset, hörsal, LTH, John Ericssons väg 3, Lund; and afternoon session: Geocentrum 1, Sölvegatan 10, 1st floor. More information (as a pdf-file).
• Uppsala Symposium on "Microfinance: Success or a Myth?"
A one day Symposium on "Microfinance: Success or a Myth?" is arranged by the Seminar for Development Studies, Uppsala University, on Friday 24 September 2004, 9.00–17.00. The symposium dals with the issue whether 'Microfinance' alleviates poverty or if it really is a myth. Invited Speakers are Prof. Marguerite S. Robinson Harvard Institute for International Development, Harvard University, USA, and Dr. Prakash Bakshi, Microcredit Innovations Department, National Bank for Agriculture and Rural Development, India.
• Jo Beall lectures at Stockholm University on Urban Livelihoods for the Poor
Dr Jo Beall from Development Studies Institute (DESTIN) at London School of Economics and Political Science, UK, lectures at Stockholm University Friday 24 September 2004, 10.15–12.00. on "Approaches to the Study of Urban Livelihoods for the Poor: Household strategies and public action". Jo Beall is an eminent reseracher within the Urban Studies field with experiences from South Asia. This public lecture is part of an interdisciplinary seminar series called "Vatten, Mat, Makt & Sårbarhet", organized by the Faculty of Social Sciences. Stockholm University, during the Fall 2004, and is an introductory lecture to the 5 credits doctoral course on "Urban Livelihood Regimes in Times of Globalisation" arranged by the Dept. of Human Geography, Stockholm University, during the Fall 2004. Venue: X 30, Geohuset at Frescati, Stockholm.
• Uppsala conference on "ICT – a Tool for Poverty Reduction?"
A conference on "ICT – a Tool for Poverty Reduction?" is arranged by the Collegium for Development Studies at Uppsala University on Monday 27 September 2004, 8.30–17.30. The conference, that is held in collaboration with the IT Virtual Faculty, Uppsala University, and supported by Sida, the British Council and the UN ICT Task Force, focuses on the increasing demand for information and communications technology (ICT) in poor developing countries. The new technologies have tremendous implications for technical and economic development, and they can serve as powerful tools in the quest for democracy, human rights, and poverty alleviation. Among the speakers are Wijaya Jayatilaka from Sri Lanka who will talk on "ICT in Education". Venue: Missionskyrkan, S:t Olofsgatan 40, Uppsala.
• Precept and Practice in Asian Buddhism theme for Uppsala University seminar
An International seminar on "Precept and Practice in Asian Buddhism" is held at Uppsala University 1–6 September 2004. Participants from China, UK, Sweden and above all Germany are attending. The seminar is organised by Arbeitskreis für asiatische Religionsgeschichte, Akar (Prof. Max Deeg, Dr. Oliver Freiberger and Dr. Christoph Kleine, in co-operation with Uppsala University (Prof. Peter Schalk). The papers presented will be published next year in Acta Universitatis Upsaliensis.
• NORASIA III conference at Christian Michelsens institutt in Bergen
The Third Norwegian Research Conference on Asia, NORASIA III, will be held at Christian Michelsens institutt, Bergen, on 9–11 September 2004. The main theme for the conference, organized by the Norwegian Network for Asian Studies, will be "Power and Corruption in Asia". Invited speakers include Musthaq Khan from SOAS in London; Bruce Kapferer, University of Oslo; and Aruna Roy, People's Movement of Right to Information, Rajasthan, India. More information.
• Bristol conference on Imperial globalisation in a historical context
An interdisciplinary conference on "Imperial globalisation? Trade, technologies, and transnationalities within the British Empire from the 18th to the 20th century" will be held in Bristol, UK, 10–11 September 2004. The conference, which will explore for the first time the concept of globalisation in a historical context, is being organised by The Ferguson Centre for African and Asian Studies at The Open University and the British Empire & Commonwealth Museum. Bristol. More information.
• 50th Anniversary Conference for British Association for The Study of Religions
The British Association for The Study of Religions affiliated to the European Association for The Study of Religions and the International Association for The History of Religions holds its 50th Anniversary Conference (1954-2004) 13–16 September 2004, at Harris Manchester College, Oxford. Subject area is "Mapping the Field", considering past, current and future trends and research. Panels and papers may be focused on individual religions (e.g. Sikhism, Jainism); typologies; geographical areas; key themes or figures which contribute to the field.
• EGDI and WIDER arranges conference in Helsinki
A conference on "Unlocking Human Potential Linking the Informal and Formal Sectors" is held at Helsinki, Finland 17–18 September 2004. The conference is arranged by The Expert Group on Development Issues (EGDI) and WIDER, World Institute for Development Economics Research. WIDER is a research and training centre of the United Nations University, based at Helsinki, whereas EGDI is a policy advisory body linked to the Swedish Ministry for Foreign Affairs. More information.
• Barriers theme for the German Congress of Oriental Studies 2004
The German Congress of Oriental Studies organizes its 29th Deutsche Orientalistentag (DOT) 20–24 September 2004. The conference, hosted by the Martin-Luther-Universität Halle-Wittenberg, is being held every two to three years, and the theme for the 2004 DOT is "Passages – Barriers". The separate Section for Indology and South Asian Studies include panels on "Moksopaya/Yogavasistha", "Drama und Theater in Indien", and "Studien zur Tamilistik". More information.
• Roskilde three-days Seminar urban culture and history of Kolkata
A three-days Seminar on "Popular Cultural Materials and Public Sphere" is arranged in Copenhagen and Roskilde, Denmark, 24–26 September 2004. The seminar is part of the ongoing ENRECA project "Political and Cultural Institutions in Development" focused on the establishment of archives as resources to support the work of researchers and research students within the field of 'Urban culture and democracy'. At the Centre for Studies in Social Sciences, Kolkata, India, an extensive collection on the modern urban history of Kolkata has been established, which brings together materials from the fields of both 'high' and 'popular' culture, giving priority to written texts and images. Similar efforts have been made at the Centre for Basic Research, Kampala, Uganda. More information.
• Bergen conference on Education, Knowledge and Development
The Centre for Development Studies at the University of Bergen invites to a conference on "Education, Knowledge and Development" to be held in Bergen, Norway, 30 September–1 October 2004. The conference aims to explore at depth the currently strong international focus on the relationship between development and education. The conference also aims to more broadly explore the meanings and conditions of knowledge for development and poverty reduction in the era of globalisation.
• Bradford conference on Strategic Stability in South Asia
The South Asia Strategic Security Unit, SASSU, launches a conference on "Towards Strategic Stability in South Asia" at the University of Bradford, UK, 7–8 October 2004. Among the invited lecturers are Professor Shaun Gregory, Dr Rifaat Hussein and Professor Pervez Iqbal Cheema. The papers presented at the conference will later be submitted for publication in a Special Edition of Contemporary South Asia. More information.
• Oslo University doctoral course on Poverty and Development
The Centre for Development and the Environment (SUM) at the University of Oslo, Norway, organises a doctoral course on "Poverty and Development", 14–17 October 2004. The aim of the interdisciplinary course is to study the multidimensional concept of poverty by focusing on a select few interrelated sub-topics, drawing from empirical studies carried out by the course lecturers in Asia, Africa and Latin America.
• Colombo Conference on Women and Politics in Asia
The Second International Conference on Women and Politics in Asia is held in Colombo, Sri Lanka 19-20 November 2004. The conference, organised by the Institute of Human Development & Training, Battaramulla, Sri Lanka, will focus on various issues related to women and politics in Asia, and is a follow-up to the first conference on Women & Politics in Asia held in Halmstad, Sweden in June 2003. Among the issues addressed are • Women & Political discrimination; • Women, Gender & Politics; and • The role of religion & women in Politics. Venue: Trans Asia Hotel, Colombo. More information.
• Second chance for Third Space Seminar in Malmö/Lund
A second edition of the Third Space Seminar (first held in November 2002) will be arranged in Malmö and Lund 26–28 November 2004. The conference, co-hosted by the cities and universities of Malmö and Lund, gathers some of the world's leading artists and intellectuals for a three-day programme of seminars, exhibitions, workshops and panel discussions. The overall theme will be "Examining the Law", and among the key speakers are Homi K Bhabha from Harvard University, USA. Academic programme coordinators are Oscar Hemer and Carl Henrik Svenstedt, School of Arts and Communication, Malmö University; and Max Liljefors, Department of Art History, Lund University. More information.
• Lund conference on Ritual practices in Indian religions and contexts
A Nordic conference on "Ritual practices in Indian religions and contexts" is held at Lund University 9–11 December 2004. The conference is arranged by the seminars of Indian Religions and Ritual Studies at the Department of History and Anthropology of Religion, Lund University, in cooperation with the academic journal Chakra – Tidskrift för indiska religioner. Scholars and PhD students engaged in research concerning Indian religions (Buddhism, Hinduism, Jainism and Sikhism) and rituals are invited to take part. Presented papers will be considered for publication in the journal Chakra. Participants should register for the conference and submit their abstracts for papers before 1 April 2004. More information.
• Swedish involvement in Kathmandu conference on waste management
An International Conference on Sustainable Solid Waste Management in Developing Countries, called "For a Better Tomorrow" is held in Kathmandu, Nepal, 21–27 February 2005. The conference – the first one to focus on local waste management issues in Nepal – is organized by DNet, an organization involved in the issue in Kathmandu, on behalf of Kathmandu University and the Swedish LAQUA group (involving the three universities of Kalmar, Lund and Kristianstad). Some regional institutes from other South Asian countries, as well as from Thailand and Europe will also take part. More information (as a pdf-file).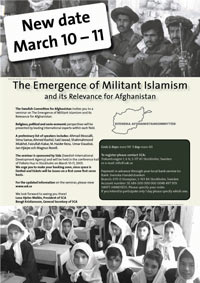 • Stockholm International Seminar on Militant Islamism in Afghanistan
An International Seminar on the "Emergence of Militant Islamism and its Relevance for Afghanistan" is held in Stockholm 10–11 March 2005. The seminar is arranged by the Swedish Committee for Afghanistan, with support from Sida. Invited speakers include Ahmad Moussalli, Sima Samar, Ahmed Rashid, Gilles Kepel, Jan Hjärpe and Magnus Norell.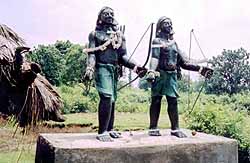 • Sussex conference on the Santal rebellion in Jharkhand
The University of Sussex organizes a conference on "Reinterpreting Adivasi (Indigenous peoples) Movements in South Asia", 21–23 March 2005. The conference is held in recognition of the 150th anniversary of the Santal Rebellion in the present state of Jharkhand in eastern India (see photo to the right). Deadline for paper proposals is the end of September 2004. Venue: Graduate Centre in the School of Humanities, and Graduate Centre in the School of Social Sciences and Cultural Studies, University of Sussex, UK.
• European Association of South Asian Archaeologists meets in London
The European Association of South Asian Archaeologists holds its biannual International Conference in London, UK, 4–8 July 2005. The conference will be hosted by The British Museum and the Institute of Archaeology (UCL) in the Clore education centre within the museum. Papers on all aspects of South Asian archaeology will be presented, from prehistory to art history, including studies of architecture and material culture.
• Other conferences connected to South Asian studies arranged all over the World
See SASNET's page, http://www.sasnet.lu.se/conferences.html#conf


Vacant research positions/Fellowships
• South Asian history position at the University of Washington
The Department of History, University of Washington, USA, invites applications for a tenure-track, Assistant Professor appointment in history of South Asia, beginning September 2005. Applicants should have the PhD degree, or be in the final stages of the PhD programme, by the start of appointment. Candidates will be expected to participate in undergraduate and graduate teaching, offering surveys as well as more specialized courses, and to conduct independent research. Candidates working on all periods and especially on the 16th-18th centuries will be considered. Review of applications will begin on November 1, 2004 and continue until the position is filled.
• NIAS Contact Scholarships for Nordic Graduate Students
The Nordic Institute for Asian Studies offer scholarships designed to make NIAS' library and other resources accessible to graduate students in the Nordic countries. A scholarship covers inexpensive travel to and from Copenhagen and accommodation in a NIAS room at Nordisk Kollegium, with full board for a period of two weeks. It must be noted that because only one room at the Nordisk Kollegium is available for this scholarship programme, stays are arranged subject to a time schedule administered by NIAS. Monday 6 September 2004 is the closing date for applications for scholarships during the period October-December 2004. More information.
• NIAS Guest Researcher Scholarships
Senior researchers and postgraduate students based in the Nordic countries are offered scholarships, giving an opportunity to work at NIAS as an affiliated researcher for 2 or 4 weeks. A scholarship includes inexpensive travel to and from Copenhagen and accommodation with full board in a NIAS room at Nordisk Kollegium. The guest researcher enjoys full access to the Institute's library services and research tools, computer facilities, contact networks and scholarly environment. Monday 6 September 2004 is the closing date for applications for scholarships during the period October-December 2004. More information.
Cultural Events in Scandinavia connected to South Asia:
• South Asian features at Asian Festival in Stockholm
An Asian Festival is organized in Stockholm 27–29 August 2004. India, Sri Lanka and Bangladesh are participating in the Asian Festival through music and cultural performances, participation in the traditional garments fashion show, etc.. On Saturday 28 August the streets of Stockholm will play host to the colorful Asian Festival Parade. Starting at 14.00, from Humlegården, it will make its way towards Nybroplan via Birger Jarlsgatan. And end up at the Raoul Wallenbergs torg, that is the venue for the entire festival. It is open to the public every day from 11.00–2300.
• Bombay Vikings Live in Concert in Stockholm and Borås
Rajesh Vaidya & Raj Ravinder, Indians living in Sweden, organizes a show with Bombay Vikings, with ravishing & beautiful dancers, Bollywood beats, Niklas Holmberg (fusion of techno and sitar), plus music and dance from Iran and Bosnia, in a show next week in Stockholm and Borås. Friday 3 September 2004 at Kulturum, Vikingsvägen 2, Märsta Centrum, Stockholm, at 18.30; and Saturday 4 September in Åhaga, Borås, also at 18.30.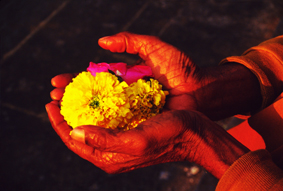 • Kärsti Stiege exhibition in reopened Museum of Far Eastern Antiquities
The Museum of Far Eastern Antiquities at Skeppsholmen in Stockholm, reopens after two years of renovation on Saturday 4 September 2004. The museum, one of four Swedish museums in The National Museum of World Culture, celebrates by organizing an Asian Festival in the museum premises on the day of reopening. The festival includes Indian dance performances by Kristina Borgkrantz, and a srilankan dance show. Several interesting exhibitions dealing with Asian culture start at the same time. One of them is "Meetings with Buddha", a photo exhibition by Kärsti Stiege, with photos from Bodh Gaya, Bihar, India (one of them shown above). The exhibition will be on display between 4 September and 9 January 2005. More information.
• Ibsen plays to be performed in Bengali language at Oslo festival
Ibsen will be performed in Bengali language at the ongoing Ibsen 2004 Festival in Oslo, Norway. The Chetana Theatre Group from Kolkata, India, will perform "The Enemy of the People" on Tuesday 7 September 2004, 18.00; and "Mareech" ("The Legend") on Wednesday 8 September, 17.00. The shows are sponsored by the Indian Council for Cultural Relations, New Delhi. Venue: Torshovteatret, Vogts Gate, Oslo. Tickets may be ordered.
The Norwegian Film Institute will also show Satyajit Ray's Bengali rendering of Ibsen's masterpiece "The Enemy of the People". The film called "Ganashatru" is shown subtitled at Cinemateket, Filmens Hus, Dronningens gate 16, Oslo, on Friday 3 September 2004, 18.30; and Sunday 5 September, 18.30
• Zac O'Yeah meets his readers in Stockholm
The Swedish author Zac O'Yeah, since several years living in Bangalore, India, visits the International Library in Stockholm on Wednesday 15 September 2004, 18–19, where he will present his recent book "Guru – En Resa i Underlandet". The book describes a mental and physical journey through India, and how Indian religion has changed in the encounter with the rich but spiritually starving West. Venue: Internationella Biblioteket, Stadsbiblioteket, Odengatan 59, Stockholm. More information.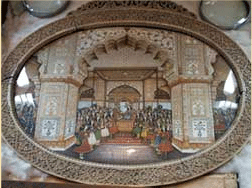 • Fakir Khana Museum in Lahore now going virtual
Fakir Khana Museum in Lahore, Pakistan, is considered to be one of the largest antiques collection in South Asia. The museum, belonging to the well known Fakir family whose history can be traced back hundreds of years has now been introduced on the Internet as a e-museum bringing online information on art, culture, heritage and exhibitions from the extensive Fakir Khana Museum collection.
---
Best regards,

Staffan Lindberg Lars Eklund

SASNET/ Swedish South Asian Studies Network
SASNET is a national network for research, education, and information about South Asia, based at Lund University. The aim is to encourage and promote an open and dynamic networking process, in which Swedish researchers co-operate with researchers in South Asia and globally.
The network is open to all sciences. Priority is given to co-operation between disciplines and across faculties, as well as institutions in the Nordic countries and in South Asia. The basic idea is that South Asian studies will be most fruitfully pursued in co-operation between researchers, working in different institutions with a solid base in their mother disciplines.
The network is financed by Sida (Swedish International Development Cooperation Agency) and by Lund University.

Postal address: SASNET – Swedish South Asian Studies Network, Scheelevägen 15 D, S-223 70 Lund, Sweden
Visiting address: Ideon Research Park, House Alfa 1 (first floor, room no. 2042), in the premises of the Centre for East and South East Asian Studies at Lund University (ACE).
Phone: + 46 46 222 73 40
Fax: + 46 46 222 30 41
E-mail: sasnet@sasnet.lu.se
Web site: http://www.sasnet.lu.se
Staff: Staffan Lindberg, director/co-ordinator & Lars Eklund, webmaster/deputy director
Back to SASNET


---